This post is sponsored by Simply Beverages, but all opinions expressed are my own and are unbiased and based on my personal views.
Every day is hectic for moms. ?Getting everyone up, fed, cleaned up, dressed and out the door is quite an undertaking. ?After school there is homework, dinner, chores, etc. ?Weekends mean errands, sports, family time and other obligations. If you're like me, you do all that you can to simplify the mayhem. ?Sometimes, it just doesn't happen. ?Once I am done with the week, I like to kick back and relax.
In an effort toward a happier me, I have been making sure (or trying to) that I take time for myself. ?That's just not always easy. ?There just aren't enough hours in the day…or days in the week sometimes! ?That's where Simply Juice drinks come into play. ?With some frozen fruit, and a little ice, you can whip up a tropical fruit smoothie. ?Add in a shot of vodka or rum and you have a frozen adult beverage that's SO good!! ?Simple, easy and good for you! ?I can throw one together while cooking dinner. ?It only takes a minute and is so worth it. ?We moms deserve a little treat once in a while. ?Pat yourself on the back and sip on a Simply Juice cocktail!
Did you know that Simply Juice Drinks has introduced a new premium line of juice drinks available in three delicious flavors:
Fruit Punch
Tropical
Mixed Berry
They are perfect for smoothies and adult beverages. ?They're pretty amazing. ?The juices from Simply Beverages are?all natural and made with simple ingredients. ?They contain no added preservatives, colors or artificial flavors and are made with real fruit juice. ?Simply Juice Drinks can be found next to other Simply Beverage favorites, in the refrigerated section of your grocery store. ?All three great-tasting flavors are available in a 59-fl. oz. multi-serve bottle. ?The Fruit Punch and Tropical versions are also offered in convenient 11.5-fl. oz. single serve bottles. Great for grabbing when on the go. ?Much better than sodas!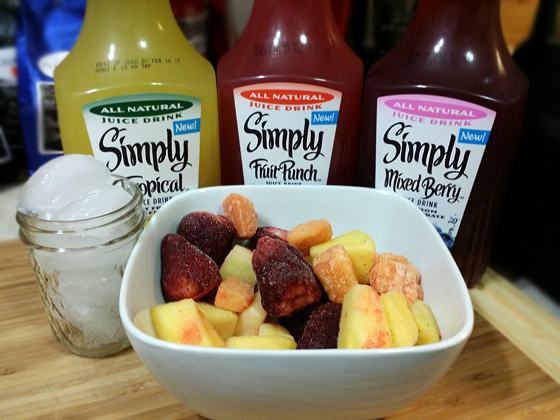 My Simply Juice Smoothie with a Twist
This smoothie recipe makes about 40 oz of smoothie. ?Please take that into consideration before making yours. ?I share with my kids and hubby. ?If you don't need a huge batch, you can easily cut down on the ingredients. ?You could also make the full amount and freeze portions for use later. ?Add in your favorite vodka, or rum and you have a pitcher full of girl's night goodness! ?Invite over some other moms and just enjoy some time together.

Simply Juice Smoothie
Ingredients
12-16 oz of your favorite Simply Juice Drink beverage
1 package frozen tropical fruit blend
Ice
Instructions
Add ice fruit and juice to your blender.
Turn on and crush until all ingredients are mixed
Add more juice or water as desired
Enjoy
If you have a good blender, this will come together super quick. ?You can also use a food processor. ?I love my blender because it had a crush button that makes smoothies super simple!
The Simply Juice Drink Giveaway
Want to win a Simply Juice Drink prize pack? ?Here's what you can win:
5 Simply Juice Drink coupons
1 Glass juice carafe
1 set of Essential Highball Glassware
$50 AmEx gift card
Just enter on the form below.
a Rafflecopter giveaway
This prize was provided by Simply Beverages, but Simply Beverages is not an administrator or connected in any other way with this contest.