Tasty drinks are my favorite, especially around the holiday. I am always looking for new and simple ideas. I am not really big on sugary drinks but adding a bit Sweet 'N Low can add just the right amount of sweetness. For instance, this Tangerine Twist Sparkler has been calling my name ever since I came across the recipe. It's simple, looks divinely delicious, and best of all, under 100 calories.
If you're a fan of Sweet 'N Low, I have a surprise for you. From now through December 23, you can enter the Spread Sweet Holiday Cheer Sweepstakes?on the Sweet 'N Low Facebook page for a chance to win a fun prize pack not only for you, but for a family member or friend. Talk about perfect timing for the Holidays! And since I know my readers LOVE entering sweepstakes, I'm happy to share with you the details. Just keep reading.
From now until December 23, fans can enter the sweepstakes on the Sweet 'N Low facebook page.
The sweepstakes will have daily and weekly winners, plus one grand prize winner receiving the ultimate Holiday package.
The ?give and get? prizes include gift cards, single brew, Keuring coffee makers, premium glass wear, smoothie makers and much more.
And About that Tangerine Twist Sparkler recipe I mentioned earlier. Here's the recipe for a tasty holiday treat featuring Sweet 'N Low.
Tangerine Twist Sparkler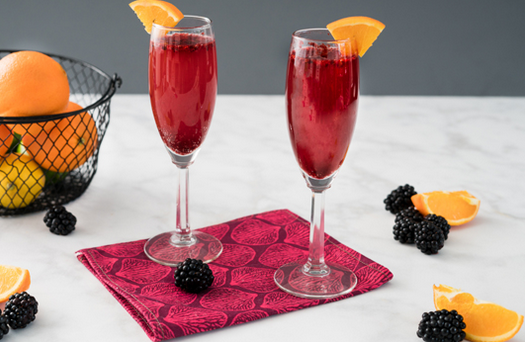 Ingredients
? cup thawed frozen blackberries, plus more for garnish
2 ounces 100% unsweetened citrus juice blend chilled
1 packet Sweet?N Low zero calorie sweetener
Sparkling water, chilled
1 citrus wheel, for garnish
To Prepare
In a highball glass, muddle the blackberries, unsweetened citrus juice, and Sweet?N Low?. Add 1 cup ice to the glass, top with sparkling water, and stir. Garnish with more blackberries and a citrus wheel.
This recipe is under 100% calories so why not Treat Yo Self! Additional details and other delicious recipes can be found here
For more details about the Sweet ' N Low Spread Sweet Holiday Cheer Sweepstakes visit their Facebook Page.
So what are you waiting for. Head over now before it ends. Remember, you have a chance to win one for you and a special person of your choice.
Good Luck an let me know how you do!!