I participated in an Influencer Activation on behalf of Influence Central for
Scrubbing Bubbles?
. I received product samples and a promotional item to thank me for participating.
Ok people, it?s time to get serious about what happens behind closed doors. The bathroom is one of the most important rooms of the house, but it is also one of the grimiest. With holiday parties and visits, your bathroom may be getting even more traffic than ever, just in time to help spread the germs of flu season.
To add to everything else, did you know that according to the Scrubbing Bubbles? Dirty Work Index, 60% of people admitted to flushing the toilet with the seat up and 23% said they don?t wash their hands after going to the bathroom? That?s a lot of germs that are spreading. Add that to the fact that most people take less than 20 minutes each week to clean their bathroom and we?ve got a breeding ground for germs.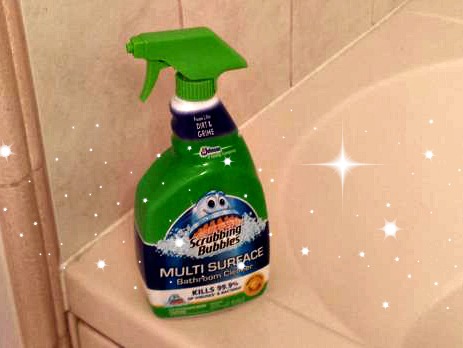 Like most people, I don?t like to spend a ton of time cleaning my bathroom, especially when people are coming over and I have lots of other things to do. To make the most of my cleaning time and transform my bathroom from a germ village to a clean sanctuary, I use Scrubbing Bubbles?. My favorite product is the
Scrubbing Bubbles? Multi Surface Bathroom Cleaner
, which cuts through soap scum, dirt, and germs to kill 99.9% of viruses and bacteria, leaving me with a bathroom I can feel good about. Plus, it comes in a heavenly lemon scent!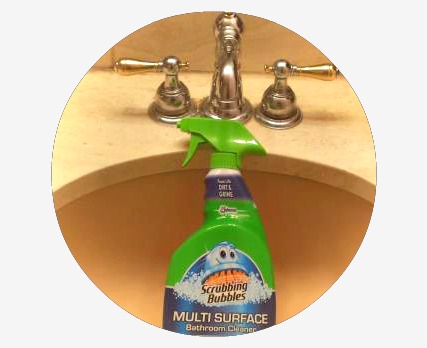 ?
And when the holiday guests are gone, my biggest struggle is keeping up with my kids? messes.?
For being so small they sure know how to get toothpaste and dirt in the strangest places! I find globs of it in the sink and on the mirror. How does that happen!? And let?s not forget hubby.? I think my husband thinks I'm challenging him every time I clean the bathroom. Four hours later he *always* decides it's the perfect time to shave his beard. Does he clean the hair off of my pristine sink? Of course not!
Scrubbing Bubbles? is dedicated to helping homes ?Keep the Complete Clean? by using an antiviral formula to get into all the nooks and crannies to clean AND disinfect. Not only is my bathroom sparkling clean, it is also as germ-free as can be!
You always want your home to look its best, but this is especially true when you have guests staying. ?Thanks to Scrubbing Bubbles?, we can keep up our habits behind closed bathroom doors and still have a germ-free home.