When I was asked to put together an idea, for the new year, using Dollar Tree products…I was excited. ?I thought of cute crafts, cheap gift ideas, home decor, DIY…my mind was flooded. ?I could make Valentine's Day gifts, Easter baskets, baby shower gifts, and so much more. ?I could do it for cheap, too! ?Really, it would end up a pile of mess and not get much further than my kitchen table to take pics for the post. ?NOT what I want to do…again. ?I decided to take it as a chance to clean up my act for the new year. ?A few years ago I stopped making resolutions. ?I found that all they did was cause me to make excuses, feel like a failure and really dislike myself. ?Who needs that? ?So, this year, I decided I would prioritize some things and make a few lists and start crossing a few things off. ?What's better than starting the year on a positive note and with productivity?
Here's a quick look at my shameful office, before the Dollar Tree helped me get organized: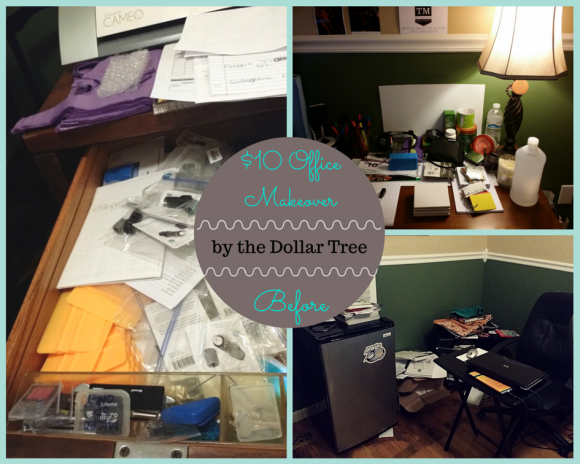 With some major clean up, recycling, sorting and using the great products I found at the Dollar Tree, here's my office, now: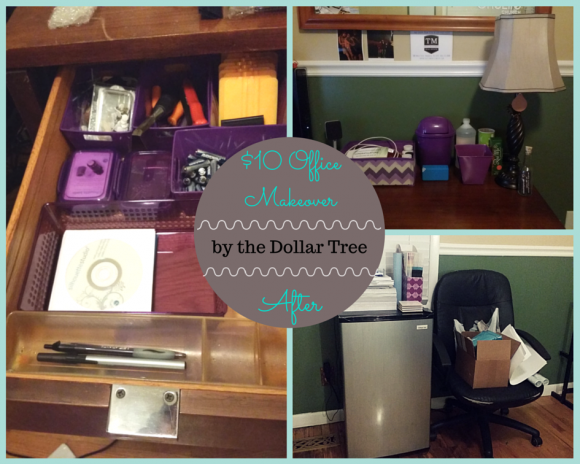 There is much more to be done. ?But, I really wanted to see what I could accomplish for just $10. ?I bought 9 items to use in my office, plus a diet soda…just because. ?Total spent was $10.51.
I purchased:
2 "baskets" made of fabric
1 magazine organizer
1 pack of 4 small plastic buckets
1 pack of two small containers with lids
1 plastic tray
1 metal bin
1 mini trash can
1 diet soda
1 over the door hook (not pictured)
You will notice, in the pictures, that all the items are purple. ?It's one of my favorite colors and can coordinate well with other fun hues. ?I will be going back for more items in a brighter green and gray. ?We decided to move my office downstairs which means the rest will have to wait. ?But it certainly is nice to be able to feel like I can breathe again, in my office. ?No more suffocation by clutter. ?It's very freeing, didn't take long and didn't cost me much!
How could you use Dollar Tree items to make a positive change in your life?