My family has been dealing with allergies for as long as I can remember and calling it a nuisance would be putting it mildly.? More recently, it has become what seems to be like a year long battle.? Normally symptoms would level out as the seasons change but that hasn?t been the case lately.? My kids seem to be affected the most and I can?t take seeing them suffer.? They love the outdoors but a trip to the park or just running around in the neighborhood can have them sniffling, and sneezing for days.
My oldest has t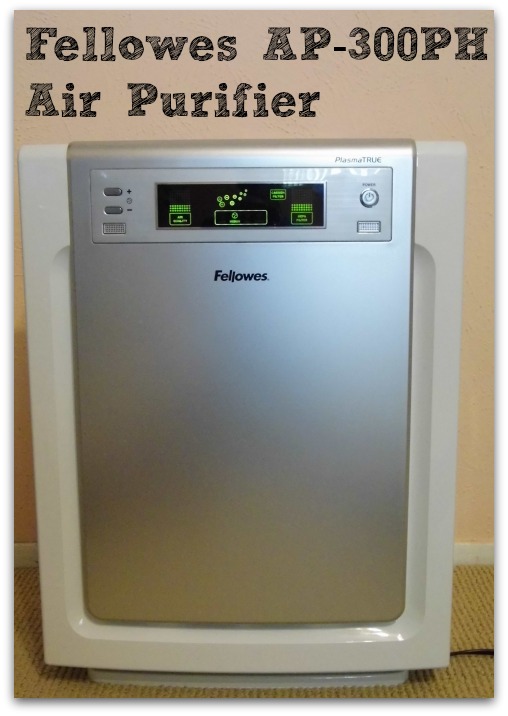 he worst case and has been prone to allergies ever since he was a baby.? I try to do everything I can to make him as comfortable as possible.? I?m hoping he grows out of it because it gets really bad at times.? After such a horrible bout this summer, I am determined to find a way to make my home an allergen free zone for my kids sake and ours.
As moms, we constantly worry about the health and safety of our family; but when the problem lies in the air they breathe, there is not much we can do to protect our kids from its harmful effects. Although the outdoor environment might truly be out of our parental reign of control and supervision, there are still steps we can take to improve the quality of air in our home.
The AP-300PH Air Purifier from Fellowes is one way we can make that happen.? We have been using the AP-300PH for over a few weeks now and I must say that I have really noticed the improvement in the overall quality of the air in our home. The AP-300 has been helpful in eliminating both allergens and impurities.? And unlike most purifiers, you can really see that it is working.??? The air quality light indicator indicates to you the purity of the air and shows the different levels of air quality. ? Green indicates air is clean.? Yellow indicates air quality is poor and Red indicates high levels of pollutants in the air.? It also includes an air purity sensor that monitors the air quality. ??When impurities are sensed, the air purity sensor automatically adjusts the fan speed to keep the air purified.
Here is a pic of the display panel when the purifier adjusted itself after I sprayed some hairspray while in the bathroom.? The unit was located in the hallway just outside the bedroom and still picked up the impurities.? This reassured me that it does in fact work and covers a fairly large area.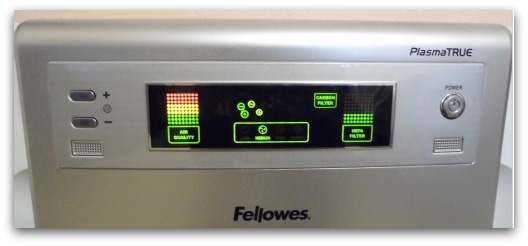 I have found the AP-300PH Air Purifier to be a convenient in-home solution and am comfortable knowing that it utilizes a True HEPA Filter to safely remove 99.97% of particles and impurities.
It is ultra-quiet and can purify large-sized rooms up to 300 square feet. Since my son suffers the most with his allergies, I have placed it in his room so that he may reap the most benefit.? I?m not sure how it has helped with his sleeping since he already sleeps like a rock but it works like a dream purifying the air in his room.? During the day when he is not in his room, I place it in the living room where we spend most of our time.? Since my youngest son and husband also display allergic symptoms being in a general location, we can all reap the benefits.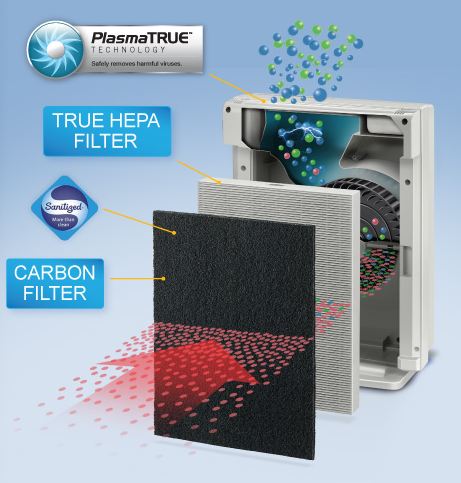 I have also noticed that the air smells much cleaner.? My son is known for having smelly sneakers and socks camped out with him, I no longer walk into the room and ask..what?s that smell??? It?s usually very noticeable and I don?t smell it anymore.? That deserves an A+ right there.? There are so many awesome features of th AP-300PH but my most favorite feature has to be the air purity sensor that monitors the air quality.? I like knowing that when the air quality diminishes, the AP-300 will do it's job and automatically adjusts the fan speed to keep the air in my home cleaner.
I am very pleased with the Fellowes Quiet Air Purifier with True HEPA Filer (AP-300PH) and have seen a noticeably difference in the air that my family breaths.
To learn more about the purifier that has helped my family breath cleaner, fresher air, visit the Fellows facebook? page.? You can also get a great deal on the AP-300PH purifier on Amazon.com or be sure to look for a list of retailers on the Fellowes website so you can provide your family with a clean, pure, and safe environment.
?I wrote this review while participating in a blog tour by Mom Central Consulting on behalf of Fellowes and received a product sample to facilitate my review.?
?