This post is sponsored by McCormick® but the content and opinions expressed here are my own.
The holidays are full of traditions which makes it such a special time of year. Now that Thanksgiving is approaching and Christmas not far behind, I thought it would be a great time to talk about holiday traditions.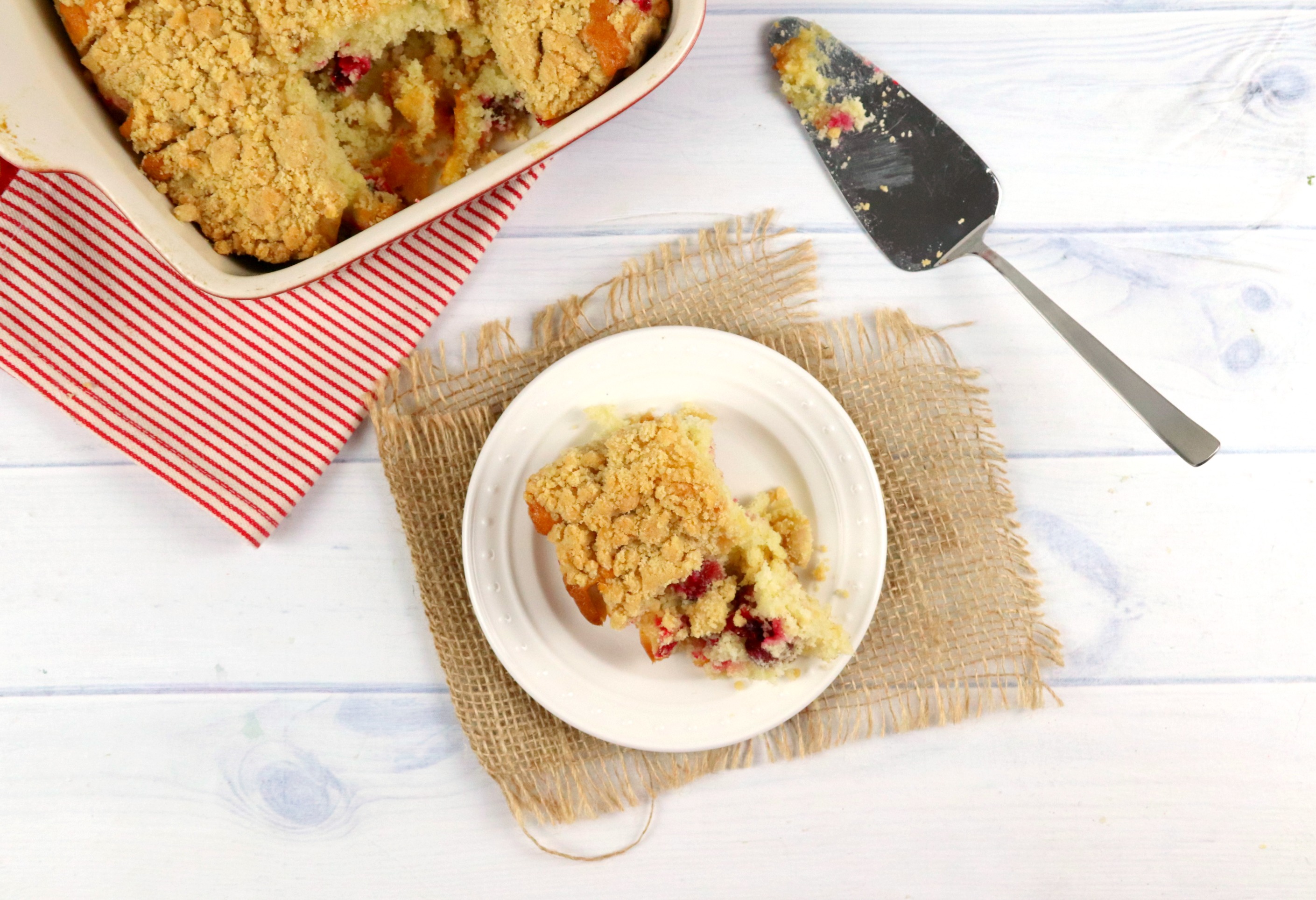 What are some of your family traditions? Do any of them include baking?
Food and tradition are two of the most important elements for the holidays and baking is part of our family tradition. So, what better way to celebrate than sharing with you one of our favorite family recipes–the crumb cake.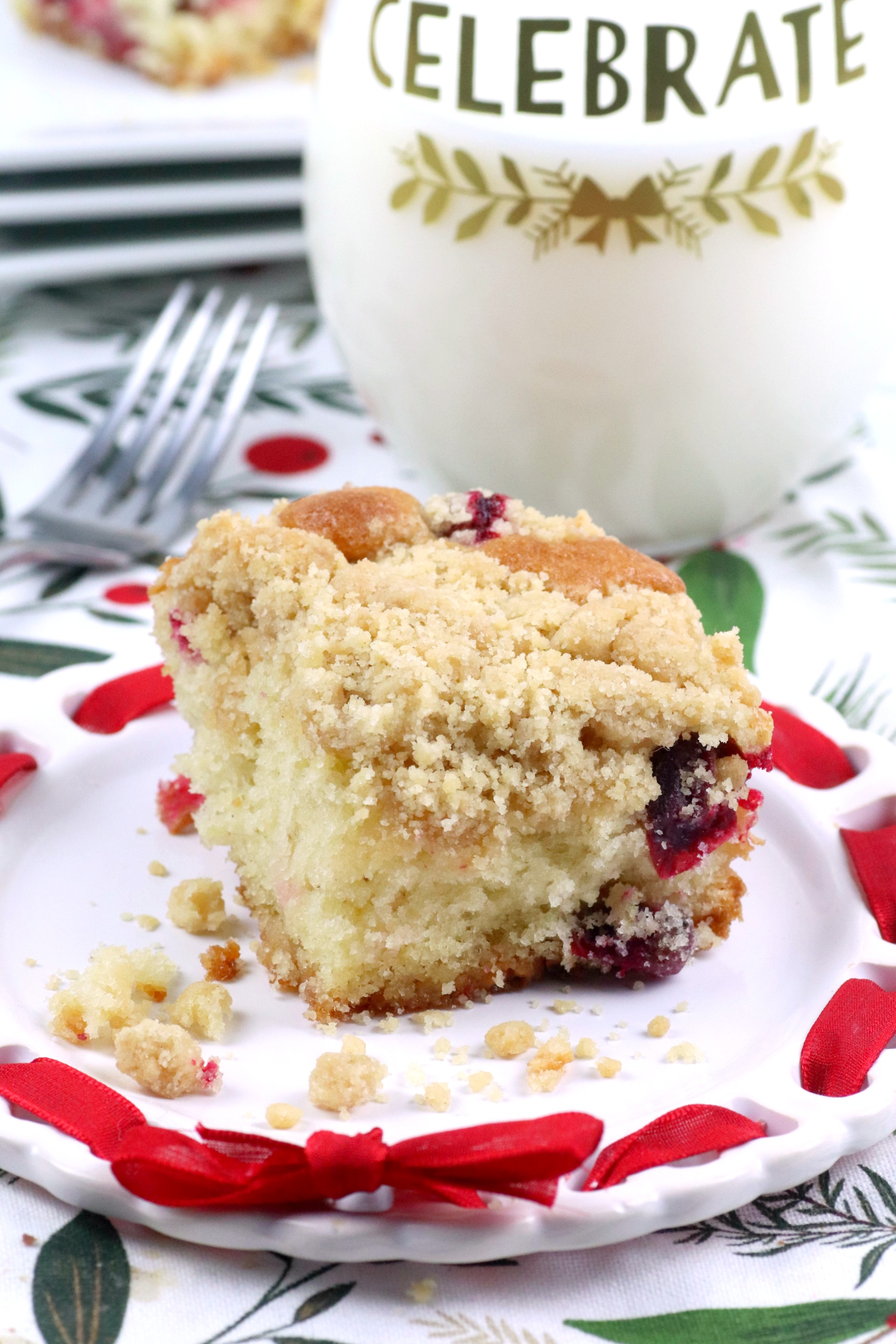 This Cranberry & White Chocolate Crumb cake is perfect for a Holiday or New Year's brunch. Not only is it delicious, it's simple and Christmas-y. The sweet rich white chocolate and tart juicy cranberries compliment each other very well. Paired with the right amount of McCormick® spices and Houston, you've got a winner! I used McCormick® Pure Vanilla Extract as well as their Cinnamon and Allspice products which always achieve great results. During the holiday season, I bake all season long and the McCormick® extracts and spices add flavor to bread, cake, cookies and more.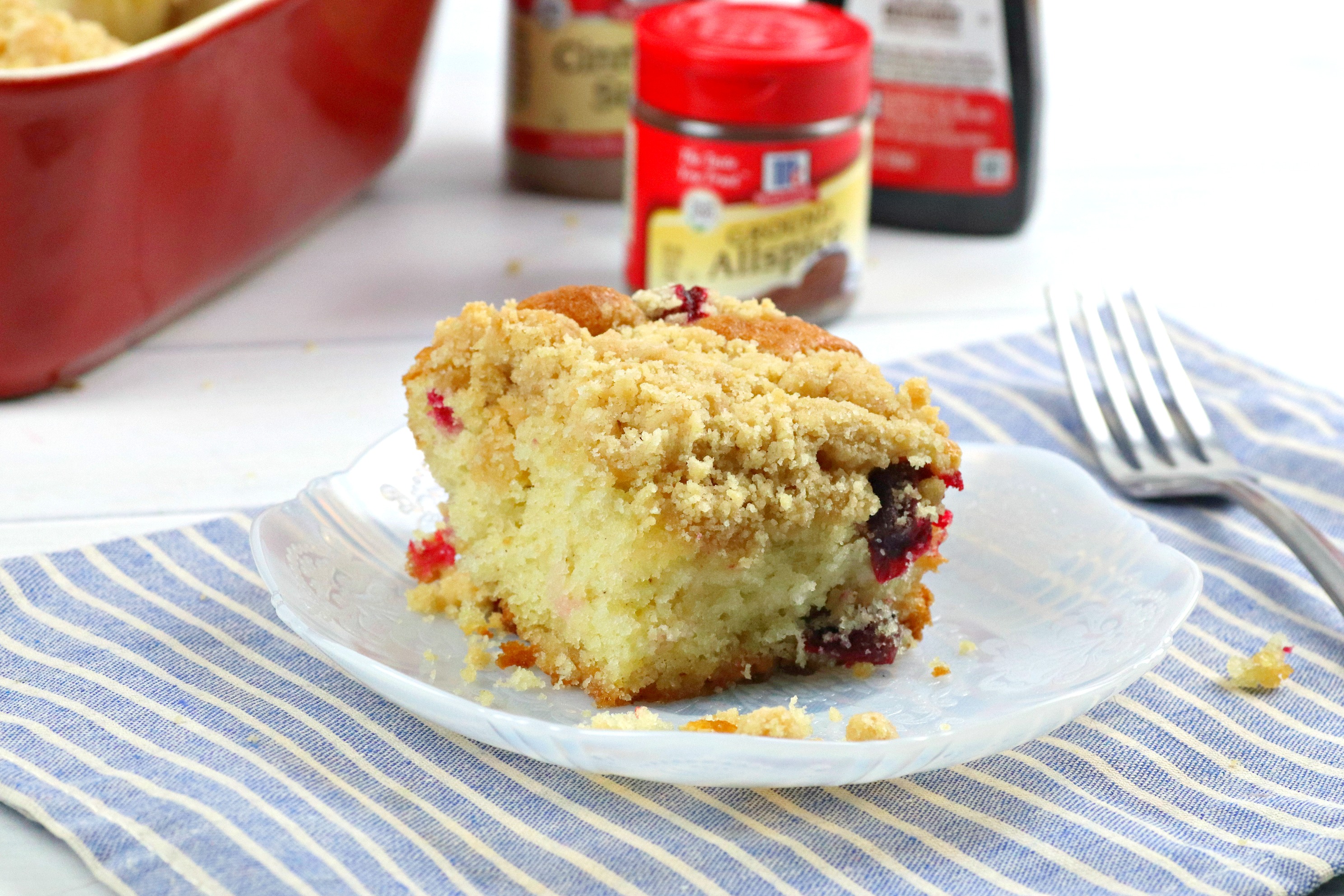 Cranberry & White Chocolate Crumb Cake
I have made variations of this crumb cake for Christmas brunch for my relatives over the years, but this year, I wanted to do something different and stay true to the flavors of the season. Christmas Brunch is our time to come together, share food, open presents and be grateful for what we have.  I always look forward to the food of course!
ABOUT McCormick® Spices
McCormick® offers a lot of quality spices for your holiday baking needs. These spices make this Cranberry and White Chocolate Crumb Cake recipe simply delish.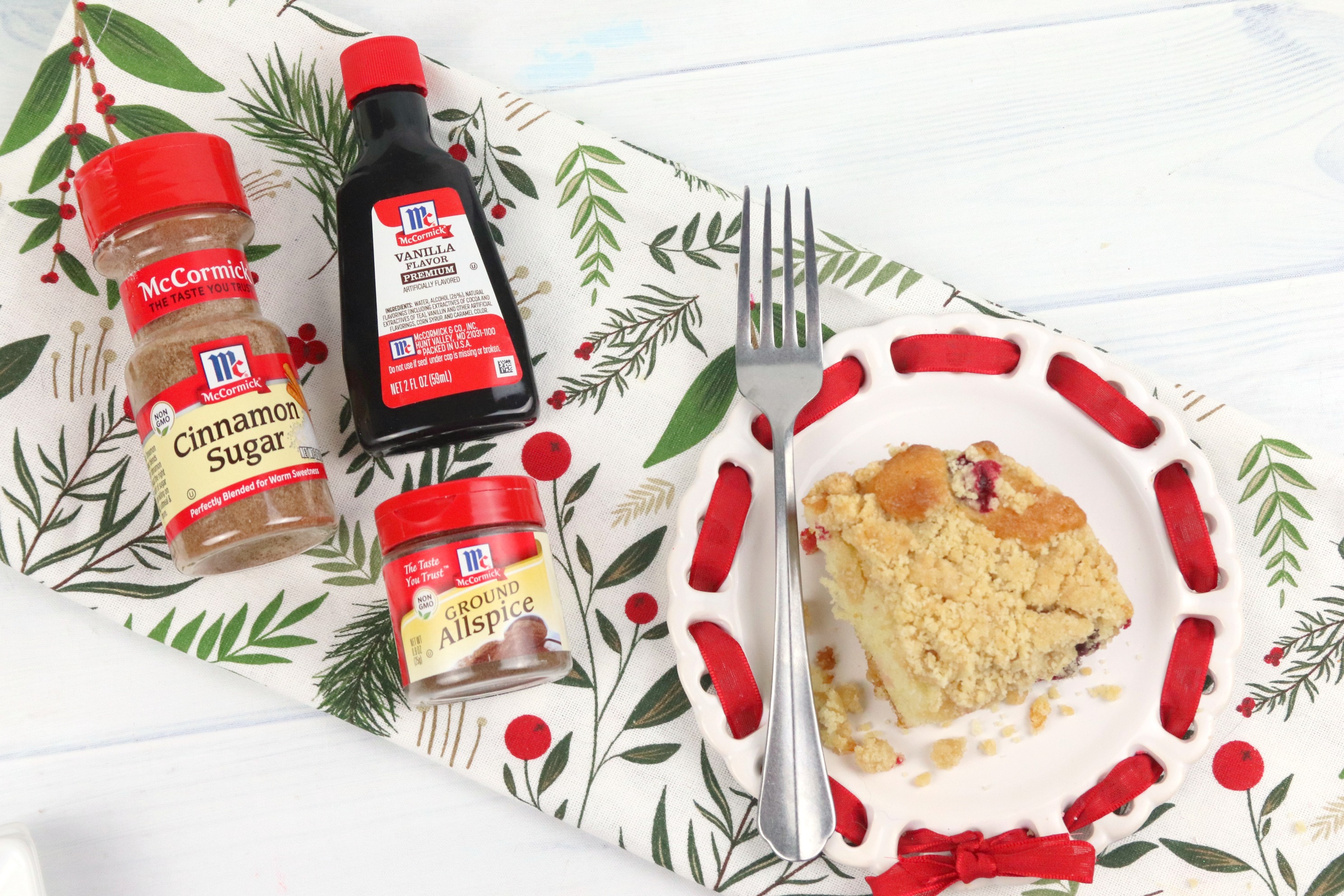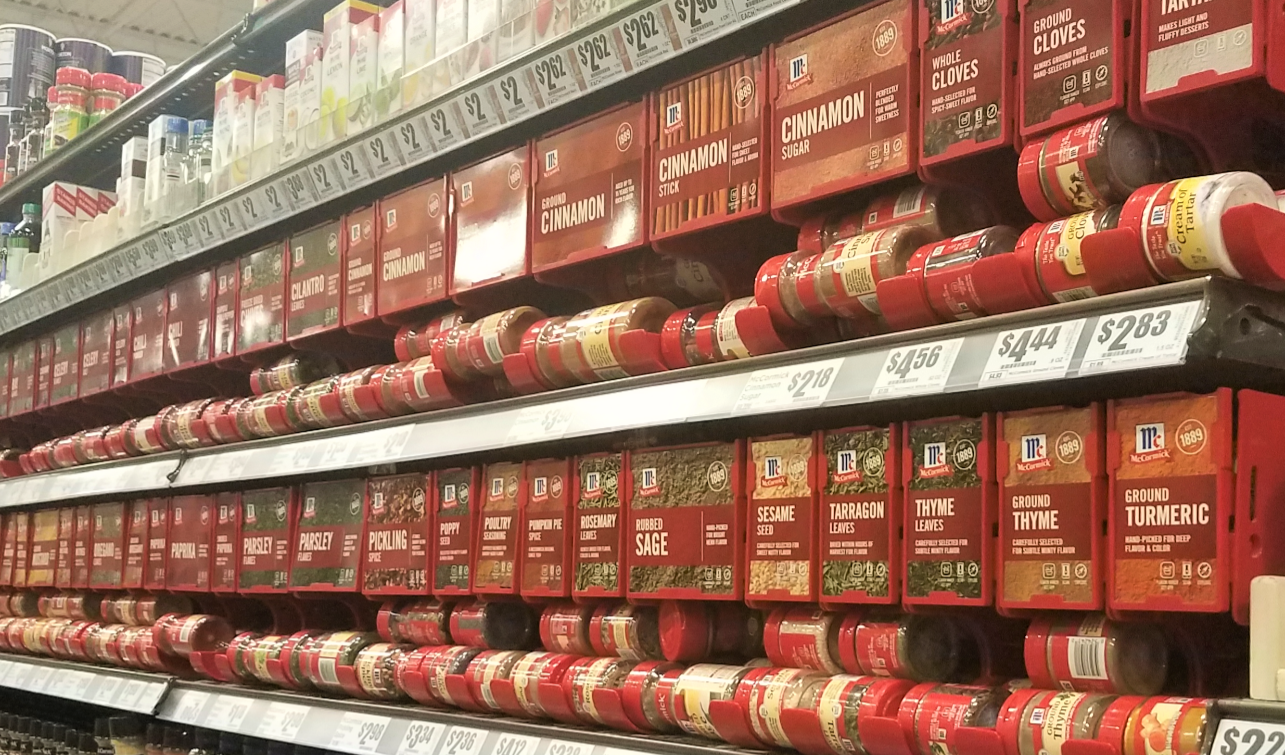 I found the McCormick® spices that I used for this Cranberry and White Chocolate Crumb Cake in the spice isle at H–E–B. The spices I used were McCormick® All spice, Pure Vanilla Extract, and cinnamon.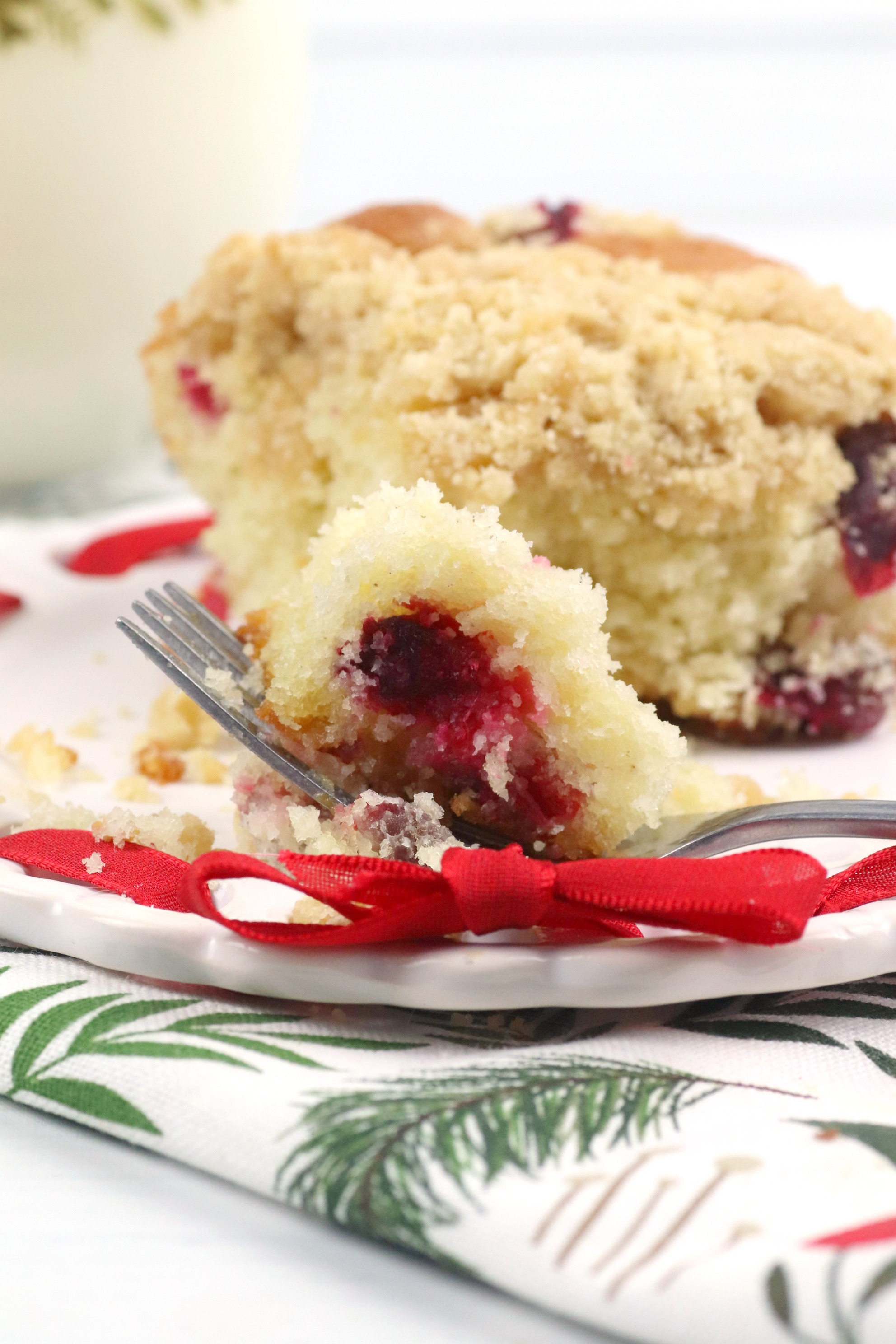 Ingredients:
Crumb Topping:
1/3 cup granulated sugar
1/3 cup brown sugar
1 teaspoon McCormick's ®Cinnamon Sugar
1/2 teaspoon salt
1 stick of salted butter, melted
1 cup all-purpose flour
Cake:
1 1/4 cup all-purpose flour + 2 tablespoons
1/2 cup granulated sugar + 2 tablespoons
1/2 teaspoon baking soda
1/2 teaspoon table salt
1 teaspoon McCormick®´ Allspice
1 stick salted butter, softened and cut into 4-6 pieces
2 large eggs
1 teaspoon McCormick® Pure Vanilla Extract
1/3 cup whole milk
1 cup fresh cranberries
1 cup white chocolate chips
Directions:
Crumb Topping:
Step 1: Whisk brown sugar, McCormick® Cinnamon Sugar, salt, and butter in medium
Step 2: Mix in flour and stir until it looks like a coarse dough. Set aside and allow to cool while making the cake.
Cake:
Step 1: Pre heat oven to 325° F. Spray an 8×8 baking pan and line with parchment paper. In large bowl, add mix 1 1/4 flour, 1/2 cup of sugar, baking soda, and salt. Whisk together. Using a hand or stand mixer on low speed, add in butter, one piece at a time. Mix until there are no visible chunks of butter.
Step 2: Whisk in the McCormick® allspice
Step 3: On medium speed, add in egg, McCormick® Pure Vanilla Extract, and milk. Beat until light and fluffy.
Step 4: Rinse cranberries and add to a small mixing bowl. Toss with 2 tablespoons of sugar and flour.
Step 5: Fold the cranberries and white chocolate chips into the batter.
Step 6: Add batter to the baking pan.
Step 7: Sprinkle the crumb topping on top of the batter. Bake 35 to 40 minutes or until crumbs are nice and golden or a toothpick comes out clean
Step 8: Cool for at least 45 minutes. Using the parchment paper, lift out cake. Cut into squares and enjoy.
I think you will enjoy this recipe as much as we do!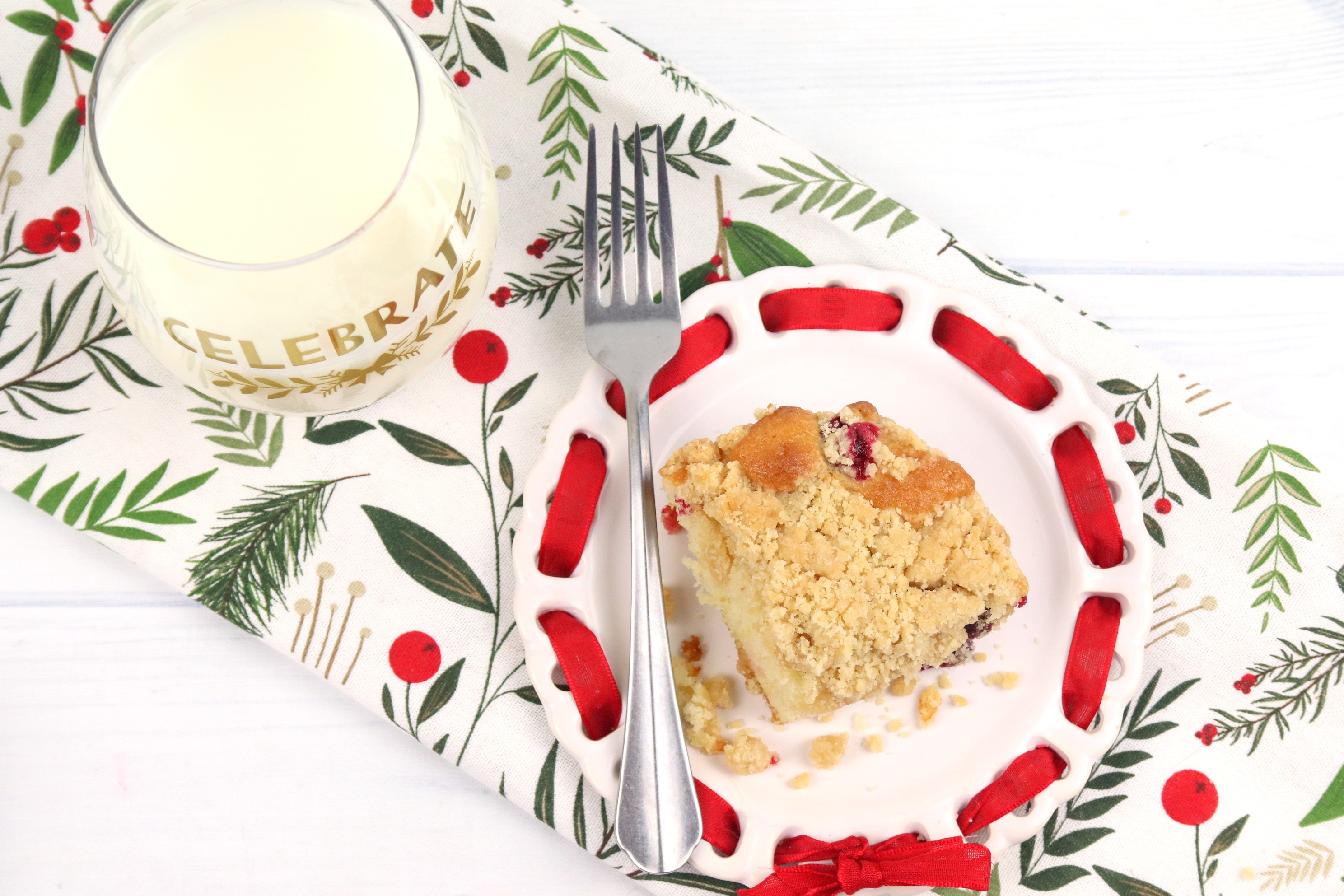 Do you have any baking traditions? I'd love to hear from you. Let me know in the comments below.