If you've followed trending news topics throughout 2018, you'll likely recall that one of the most mind-boggling viral phenomena of the year was the Tide Pod Challenge. The Washington Post chronicles how teens were daring one another to chew, eat, and consume the all-in-one detergent pods used for laundry. While these teens and young adults were purposely accepting this challenge, these laundry detergent pods pose a hidden danger to the pets in your home as well. Your dog or cat is naturally going to get into stuff; it's just their way. It's up to you as an owner to remain informed and help keep them safe. Make no mistake; laundry pods are bad for your pets. Here's why.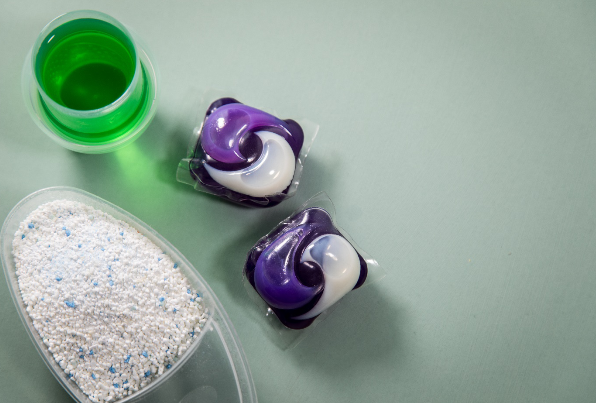 Why Detergents are Dangerous
Almost all soaps and detergents, whether for the laundry or kitchen sink, are dangerous because they contain chemicals known as ionic and anion surfactants. Even if only a small amount is ingested, it is possible for your pet to respond to the unpleasant taste with mild symptoms such as excessive drooling or diarrhea (more on this later). Simply put, there's nothing safe about detergents when it comes to inhaling or ingesting them. There's a reason parents are told to keep them away from young children, and that same reasoning applies to your pet.
Why Laundry Detergent Pods are Dangerous
Now, laundry detergent is problematic enough on its own. However, there is an important difference between your average bottle of laundry detergent and laundry detergent pods that can make the difference between your pet becoming slightly irritated by the product or life-threateningly ill. For starters, it's not very often that dogs or cats will ingest a large amount of laundry detergent. After all, you don't tend to spill large amounts of laundry detergent without noticing it happening. Even if your dog or cat swoops into the room and licks some of it up, they're not going to ingest much.
The problem with detergent pods is two-fold. First, the combination of liquid and powder detergent within the pod itself is concentrated. Consuming the concentrated laundry detergent from a pod is much more dangerous than consuming the same physical amount of detergent from a liquid or powder spill on the floor because of the concentration of the chemicals in the pod. Secondly, the detergent inside of laundry pod is under pressure. When the pod is punctured by a curious dog or cat, the detergent combinations inside are often quickly expelled and pose the danger of your pet either ingesting or inhaling the detergents.
Why Detergent Pods are Such a Problem for Pets
The problem with laundry detergent pods extends to the design. First and foremost, many laundry pods are colorful in design and look to your pet as though they are toys. They also happen to be the perfect size for pets to put in their mouth. Additionally, the compact nature of laundry pods makes it easier for one to end up on the floor without your noticing as you reach into the bag or bin for a pod. Once on the floor, it is in prime position for your pet to snatch it up and chew on the pod. Even if your pet ingests the pod without puncturing it, it could still burst later. Pods are designed to dissolve in the washing machine during the cycle and can weaken and burst in your pet's stomach as a result of saliva breaking down the outer shell.
Signs of Laundry Detergent Poisoning
As alluded to earlier on, there are a number of signs and symptoms to watch for in your pet if you believe a laundry detergent pod has been consumed. Instances of minor irritation typically lead to retching and vomiting as your pet's body works to try to expel the irritant. Signs and symptoms of more serious poisoning include:
Diarrhea

Coughing

Foaming at the mouth (you may notice bubbling and even smell the detergent)

Lethargy

Labored breathing

Constant rubbing of the eyes, nose, and/or mouth
Ingesting multiple pods can result in intestinal obstructions and even corrosion of the G.I. tract. Inhalation of the ingredients inside of a laundry detergent pod can result in deterioration of the lung tissue or even suffocation. When detergents are inhaled, it is possible that your pet may struggle to exchange oxygen properly.
What to Do if You Suspect Poisoning
If you notice any of the above symptoms in your pet or suspect that missing pods might have been consumed by a pet, there are immediate steps you can take at home to make them more comfortable. For pets rubbing their eyes, nose, and mouth area it is important to thoroughly rinse the area and try to dilute the laundry detergent as much as possible to relieve the animal's discomfort. If you can visibly spot laundry detergent on their coat, make sure to rinse it completely clean, so your pet cannot further harm itself by ingesting or inhaling the detergent while cleaning itself.
Once you've done these things, or if you suspect a serious poisoning from the get-go, contact your veterinarian as quickly as possible and make an appointment. Most veterinarians will administer oxygen to support your pet's lungs and provide intravenous fluids to try to dilute the laundry detergent in their system.
It is worth noting that dogs have shown to be much more susceptible to poisoning from laundry detergent pods. The ASPCA Animal Poison Control notes that when it comes to liquid detergent poisonings (non-pod related), dogs represent nearly 60% of cases and cats represent 41% of cases. Most cats get into laundry bottles by knocking them over and getting it in their fur, ingesting the detergent later on as they clean themselves.
However, with laundry detergent pods the ASPCA has found that dogs represent some 92% of poisoning cases. Pods are typically too large for cats to swallow whole, while most medium and large dog breeds have no trouble swallowing the pods whole.