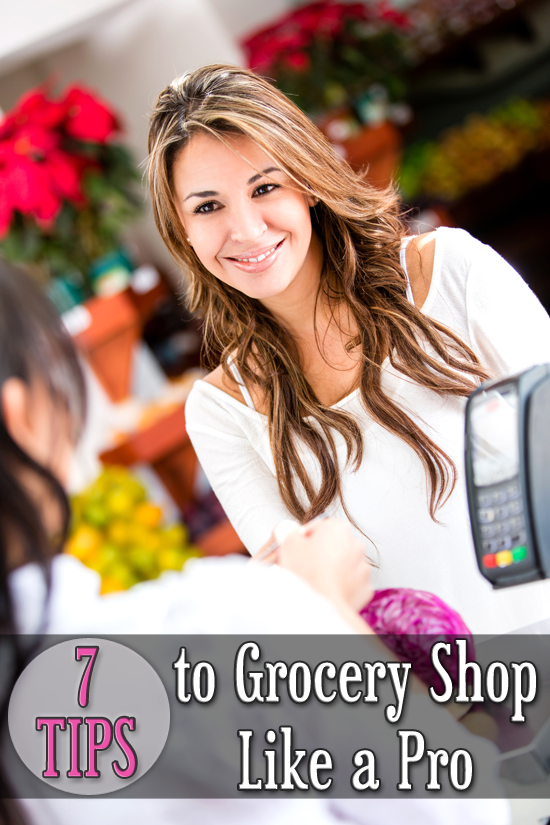 The art of grocery shopping should never be underestimated. Busy moms understand that wandering through the grocery store without a list while haphazardly tossing things into the cart isn?t the best way to shop.
And it doesn?t have to be that way.
Successful grocery shopping requires planning, discipline and weekly maintenance. There is a process involved in successfully purchasing food for your family, but it doesn?t have to be complicated.
If you want to grocery shop like a pro, consider the following 7 tips, which help simplify the process.
1. ?Know Your Budget.? You can?t properly plan unless you know exactly what you?re working with. If you don?t already know your budget, figure it out right away. Once you officially know how much you can afford to spend at the grocery store, decide on how much you want to spend.
Just because you can afford to spend $400 a week doesn?t mean you should. On the flipside, if you only have $80 to spend every week, you will need to get creative with how to make it stretch.
Once you decide on your set dollar amount, it?s time to begin planning.
2. ?Plan According to Sales and Season.? Do a little research to determine upcoming sales. Plan your meals around those ingredients. For example, a buy-one-get-one deal on value packs of chicken breast equates to inexpensive meals for an entire week or two. Similarly, shop according to the season. Foods that are readily available in abundance come with the lowest prices tags
3. ?Prioritize.? You can?t always have it all when you?re on a budget. Ask yourself what?s most important, and then prioritize accordingly. If you insist on organic fruits and vegetables, you might not be able to afford gourmet dessert ingredients. But if you insist on making the dessert with those gourmet ingredients, you might have to opt out of organic for the week.
Priorities will likely change week to week depending on your plans ? recognizing this fact will enable you to check out with a lower bill every week.
Another part of prioritizing is realizing where your brand loyalties lie. Maybe you refuse to use generic cotton swabs, but don?t mind off-brand pasta. Recognize the brands you love and budget for them accordingly ? those brands are your priorities. If you aren?t willing to sacrifice them, you might have to make cuts elsewhere.
4. ?Use Lists.? Lists are the savvy-shoppers best friend; learn to love them. Keep a list of items you need on the refrigerator and encourage the rest of the family to use it. This will keep you from making extra trips to the grocery store throughout the week. One forgotten item can lead to the temptation to buy more than what you need.
Of course, you never want to shop without a list. Your shopping-day list should be somewhat organized. Lump together similar items so that you don?t spend valuable time retracing your steps, shopping in circles, or crisscrossing through the aisles.
5.? Be Smart About Coupons.? A coupon does not always mean instant savings. Companies strategically target shoppers, attempting to make them think they?re getting a deal even when they aren?t. Be smart and look at the big picture. If you don?t have the extra $10 in your budget for the buy-four-get-one-free peanut butter, it?s not wise to stock up. Similarly, if your family uses 2 jars of peanut butter every week, it?s probably a good idea to use the coupon and make the purchase. And if you're going to use coupons, Amazon Grocery Coupons
are a convenient way to enjoy the savings of coupons without the hassle of clipping. You can browse Popular Amazon Coupons
for hundreds of grocery items.
6.? Grow Your Own.? Very few grocery-saving tactics are as advantageous as growing your own food. Plant vegetables in the spring and enjoy the harvest throughout the summer months. Grow your own herbs for further savings; use them fresh when you can, or dry them for later use.
7.? Love Those Leftovers.? Give children only what they will likely eat to avoid throwing anything away. Pack leftovers for lunches later in the week. Or freeze leftovers to make dinner next week. Plus, there are plenty of ways to be resourceful with leftovers and create something delicious.
You don?t have to be a professional to grocery shop like one. With a little practice and discipline, you will master the art of successful grocery shopping.? And here?s an added tip for effective grocery shopping: never shop hungry.
While the list above is a good start, I'm sure I've missed a number of things. So? If you have any suggestions as to how to save money on groceries, please share them in the comments.
Now it?s your turn.? How Do You Save Money on Groceries? What are your tips to shop like a pro?
For more money saving tips, check out The Penny Hoarder?s post on 5 Ridiculous but effective ways to save on your groceries.