This is a Sponsored post written by me on behalf of Gro-ables for SocialSpark. All opinions are 100% mine.
Spring is one of my favorite times of the year because I get to start a little herb garden. ?I live in an apartment so there is not a lot of growing big things but herbs are perfect! ?I always go out and pick pre-planted herbs to pot on my porch. ?This year though I'm excited to try out the new Miracle-Gro?Gro-ables! ?They are a brand new product from Miracle Gro and are easy to use, especially for first time gardeners! Gro-ables are guaranteed to grow, when you use them as directed. ?It doesn't get any easier than that!? Gro-ables take all the guess working out of gardening and who wouldn't want to grow something that they can actually use in delicious recipes! ?They are also the perfect way to try a new plant that you've never grown before! ?Here is a video about how Groables work!
Gro-ables?are perfect for growing edible herbs and vegetables! ?They are also super affordable at only $1.29-$1.49 per a pod and you can use the herbs over and over again once they get growing! ?One of my favorite meals to cook is Pesto Pasta. ?I've used store bought pesto before but its not as delicious as growing my own basil and making it!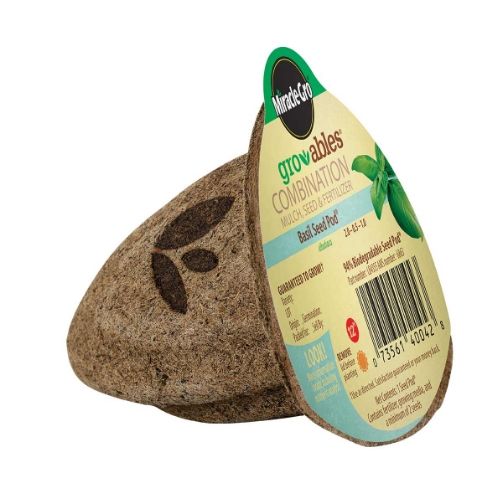 Basil is so easy to grow especially with these new pods and I can't wait to use my pesto pasta recipe with the herbs that I grow! ?There is truly nothing better than a meal you created from your garden. ?It is so fresh and easy! ?The pesto recipe that I use is super simple and you can use some of your fresh grown basil from your Gro-ables!
All you need to make homemade pesto is:
2 cups packed fresh basil leaves
2 cloves garlic
1/4 cup pine nuts
2/3 cup extra-virgin olive oil, divided
Kosher salt and freshly ground black pepper, to taste
1/2 cup freshly grated Parmesan cheese
To Make the Pesto you:
Combine the basil, garlic, and pine nuts in a food processor and pulse until coarsely chopped.
Add 2/3 cup of the oil and process until fully incorporated and smooth.
Add 1/2 cup freshly grated Parmesan and process for a few minutes. ?This doesn't have to be completely processed.
Season with salt and pepper.
Serve over the pasta of your choice.
This is a delicious and fresh recipe that I can't wait to make with some basil from my Gro-ables!