I don't think words could express my feelings enough, when I say I LOVE THIS RIGONI DI ASIAGO. I have tried a few hazelnut spreads in my lifetime, but this one is A-M-A-Z-I-N-G. I think you get my excitement when I say this product is really fabulous.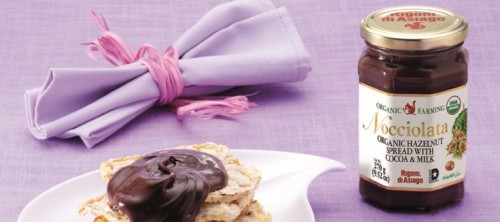 When I first tried this organic hazelnut spread with cocoa and milk, I was hooked from the start. My kids even thought it was fabulous. We first tried it whenever we ate a piece of toast for breakfast. I'm not kidding when I say my kids scarfed it down. I love this spread from Nocciolata because it's sophisticated enough for an adult, but tasty enough for a kid. There are not many products out there that can please all crowds. For you organic lovers, this hazelnut spread is all natural!!!!!!!!!!!
People across the country have become fans of this rich-tasting creamy treat finding new and creative ways to enjoy. Made with organically produced ingredients, carefully selected and measured, and skillfully combined to create the perfect, creamy consistency, Nocciolata can be enjoyed as a spread on bread, an accompaniment to cakes, crepes or ice cream; and is even used by creative cooks in cooking and baking. Nocciolata is 100% natural and made only of organic raw materials without the use of chemical processes, no artificial flavors, and very importantly does not contain palm oil. Soft and scented with the flavor of Italian hazelnuts, Nocciolata is smoother and has more hazelnut flavor than other spreads in this category like Nutella.
Price is also inexpensive. I was so impressed with this because the price was so amazing. Price is $4.99 for a 9.52 oz jar!!!!!!! Can you feel my excitement. You can purchase this amazing spread by visiting www.rigiondiasiago-usa.com. You can see more about the company and how they make this fabulous spread. I am on my way to losing weight and this is ideal for me because it's just the right amount of flavor.
Check out Nocciolata on Facebook. 
A sample of this product was received for review.