You've all heard the saying ?Everything's bigger in Texas?, right? And, while that may be true, it?s also true that everything is tastier in Texas too! Texas is much more than the country plains and thick accents that most (those who aren?t from the South) think. Texas has a unique culture made of a melting pot of flavors and people who love to eat. I know for me personally, food is near and dear to my heart.? So much, that not only does it has to be good and flavorful, the products I use have to be on point.
Speaking of food, I recently made a ?quick and easy Spicy BBQ Taco Bowl that was a major hit with the family.? This meal was perfect in several ways because not only was it delicious, it took no time to make which means I was able to have extra free time after my work day. Happy Dance!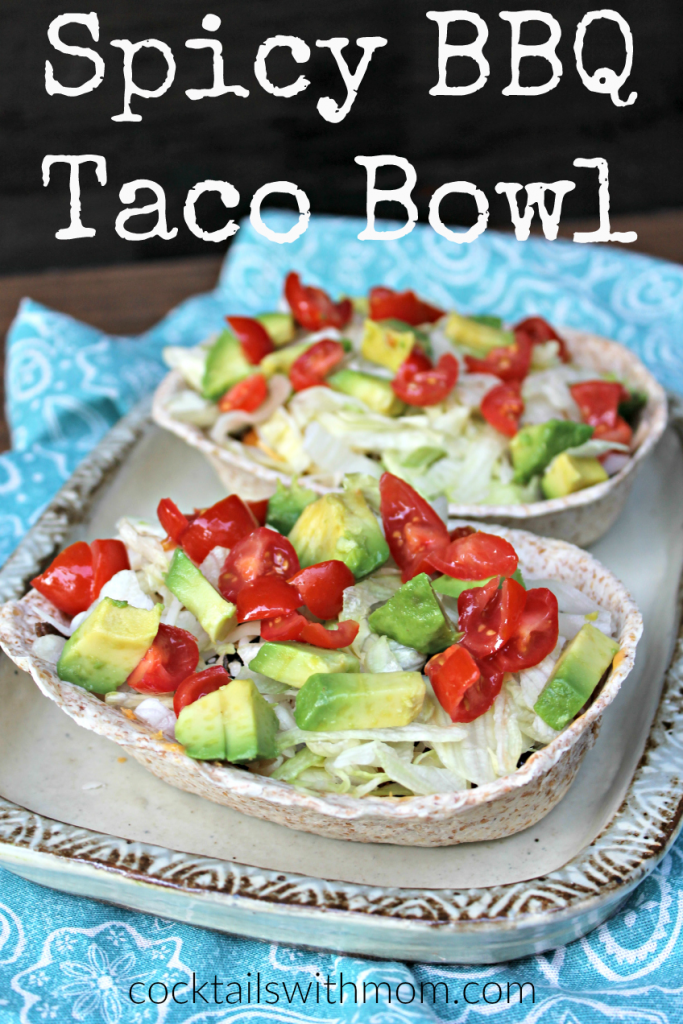 To pull this recipe off, I made sure I had all the ingredients on hand.? Lucky for me, I had all I needed and more.? Remember I mentioned that my ingredients and products have to be on point.? Well, let me tell you, Texas products don?t disappoint.? I received a box of Texas goodies, courtesy of Ozarka water to celebrate Texas bounty, that was right up my alley.? I grew up on Ozarka water and it?s still one of my favorites today.?The box of goodies not only included Ozarka water but also a few other Texan favorites I couldn't wait to try.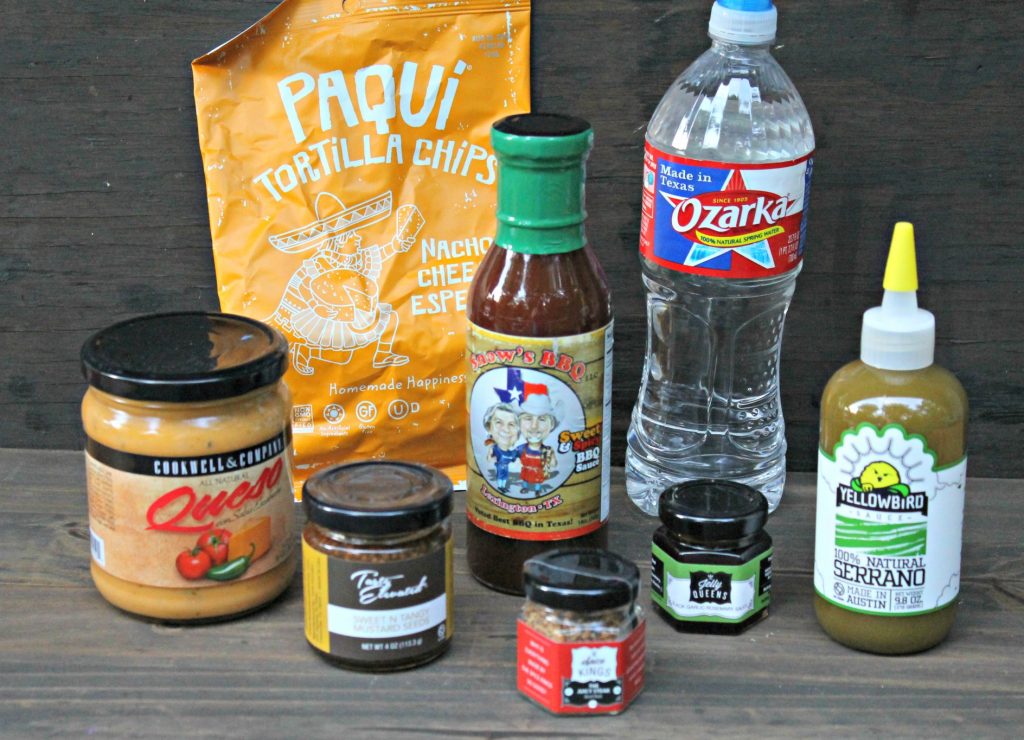 Here?s a breakdown of the products I received, but keep on reading to see which one?s I used in my recipe!
Ozarka Spring Water – Ozarka water is our favorite because of it's unique Texas fresh taste, coming from 3 natural springs
Paqui Tortilla Chips – Natural ingredients, unbleached/untreated flour. Referred to as the better for you tortilla. Yum!
Taste Elevated?s Sweet & Spicy Mustard Seeds ? flavor-packed pearls just tender enough to burst in your mouth.? Tasted good on just about anything.
Jelly Queen?s Black Garlic Rosemary BBQ Sauce -handmade in small batches using organic ingredients
Cookwell & Company?s Queso ? cheddar and blue cheeses combined with fire-roasted tomatoes, onions, diced jalape?os, and lime juice.
Yellowbird Sauce – Totally natural spicy pepper condiments. Goes great on anything you can think of.
Snow?s BBQ Sauce – named best barbecue sauce in Texas by Texas Monthly.
Spicy BBQ Taco Bowl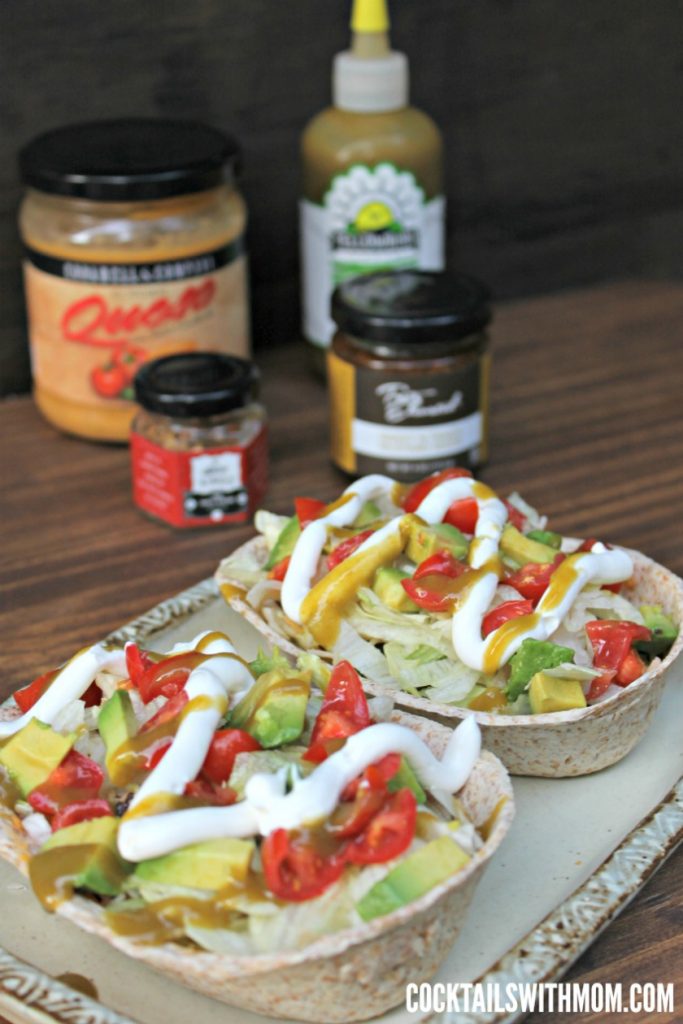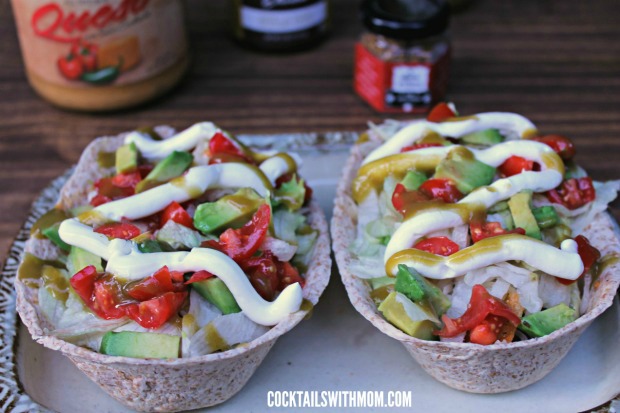 Summer is a time for celebrations and we love supporting our local companies. With the days being hotter now, I am always looking for quick and easy dinner ideas with big flavors.? Quick meals are ideal when the goal is spending more quality time with the family.?? Good food, large appetites, and family around the table is the best of times!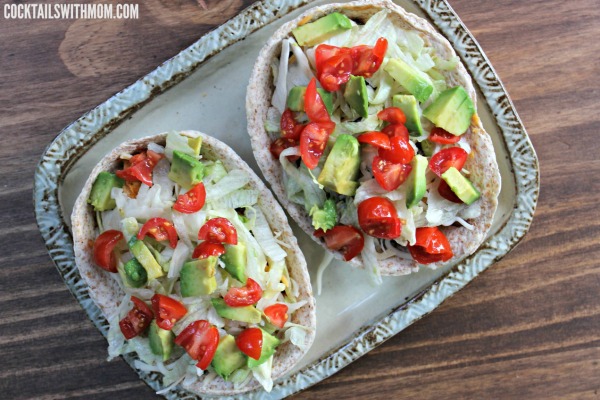 Here are the quick instructions for this Spicy BBQ Taco Bowl so you can try it for yourself!
What You Need:
1 pound of lean ground beef
1 small can of diced green chilies
1 tablespoon Yellowbird Serrano Sauce
2 tablespoons of Snow?s BBQ Sauce
2 tablespoons Cookwell & Company Queso
? teaspoon Taste Elevated Sweet & Spicy Mustard Seeds
2 teaspoons Spice King Steak Rub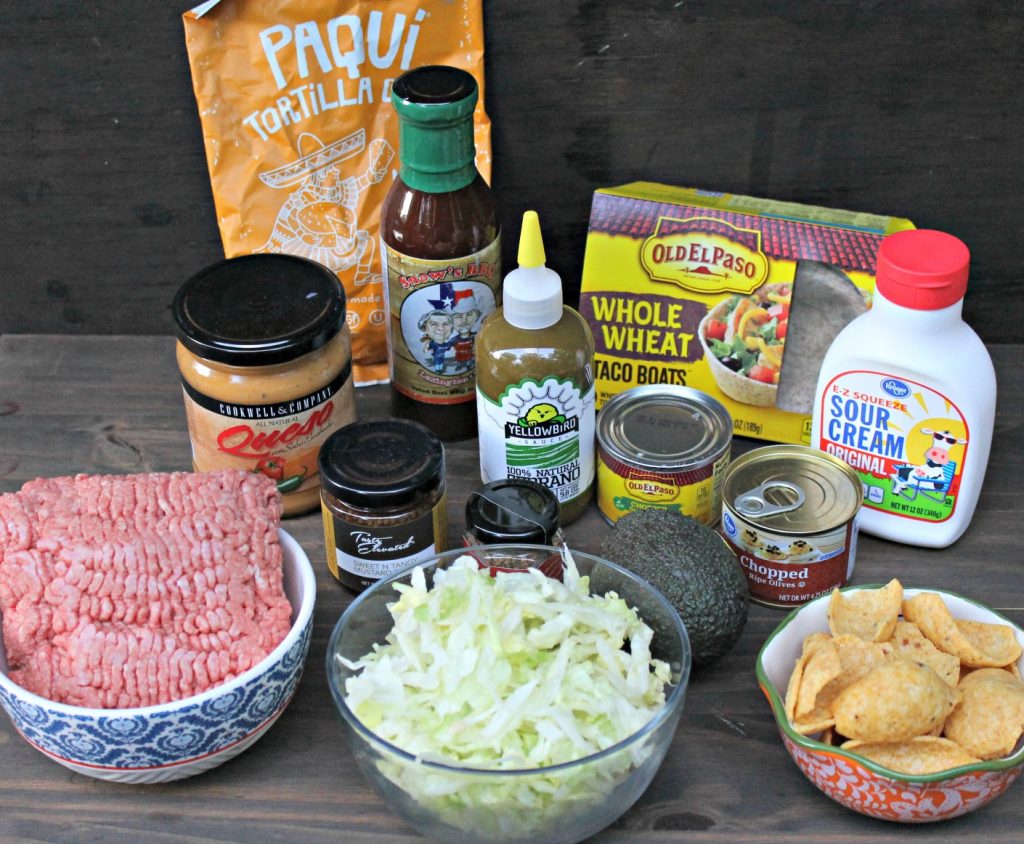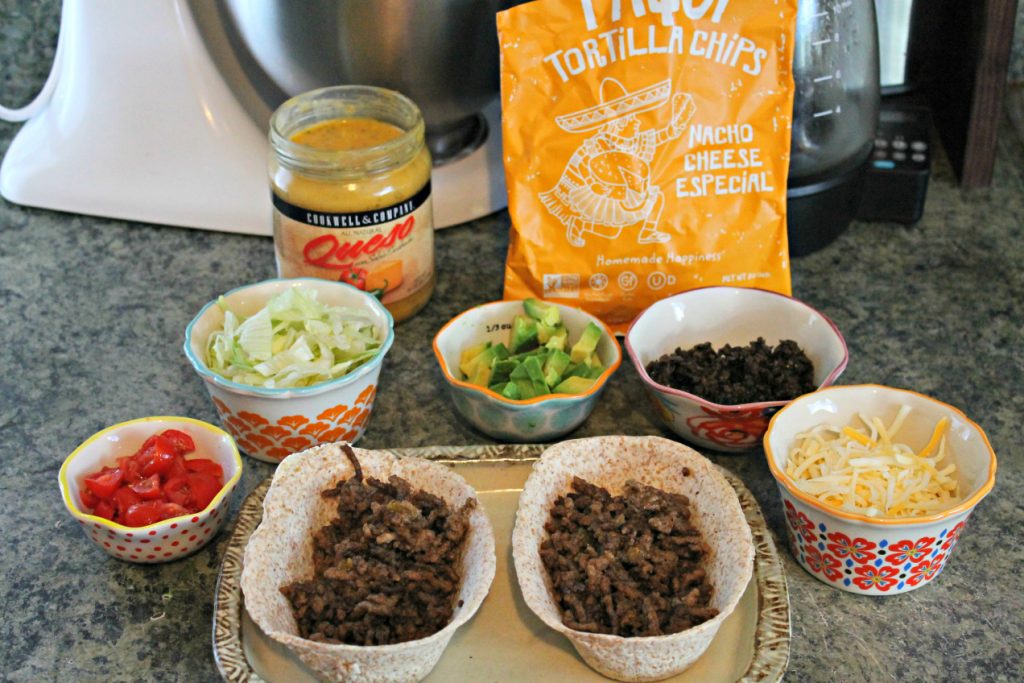 \These ingredients will be the toppings. This recipe makes 6 Old El Paso Tortilla Boats

1 small can of diced black olives
2 cups of shredded lettuce
1 cup of shredded cheese
? cup sour cream
? cup chopped tomatoes
1 avocado, chopped
1 cup crushed Paqui Tortilla Chips
1 cup corn chips, crushed
1 package of Old El Paso Tortilla Boats
In a medium saucepan, brown your ground beef. When meat is cooked halfway, add your green chilies, Yellowbird Serrano Sauce, Snow?s BBQ Sauce, Cookwell & Company Queso, and Taste Elevated Sweet & Spicy Mustard Seeds. Cook for 2 minutes. Set aside.
Beginning with your Old El Paso Tortilla Boats, add your meat mixture, black olives, crushed Paqui tortilla Chips, crushed corn chips, lettuce, tomatoes, avocados and sour cream.
Buy Local and Enjoy The Tastes of Texas
We used several ?local? brands to prepare this easy yet delicious recipe. Supporting local is always a good thing!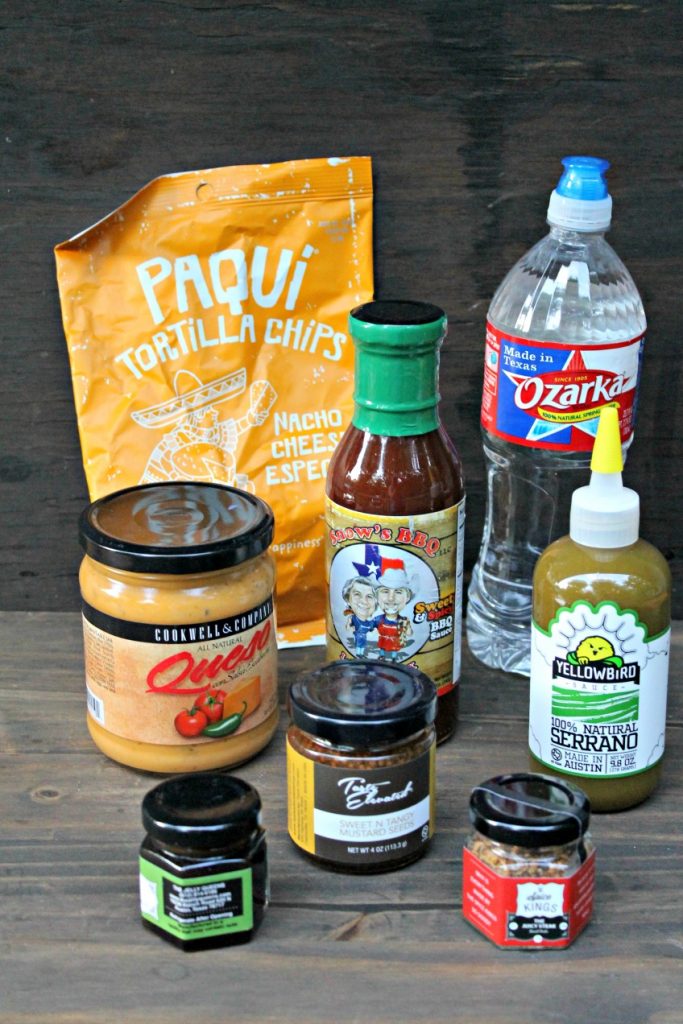 Thank you to Ozarka Brand Natural Spring Water for sponsoring this post and supporting our local communities. You can learn more about Ozarka water and Ozarka Water Delivery by connecting on Facebook and Twitter!
What are you favorite Texas products? Share with us below!
?
?
Save
Save
Save
Save
Save
Save
Save
Save
Save
Save