When I found out I was pregnant, my husband and I were ecstatic! We jumped in and read all the parenting books, shopped for the best stroller, and decorated the nursery as cute as could be.
It turns out actually being parents is much different than just planning for parenthood. Our daughter is our pride and joy and brings so much happiness to our home, but having a baby isn?t without its challenges. For us, it?s colic?the crying and fussing can be hard at times for all of us. Like every new mom, I?ve tried everything to make her feel better and be happy; I?ve found a few things that help, but I?m always on the hunt for more.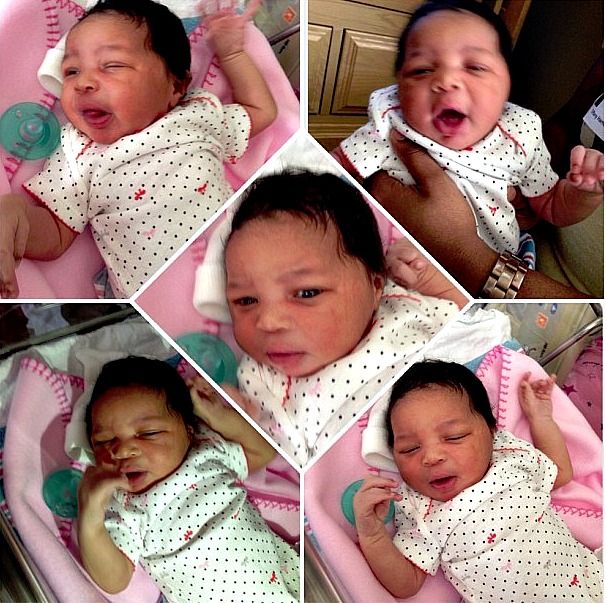 That?s why I?m so excited to partner with Gerber Soothe products to help reduce crying time. Gerber has different products for different babies?we?re trying the Gerber Soothe Colic Drops on my breastfed baby, but there?s also Geber Good Start Soothe Infant Formula for formula-fed babies. The soothing drops have a natural probiotic that is shown to reduce crying time. I also love that Gerber has a team of experts available, like registered dieticians and lactation consultants, because let?s face it?calling a professional is better than aimlessly searching the internet for answers in the middle of the night. I?m saving the expert number 1-800-203-4565 to call whenever I have questions.
If your baby suffers from colic, you?re not alone. In fact, three out of every 10 babies suffers from it at some point. Crying is a way for babies to express how they feel. All babies cry. It?s natural. In their first year of life, babies are learning to communicate, and crying is a way for them to express themselves. However, some babies can cry for long periods of time without responding to your usual comforting methods. This can happen even if they are not hungry, too cold or warm and everything seems well. Among the reasons for excessive crying is digestive discomfort, and infantile colic is a symptom of digestive discomfort.
I?m no expert, but here are three ways I?ve learned to calm colicky babies:
Move them around. We like to put my son in the baby wrap when he is particularly fussy and walk around with him?it calms him right down. Other babies might like going on a walk in the stroller, riding in the car, or sitting in a vibrating baby swing.
Reduce distractions. Babies can easily get overloaded, which makes it even harder for them to calm down. We turn off the lights and swaddle our son in a soft blanket and turn on soft music or white noise.
Pedal their legs. This one was a game-changer for us. With your baby on their back, pedal and pump their legs to remove gas that may be making them uncomfortable.
And another solution you might want to try is the Gerber Soothe drops or Gerber soothe colic infant formula. You can never have enough options to add to your arsenal of colicky baby tools.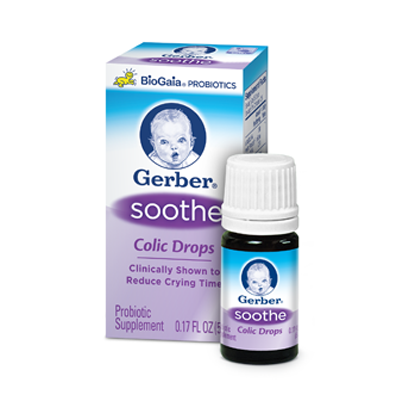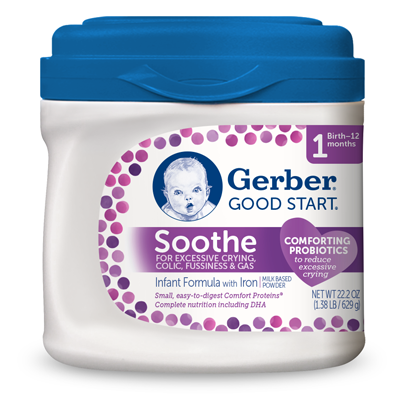 Having a baby is an experience unlike any other. Once my husband and I learned some basic tools to help with colic and fussiness, we calmed down and were able to enjoy parenthood a lot more. We?re still learning and taking advantages of all the tools we can to help our baby be comfortable and happy.
Learn more about Gerber?s amazing soothing products like the Soothe Colic Drops and Soothe Colic Infant Formula to see if they can help your baby (and you!) calm down.
What are your tips for helping a fussy baby?
Win It: One lucky reader will win a $25 Visa or Amazon Gift Card! Just enter using the simple form below. Good luck!