Mornings are rough, and during the winter my skin is rough too. I feel like every morning is a race to get everything done and out the door on time. I have my beauty routine down to a science, but sometimes I'd rather have a few more minutes in bed than spend it primping in the mirror. One thing that I can never forget is moisturizer—my skin definitely feels the wrath of dry winter weather. But with a busy morning, it's hard to wait for the lotion to dry before getting dressed, and then I end up with oily hands, messy skin, and a bad mood.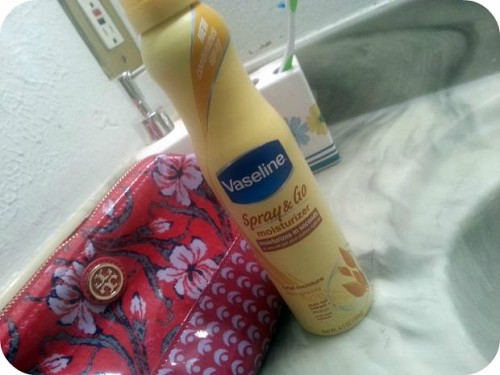 With Vaseline Spray and Go, I don't have to sacrifice precious time in my morning routine or moisturizing in my legs. Vaseline Spray and Go is a continuous spray moisturizer that absorbs in 10 seconds or less with just a few quick rubs. Simply spray across your skin once with the 360-degree spray nozzle, rub it in, and you're good to go. No waiting for lotion to dry and no sticky or greasy hands. Plus, it comes in three varieties—Total Moisture, Cocoa Radiant, and Aloe Fresh. The multi-layer moisture complex means the softness and moisture lasts all day.
Vaseline Spray and Go is the perfect addition to my morning routine and makes me skin soft and radiant without slowing me down. And now Vaseline wants to Spray it Forward with a great coupon so you can try it out. Visit the Vaseline Facebook page to download a $4 off two Vaseline moisturizer coupon—get $2 for you and $2 more when your friend signs up for the deal. And you can #SprayItForward more on the Vaseline Twitter page.
If you're a woman on the go or just want a few extra minutes in your morning routine, try Vaseline Spray and Go for instantly smooth skin. You won't regret it.

This ia a sponsored Post for Vaseline and One2One Network, however all opinions are my own.