Gas is one of those things you can put down as a necessity. That is, if you drive a car. And if you do, then you know how outrageous the price of gas can be. I cringe every time I go to fill up our SUV knowing that I will be saving bye bye to $75 dollars each time I pull up to a gas station.
While I do work from home-I still have errands to run and kids who participate in several extra-curricular activities. Add in our summer road trips and that means a much bigger gas budget. Right now I'm paying $3.25 per gallon and would welcome any relief on my pocketbook so hopefully I can feel some relief since I just signed up for Shell's Fuel Rewards Network Program.
The Fuel Rewards Network Program is a free loyalty program where you can sign up for a free card online at fuelrewards.com or at participating Shell gas stations. When you go to fill up, just swipe your FRN card and it will automatically drop your price by 3? off per gallon prior to swiping your payment card.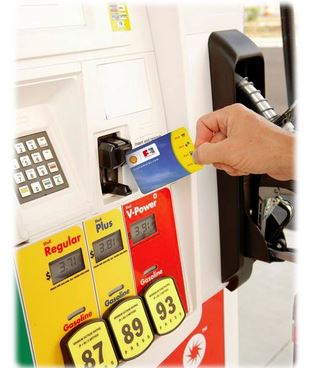 But but for a limited time, new members of the Fuels Rewards Network program can get a $0.25/gal sign-up bonus when they join the program.? To qualify, you must purchase at least 8 gallons of fuel on your first fill-up using your Fuel Rewards Network Card (while enjoying at least $0.03/gal savings).? Then, the $0.25/gal will be credited to your account for your next fill up. Not bad at all, But there are other ways you can earn savings with the Fuel Rewards Network program as well.
Other ways to Earn:
You can earn more rewards when you shop through the FRN-linked website and when you link your Mastercard for points when you eat at restaurants, go to the movies and grocery shop. When shopping online, click through the FRN website to their linked retailers to save $.05/ gallon for every $50 purchased through their site.
Every little bit saved helps….. even at the gas pump. I encourage yo to take advantage of the FREE Fuel Rewards Network Card online at FuelRewards.com or pick one up at any participating Shell station and activate it online. You can also text Rewards to 743551 to join.
So what are some ways you save at the gas pump?
$25 Shell Gas Giftcard
Fuel Rewards Network
?GIVEAWAY
We have a $25 Shell gift card to give ONE of my very lucky readers! To enter, all you have to do is sign up for the Fuel Rewards Network ? please use my LINK.?? By signing up with my link I have a chance to win FREE GAS for a year.? So your help is appreciated.
This contest is open to the US and will close at 11:59 PM on July 17, 2014
Mandatory Entry: Sign up for the Fuel Rewards Network ? please use my LINK.?If you are the winner,? you will have to show proof of your sign up so please be sure you do this step.
:: For Extra Entries ::
1) ?Like? Cocktails with Mom on Facebook and leave your Facebook ID!
2) Follow Cocktails with Mom on Twitter and leave your Twitter ID!
3) Tweet this giveaway: Save on? gas with #fuelrewards, Enter to Win a $25 Shell Giftcard #Giveaway @Momcocktails @FuelRewards

4) Follow Cocktails with Mom? on Instagram
{Disclosure: I received compensation to write this post, but all thoughts and ideas are my own.}