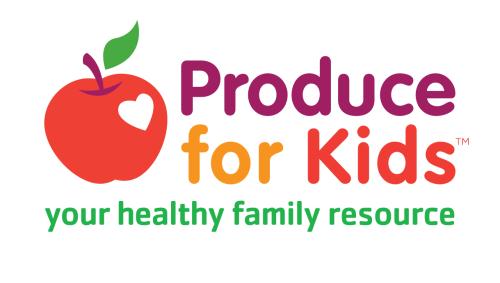 For years we all just ate whatever we wanted and passed that same attitude onto our kids.
I remember growing up and my mom just let me eat whatever I want, but I am trying to change things for my family. Each meal, I make sure they have a fruit and a vegetable on their plate. I'm surprised as to how much my kids really like fruits and veggies, and I'm glad I get to give them a chance to try them.
Here is a little more about a program I ran across and I"m excited to share!
Get Healthy, Give Hope is a produce baby from Produce for Kids and 16 other supermarkets around the country. This is to help raise money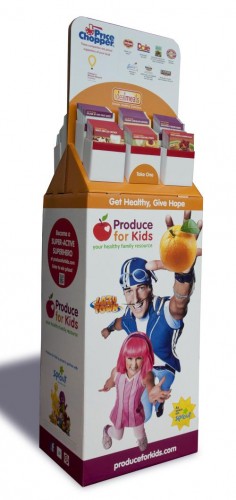 for Texas Children's Hospital and other local Children's Miracle Network Hospitals®.  
Now through July 24th, thanks to the annual Get Healthy, Give Hope campaign hosted by Kroger and Produce for Kids, the more produce shoppers add to their shopping lists the more hope they can give to local children.
Celebrating a milestone 10th birthday in 2012, Produce for Kids is excited to kick off this year's campaign with a new partnership with Sprout® and LazyTownTM. During the campaign, Produce for Kids will offer shoppers collectible Ideal MealsTM– quick and easy healthy meal ideas, which are free and can be found in displays featuring LazyTown characters from the popular, health-focused, children's series airing exclusively in the U.S. on 24-hour preschool television channel, Sprout.
Ideal Meals offer shoppers chef-created/nutritionist-approved easy solutions for breakfast, lunch, dinner and dessert. Featuring fresh fruits and vegetables as the main ingredients, Ideal Meals are great for busy families who crave fast meal options that don't require stopping at the local drive-thru.
 I think a lot of times we do fast food because of the convenience. We know it's not good for us but we do it anyway. Hopefully these meal ideas can help change our attitudes against fast food restaurants and producing better foods for our kids.
Below are some delicious and healthful summer-inspired Ideal Meals  from Get Healthy, Give Hope
Chocolatey Fruit Skewers
Serves 4
Preparation Time: 12 minutes
Ingredients:
·   1 premade pound cake
·   8 strawberries, whole, leaves hulled
·   8 raspberries, whole
·   1 cup pineapple, cored, chunked
·   4 Tbsp. chocolate syrup
·   4 (6-inch) bamboo skewers
Directions:
1. Cut pound cake into 4 1×3-inch rectangles and 8 1×1-inch squares.
2. Place 1 1×3-inch piece cake on plate, stick skewer in middle.
3. Add strawberry, raspberry, pineapple and 1×1-inch piece of cake to skewer.  Repeat with another strawberry, raspberry, pineapple and 1×1-inch piece of cake.
4. Drizzle with chocolate syrup.
Nutrition Information:
Chocolatey Fruit Skewer Calories 354, Fat 2.5g, Protein 12g, Carbohydrate 52.1g, Fiber 2.4g, Cholesterol 9mg, Sodium 280mg, Calcium 348mg, Vitamin A 529 IU, Vitamin C 44.4mg, Iron 1.4mg
 Fruit & Cream Delights
Serves 4
Preparation Time: 10 minutes
Ingredients:
·   1 peach, pitted, roughly chopped
·   1 nectarine, pitted, roughly chopped
·   1 plum, pitted, roughly chopped
·   1 cup cherries, pitted, roughly chopped
·   1 Tbsp. honey
·   4 tsp. whipped topping
·   4 portions premade angel food cake
Directions:
1. Chill large metal or glass mixing bowl in freezer for 10 minutes.
2. Combine peaches, nectarines, plums, cherries and honey in medium bowl. Mix thoroughly, set aside for 5 minutes.
3. Top portioned angel food cake with fruit and whipped topping.
Nutrition Information:
Fruit & Cream Delights Calories 255, Fat 2.9g, Protein 11.4g, Carbohydrate 47.6g, Fiber 2.6g, Cholesterol 10mg, Sodium 338mg, Calcium 363mg, Vitamin A 827 IU, Vitamin C 10.9mg, Iron 0.6mg
 Smoothie Pops
Serves 16
Preparation Time: 20 minutes
Ingredients:
·   1 large peach or mango, peeled and chopped
·   1 large nectarine, peeled and chopped
·   2 medium bananas, sliced
·   1 pt. strawberries or raspberries
·   ¼ cup orange or fruit juice
·   2 cup low-fat vanilla yogurt
Directions:
Place all smoothie ingredients in a blender and blend until just smooth.
Place 16 paper cups on a baking tray.  Pour smoothie into paper cups.  Place tray in freezer and freeze until slushy, about 20 minutes.  Remove tray from freezer and insert one popsicle stick into the center of each cup.  Return to freezer and freeze until firm, about 2 hours.
To serve, tear away paper cup and place on plate. Enjoy!
Serves 4
Preparation Time:
Ingredients:
·   1 cup toasted oat rings cereal (like Cheerios®)
·   1 cup round corn puffs cereal (like Kix®)
·   ½ cup round colored corn puffs cereal (like Trix®)
·   ½ cup roasted, unsalted peanuts
Directions:
Combine all cereal mix ingredients in a large bowl.  Serve with Smoothie Pops.
Nutrition Information:
Smoothie Pops & Super Cereal Mix Calories 278 (60% carbohydrate, 11% protein, 31% fat); Fat ; Protein ; Carbohydrate ; Fiber 7g; Cholesterol 5mg; Sodium 7g; Calcium 18% DV; Vitamin A 13% DV; Vitamin C 52% DV; Iron 33% DV

GET HEALTHY, GIVE HOPE CAMPAIGN  DATES – Check it out at a retailer near you!
Meijer: May 27th – June 23rd 
Homeland: May 30th – June 27th·
Publix: May 31st – June 28th
Kroger Southwest: June 13th – July 24th
Fred Meyer: June 14th – July 26th
Price Chopper: June 17th – July 28th
King Soopers: June 20th – July 31st
Kroger Central: June 21st – July 18th
Giveaway!
 1 lucky reader is going to win a $25 Gift Card to Krogers!
HOW TO ENTER….
*One entry per person per method of entry per day. Be sure to enter a separate comment for each method of entry (one comment for Facebook, one comment for Twitter, etc.). This way you have a higher chance of winning.
1. COMMENT: Leave a comment telling me how you would use the gift card
2. SUBSCRIBE : Subscribe via Email/RSS– even if you already receive it, add an entry as a comment below!
3. TWITTER: Follow Cocktails with Mom and Kroger.
4. FACEBOOK: Follow Cocktails with Mom and Kroger.
5. TWEET IT:  Share this giveaway with your followers with a link back to this page and including @momcocktails in the tweet.
6.COMMENT:  Comment on a non-giveaway post.
GIVEAWAY ENDS  July 23rd, AT 11:59 pm CST. The winner will be drawn using Random.org. The winner will be notified via email and have 72 hours to respond before another winner is drawn. Open to US Only.

Disclosure: I was provided with a Kroger gift card and one will be provided for the winner of the giveaway. All opinions are my own.