With so many things going on in everyday life, keeping up with the whereabouts of family can be difficult.  Trying to remember where everyone is can be exhausting especially if you are constantly making phone calls.
My husband and I have two little children and a lot of times we like doing one on one things with them. For example, if we all go to the grocery store, we will split up to make things a little easier.  Or, my husband will take our oldest son on a day trip somewhere leaving me behind.  My mom was widowed at a young age and I have always been a worry wart so having access to the Verizon Family Locator has helped put my mind to ease.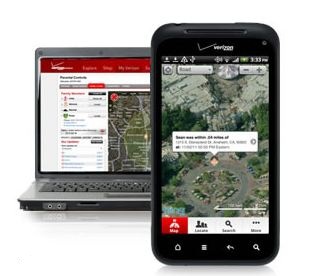 I like to feel connected to my family, even when they are busy doing something else. Knowing where they are and that they are safe is very important to me. I actually heard about this app from a lady at my church that has 3 teens. Her teens are always on the go and I was sharing my fears with her and she introduced me to the Verizon Locator App.
We are on a tight budget, so I knew we could not just add something crazy to our phone bill each month. That's why I loved this app because it's only $9.99 a month per household. I think for the price, you always have peace of mind and well that is priceless. I do not always have to bother my husband when he is away, trying to have a bonding moment with one of our kids. He also travels pretty far to go to work, so I can just check in on the app and that helps me know he made it to work safely.
And that's not all.  Another great feature is that the the Verizon Locator can actually help you find your phone if you lost it! For me, this has been a lifesaver, or should I say a phone saver!  With two little ones running around, my phone is always getting carried off into oblivion. In fact, my littlest one threw my phone behind a cabinet today and I was able to use the app to locate my phone. I would say that for $9.99 a month, this app really settles a lot of my worries, plus it's a little cheaper than replacing my phone every other day!
Family-friendly features of Family Locator include:
• Family location – A detailed location, including the address, can be displayed on an interactive map and turn-by-turn driving directions to your family member's location using the VZ Navigator application.
• Arrival and departure updates – Provides updates when family members leave or arrive at defined locations like school or home.
• Scheduled updates – Choose times you want to verify where a family member is.
• Share locations – Share your location, family members' or local points of interest by email, text message or post to Facebook.
Verizon Family Locator is now only $9.99 a month per household account.  For more information about the app, and to download the free 30-day trial, please visit: www.vzw.com/familylocator
*This post has been sponsored by Verizon.