A Primo bottom loading water cooler has brought both convenience and style to owning an at home clean water system.  For anyone who has owned one of those 5-Gallon water coolers or has one at work, are all too familiar with the hassle of trying to lift those heavy jugs then trying to flip it over into place fast enough before water shoots out all over the place.  Also, many of the dispensers are just not appealing to look at and stick out like old relics. Primo has brought on a new era for water cooler owners.  Gone are the days of the lift and flip and the days of ugly and out dated water coolers.
The sleek design of the Primo bottom loading water coolers is definitely a plus for this cooler. The new modern look with contemporary colors and trim add a sense of style you don't get with ordinary coolers.   You have a choice of  black and chrome, ultra white and chrome and even a pewter color. Most of the coolers also have a hot and cold dispenser option, which is very convenient. Then there is the biggest pro of all, the bottom load feature.  You simply slide the new 5-Gallon jug into place after removing the empty one.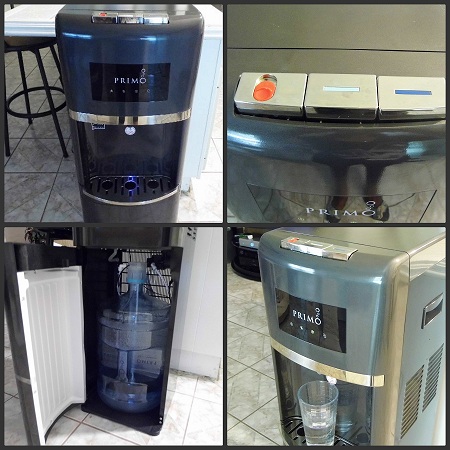 In addition to the in-home water dispensers, Primo water also offers purified water that uses an exchange process to reduce the waste of single-use bottles and out 3 out of 4 consumers preferred over the nation's top-selling spring waters! Water is filtered for particles and then tastes, odors, pharmaceuticals and microbes are removed. Next, the water runs through a softener and reverse osmosis to purify the water. Minerals are then added for "taste perfection".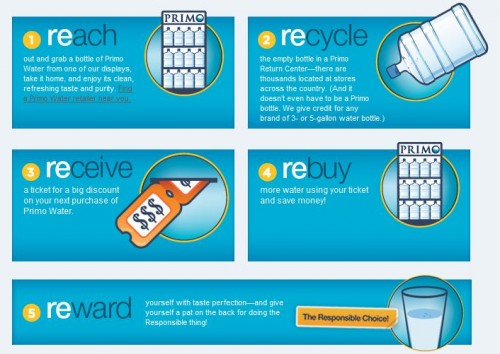 What I Love About The Primo Water Dispenser
IT TASTES GOOD
Primo water tastes pretty good.  In fact it tastes great.  I'll have to admit that I was surprisingly pleased.  I'm not sure what I was expecting from the taste, but I sure wasn't expecting it to taste so good.  In some cases surprises are not all that good, but fortunately for me-this was a good one!
DISPENSES

COLD, WARM, AND HOT WATER
I really like the fact that this cooler dispenses water at different temperatures. I  really enjoy the convenience of fresh clean water that is either hot, cold, or room temperature at the touch of a button. Having the hot water so easy to access is probaly my favorite feature.  It makes making my daily cup of tea much easier to make whereas I don't have to wait on water to be heated up.   If you have a concern of the hot water feature, no need to.  Although it's easy enough for kids to dispense water, the hot water has a slide lock to protect them.
ENVIRONMENTALLY FRIENDLY
Another plus for me is the easy bottle exchange. For folks who are looking to become more environmentally responsible, the zero waste bottles are a great way to help us all become a bit more environmentally responsible.  Once you are all set up with your dispenser, you purchase your first bottle of Primo Water. Then, once the bottle is empty you recycle it at a Primo return center near you.  There are many locations across the country and I was surprised and also pleased to know that there were 3 right in my neighborhood.  For your return, you receive a ticket for a discount on your next purchase of Primo Water. You can then buy a new water jug with your reward ticket saving you money! And the Earth! Water jugs are sterilized and reused up to 40 times!
EASY LOADING AND UNLOADING
Besides the fact that the water dispenser works great and looks beautiful in my home, I like the fact that the water jug is neatly stored below the dispenser.  For some, a 5 gallon jug can be a bit heavy but with this unit the bottle sits in base for easy loading and unloading.

All in all, I really enjoy my new Primo Bottom Loading Dispenser and so does my kids.  I just have to remind them sometimes that its not a toy.  The good part about it… is that they seem to be drinking more water which is a plus!  I'm not sure if the dispenser has to do anything with it or the taste of the water. Either way, I am just glad that they are drinking more!
This is for sure a great buy for anyone's home and or office. The option of hot and cold filtered water is at your fingertips. In addition, the back breaking task of loading the new water jug has been redefined. Now, you only have to push the new jug into place.
Primo Water offers four bottom loading dispensers styles including White, Pewter, Black and Chrome, Black w/ Chrome, and Stainless. They range in price from $189.99 to $229.99. Plus, when ordering through their online store you pay no shipping charges on their water dispensers!
WIN IT!
One Cocktails with Mom reader will win a Primo Bottom Loading Hot/Cold Water Dispenser!  ARV $189!