If you've been reading my blog for a while, then you should know that I'm a mom of two handsome boys and married to my best friend.  You should also know that, I have a LOVE for jewelry that is unexplainable.  But for whatever reason you didn't know that, then shame on you.   Luckily for you, I'm not the type to hold a grudge, so all is forgiven.  Now that you know I'm a jewelry girl, you should also know that it's even better if it's personalized.  So on to the good part.
Just recently, JoyAmo Jewelry sent me a couple of pieces of their beautiful personalized jewelry to test out and share my thoughts.   Needless to say, they are now my new jewelry besties.  I received one of their best selling infinity necklaces in which was personalized with the names of my husband, my two boys and myself.   Now I can always keep them close to my heart! It is truly sometime I will forever treasure.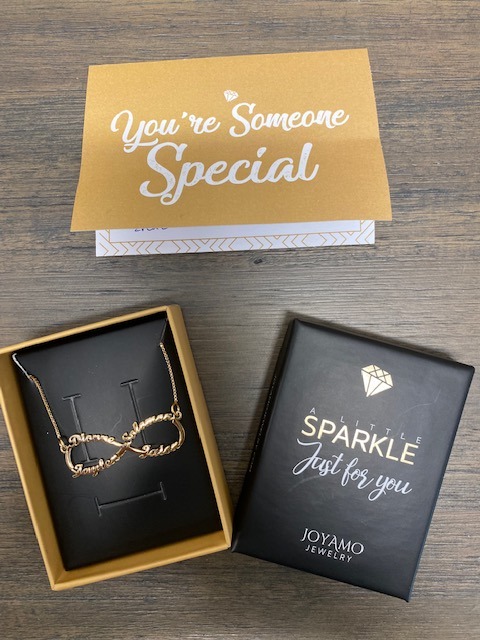 Personalized Jewelry Gifts For Any Occasion
Adding a personal touch to gifts is a sure way to make a gift even more special, and what I love about JoyAmo Jewelry is that they make it super easy to do with  their option to add names, stones, charms and messages to their very large variety of jewelry options for both women and men. JoyAmo was created based on the idea that moments of giving bring us together. That's why their jewelry makes the perfect birthday, wedding, anniversary, mother's day, Christmas, etc. gift.
When you shop at JoyAmo you can shop for necklaces, bracelets, earrings, and rings for men and women. They have beautiful and unique styles that you can get personalized. I love that I can choose from .925 sterling silver, rose gold plating, or yellow gold plating.
It's really hard to choose a favorite when browsing their collection.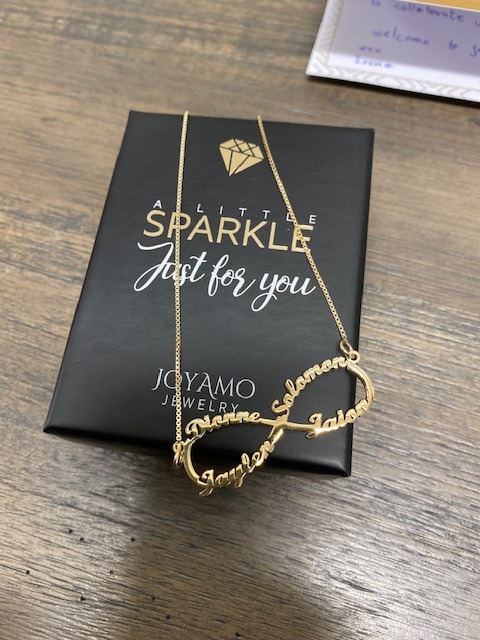 You Can Expect Good Quality
It's definitely worth mentioning that all of JoyAmo's Sterling Silver and 18 K Gold Plating pieces come with a one year guarantee. Their gold plating pieces are Sterling Silver 925 pieces plated with 18 K solid gold. The gold plated pieces go through a chemical process that gives them a spectacular shine and finish, but care must be taken to keep your jewelry in perfect shiny shape. Head over to the site to and read the jewelry care tips section for some really neat tips on how to keep your new piece of jewelry I just know you are going to grab once you finish reading this review.
I'm happy to share this 30% Off code for JoyAmo.com with my readers: cocktails30 . Use it to send a little love to someone special!
Loving My Necklace
I'm loving this pretty infinity necklace customized just for me!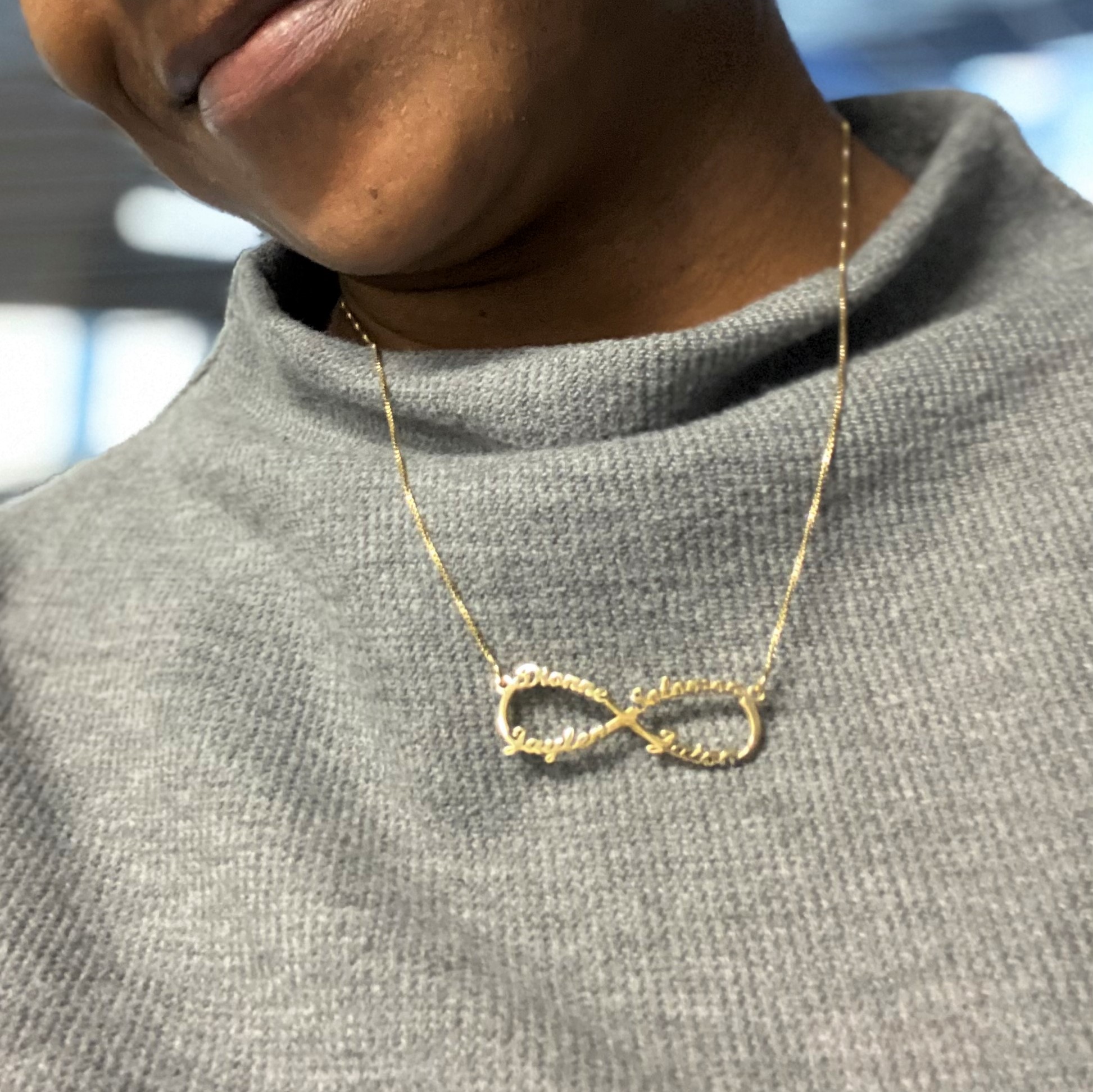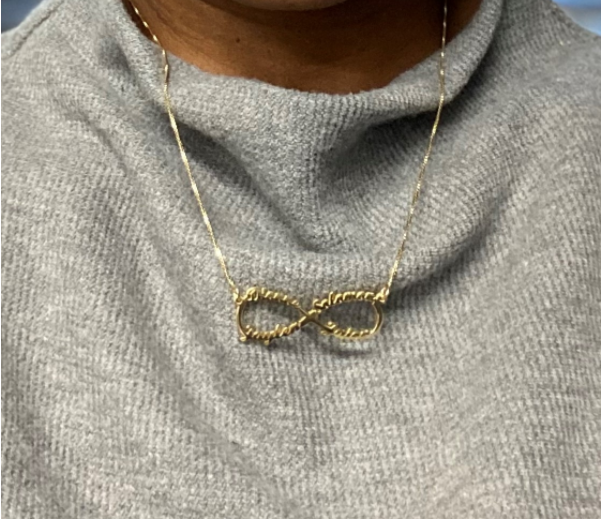 And the Letter D, which is my first initial is absolutely gorgeous.  It is the perfect size and very eye-catching. Thanks again JoyAmo for the beautiful pieces.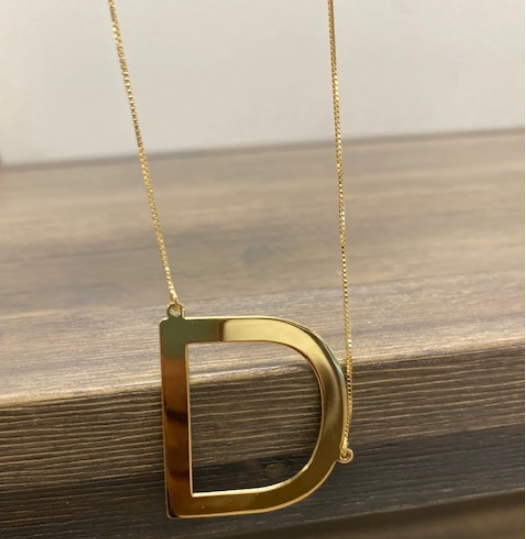 Looking for the perfect gift! Head on over to the JoyAmo Jewelry website and take a look around at all the beautiful jewelry gifts they offer. You may have missed Christmas but don't forget Valentine's Day and Mother's day is approaching, so why not get a head start and start browsing today!!