I?have always sensed that the air quality in my home was not the best and as a mom, I want to ensure that the air my family breathes is the cleanest.????This year has been the worst time dealing with allergies and it has been quite a battle.?? Couple that with a few indoor pollutants and you can find yourself VERY irritated.
I'm a stay at home mome and I?keep a very well kept home, but there are some things you just can?t clean?.or can you??? You all have heard of Oreck, right?? Well Oreck is one of the premier makers?of some of the most fantastic products for the home.? One in particular is the Oreck ProShield Plus Air Purifier.? I have been wanting to give one of these a try for the longest, so imagine my excitement when I was offered the opportunity to give it a try.? It was my hopes that the Proshield would make a difference in our homes air quality.? It?s has been a rough summer… especially?for my kids so I?was hoping this would give them?some relief.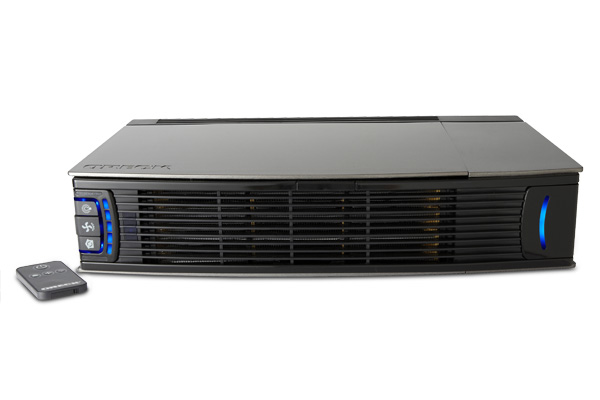 For about a month now, we? have been using? the Oreck Proshield Plus in full force?and I have noticed a tremendous difference.? There is just a sense of ?clean? when I walk into the room and it?s a whole lot ?fresher?.? Sort of like outdoor fresh?just CLEAN. FRESH. CRISP AIR.? ?Kudos to the?permanent Odor Absorber, which is activated by internal ultraviolet lights.
The Proshield is also very quiet when set on the lowest setting.? You have to really listen to hear it and know it's on. I love the fact that it continually cleans and recirculates the air every two hours, destroys the air allergens, and returns refreshed air to the room. ?That is quite reassuring knowing that me and my family is breathing much cleaner and fresher air in a healthier environment.??? Even better,?the Truman Cell?permanent filter never needs to be replaced.
The design is also quite nice.? I really like the nice sleek design which allows it to stand up or lay horizontally.? ?It doesn?t take up too much space and fits perfectly with our d?cor.? It even has a blue light that glows and acts as a night light.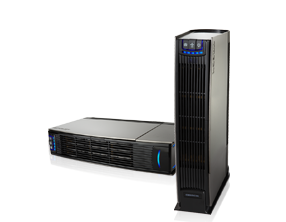 For convenience, the ProShield also comes with a remote so you can control it from across the room and with the three different settings you can choose the setting of your choice.? From time to time you may hear an occasional ?zap? and that is fine.? That is a good inclination that the purifier is working and zapping those nasty particles. If you suffer from allergies or asthma I would definitely recommend Oreck ProShield Plus Air Purifier.? It would help you breath and sleep a whole lot better.
A Recap of What I Like: (Best Features)
Continuously cleans and re-circulates the air
Really quiet
Air is fresher-eliminates odors
Airborne particles are removed
Destroys bacteria, viruses, allergens, pet dander, dust and more
-Energy efficient: uses the same electricity as an ordinary light bulb.
The Truman Cell? filter and Helios Shield odor absorber never need to be replaced!
Oreck also has a Free Air Quality App that could be very beneficial in helping you to know the air quality at home and when traveling, ?especially if you or your family have asthma or other respiratory concerns.??????With this new app, you can check the air quality outdoors anytime, anywhere in the US (for iPhone and iPad)?on Air Quality,?free from Oreck.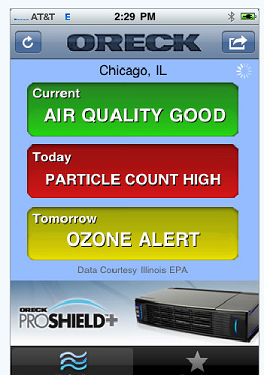 Here?s what it can tell you:
– App?tells?current air quality?(latest recorded data),
-air quality for?today?(forecast for the day) and
– forecast for the next day,
– in US cities across country?(data from EPA), all?color coded.
– Tells if air pollution levels are (will be tomorrow):
– Good (green)
– Moderate (yellow)
– Unhealthy for Sensitive Groups (orange)
– Unhealthy (red) (everyone may feel effects of air pollution at this level and beyond; sensitive groups may experience more serious effects, according to EPA)
– Very Unhealthy (purple)
– or Hazardous (maroon)
Link to free Air Quality app from Oreck :
The Oreck ProShield Plus Air Purifier is available at $399 at more than 450 Oreck Clean Home Centers across the country and at oreck. com. You can also purchase this on Amazon for only $349.99!
Win It!
One Lucky reader will win their very own Oreck ProShield Plus Air Purifier!
Mandatory Entry!
Head over to Oreck.com. Take a look around and leave me a comment letting me know an additional product you would love to own
Extra Entries!
Subscribe to?Cocktails With Mom via email or RSS feed
Follow me on Google Friend Connect (on the right sidebar)
Like Cocktails With Mom on Facebook
?Like??Oreck on Facebook
Blog about this?giveaway then leave me the link!?(?5 entries)
Add our text link or button to your blogroll (5 entries)
Enter one of my other giveaways and leave a comment telling me which one you entered! (1 entry)
Follow Cocktails With Mom and Oreck on Twitter and Tweet about this giveaway! ( once Daily)
I want to win an Oreck ProShield Plus Air Purifier http://bit.ly/9sFzCg @momcocktails?@Oreck US friendly!
STOP!
You MUST leave your email address in one of the comments or have it in your profile so I can get in touch with you.
Contest ends,September 22, 2010 at?11:59pm CST. Winner will be chosen via Random.org. Winner has 48 hours to respond to my notification email, or a new winner will be chosen. Open to US.
In order to provide my honest opinion and views, I was provided?with an Oreck Proshield Plus in order to facilitate this review. ?All opinions?are of my own and I was not compensated in any way.