We all lead very busy lives and each day seems to be almost the same as the previous one. For most of us, it's early to rise and late to bed.  When you're a family on the go, you need products that fit into your busy lifestyle.  Kraft Foods has delicious new products that will suit your busy, on-the-go lifestyle and make the whole family happy!  I recently received an amazing assortment of Kraft products and coupons to try.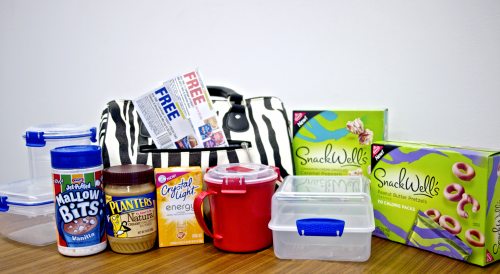 When you're a family on the go, there are times when you need to grab something quick until you have time for a real meal. The new products from Kraft will help keep you energized and get you through your busy day.
Imagine a day that looks something like this: Here's how these products could get you through your busy day.
8:00am: You've dropped the kids off at school and now it's time for the rest of your busy day to begin. Pop open the laptop for the day's first emails as you enjoy an energy and flavor-packed bowl of peanut butter and oatmeal with PLANTERS new Natural Peanut Butter.
1:00pm: It's past your lunch time. Between publishing today's posts and answering emails, you lost track of time and now you've got places to be. Make a sandwich for the road and give your water some flavor and yourself a boost with CRYSTAL LIGHT Energy On-The-Go Sticks in new Citrus flavor as you run out the door.
3:00pm:  On the way to pick up the kids, you treat yourself to SNACKWELL'S new Peanut Butter Pretzels or new Cinnamon Crème Drizzled Caramel Popcorn.
3:15pm: You've got the kids and are headed to soccer…and everyone's looking for a snack. Good thing you grabbed new KRAFT MILKBITE Milk & Granola Bars from the fridge before you left the house. They have the calcium of an 8 oz. glass of milk.
6:00pm: Where did the day go? It's already dinnertime. With six new flavors to choose from, add flavor to the weeknight dish/entrée using new KRAFT FRESH TAKE. And it's easy on you, with 5 minutes of prep time! But save room for dessert and jazz up the kids' ice cream with new JET-PUFFED Mallow Bits in Vanilla.
9:00pm: What a day! Kids are in bed. Kitchen's cleaned up. Your last Tweets have been sent, last emails answered. Now for a little "me time" – enjoy new JET-PUFFED Mallow Bits in Vanilla atop a warm mug of hot cocoa.
A hands down favorite of ours is the Snackwell's Cinnamon Creme Drizzled Caramel Popcorn.   The taste of caramel and a touch of cinnamon is an amazing combination.  It's a great better-for-you snack option and the serving size was just right.  It's four of us in the household so they definitely didn't last long.
The Crystal Light Energy On-The-Go Sticks were also a hit.  The On-The-Go sticks were new to me but we're already very familiar with Crystal lite. The sticks are a fun option.  My husband has been taking these to work and say they come in real handy when he wants to add some flavor to his water.
My personal favorite of the bunch is the Planters new Natural Peanut Butter.  I absolutely love it!  So creamy and smooth. I can eat spoonfuls at a time.  I won't actually do that…I'm just sayin… because that cannot be all that good for my waistline.
All in all, all the products were great and can easily fit into a busy lifestyle.  All of these tasty products can be found on a store shelf near you.
For more information about Kraft products, or to check out some really great recipes, visit www.KraftRecipes.com.
I received free product samples in order to do this review. There was no financial compensation. The opinions expressed are my own and not influenced in any way. This program is not administered or sponsored by Kraft Foods or its affiliates.