Unlike some people, I enjoy doing housework.  Out of all the chores, I would have to say that vacuuming is probaly the most enjoyable.  But even with my desire to clean, there are those days that house cleaning is the last thing on my mind.  That's why I'm loving my new little friend the Neato Robotic!  The Neato Robotic Vacuum comes in very handy on those less than motivated lazy days.
This is especially true for pet owners like myself who have to deal with pet hair and dander in our homes. Pet hair and dust can end up in just about any place, under tables, chairs, sofas and even beds .  The Neato can help you get to those hard to reach places making vacuuming that much easier.  It is also great for parents of  young kids who can have hidden messes all of their own.  Their mess can be hiding out in the same places as the pet hair and can include dropped snacks, which could attract pests. This is another job the little vacuum was design for.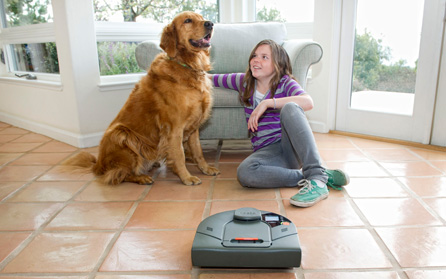 I had the opportunity to try out the Neato XV11 for the past month and all I can say is Love. Love. Love.  This little gadget operates all on its own and is fully programmable. It can be set to operate while the house is empty or when someone is there to monitor it.   The slim design makes it super easy for the vacuum to fit under really small places which I think is one of the best features.  You can also mark off areas of  your home where you do not want it to go with simple magnets.
The Neato Robotic was designed to help save people time since it automatically does the vacuuming for you, but I've also found it to have another purpose.  It is quite entertaining! The boys and I have gotten quite a kick out of seeing the Neato move about the house picking up debris and finding its way back to the base.  You'd be amazed just how amazed we are with our little Neato.  So instead of doing something productive ourselves, we find ourselves watching it do all the work.  Even our dog Spinna thinks it's amazing.  From the sound of his barking, I'm not sure if he's trying to figure out what the neato is doing or if he's telling him ….Hey, come over here, you missed a spot!

Growing up I used to always watch the cartoon, the Jetson's, and I was a fan of the robot housekeeper Rosie.  I always wondered how cool would it be to have a robot around to help out with the house cleaning.  Well, we don't have a Rosie, but we do have a Neato Robotic and it has become my new little helper.  Neato also gets the boys involved.  My oldest is now taking the initiative to keep his room cleaner and I no longer have to ask them to vacuum their rooms.  But wait…just how much work is involved in the push of a button?  Well he does have to pick up the pile of clothes off the floor for neato to do his work, so I guess that constitutes cleaning.
 Results for the Neato Roboto Vacuum
Everyone can use a little extra help now and then, especially for busy individuals.  All-in-all the Neato Robotic is a good buy as long as you are not expecting a robotic maid. There is only so much the Neato Roboto Vacuum can pick up before it will need to be emptied and reset. He's good but not that good so that's where you'd have to come in.  Neato can clean just about any surface.  I've tried him on both a tile surface and carpet with great results.  What's neat about the Neato robot vacuum is it's smart technology that allows him to know the difference between a wall and a doorway.  He can even recognize ledges and stairs so he won't fall down.
You Can See  the Neato Robotic in action here
This is one powerful little cleaning tool.  I was amazed by how much debris it picked up.  You will probaly have to make a few runs over the floor just to make sure all the debris you can't see in the carpet is picked.  And due to the size of the vacuum the dirt cup is moderately sized so you may have to empty it a few times in the beginning.
Easy to use – simply place it in the center of the room and push the "ON" button
Low maintenance – The most that I have to do is empty the full dust bin and change the filter now & then
Charges automatically – the Neato XV-11 finds it's own way to the charging base when it's low on batteries and then continues cleaning once it's charged
Works by itself – I can set it before leaving and come home to clean floors
Avoids obstacles – for the most part it goes around things it can't get under and goes around furniture and along the walls
Schedule ahead – you can set the Neato XV-11 to clean at designated times by setting its timer
Path planning – this vacuum first assesses the room before vacuuming in a methodical pattern
REAL VACUUM – with a full beater brush and strong suction, it works as hard as your upright or canister
As with any product, there are Cons.
Some might argue about the price of the Neato XV-11.  It is a bit pricey, but compared to some uprights I've tried it is very effective making it worth the price.  The cleaning power and suction is amazing and it does well on pet hair. It may be small but it's definitely not wimpy.  The other is that for anyone with a large home, the vacuum is going to need to be emptied often.
Those are only a couple of issues but in my opinion  not big one's at all… and besides the deep cleaning of the Neato is really impressive. Considering the cost of many 'standard' high end vacuums these days, the NEATO is within budget for luxury appliances, and well worth it! I give it 5 stars for the performance!
**I received a Neato Roboto XV11 for the purpose of sharing this review. My opinions are always 100% my own!