As a mom to two boys, I don't know if I would ever approve of my kids having a motorcycle. The thought of it just scares me and I don't think, I'd ever get beyond the "motorcycles are dangerous" stage. Maybe it has something to do with me watching them weave all over the place and fall off a bicycle when they were little, or maybe its because I'm a mom and worry is what we do. I just don't need one other thing to worry about!
All of this recent motorcycle talk just came about, but it is just not happening. When I explained to my wannabe biker that he isn't old enough to ride one of those mini motorcycles and that it would be very dangerous, he quickly replied, "Well, dad said he would think about it." Oh Really! At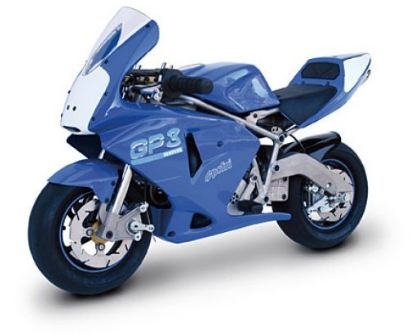 that point I had to break it to him that as parents we would have to discuss it and agree mutually on this issue. I'm just hoping his fantasy of getting a motorbike is only that and it will soon be a thing of the past and he'll just move on to the next best thing.
I have to admit that my kids are sort of spoiled and we pretty much give in to them on most things as long as it is not harming them or anyone in the process, but I just cannot give into this one. I'm sure he will understand as he gets older. I assured him that he is not the only one and that a lot of kids his age run into this same problem when trying to get into motorcycling. It is just a concern most parents have and having to hire a motorcycle accident attorney is the last thing parents want to think about. Especially if they are not familiar withe the different types of attorneys. They might not know that hiring a workers compensation attorney would not be suitable.
The good news; however, is that with a little caution and preparation most serious injuries can be prevented with proper gear selection. Items like armored jackets, pants, boots, gloves, and most important, a full faced helmet can prevent serious injury. So if you're a parent that may find yourself giving in, be sure to look into having your kids take a MSF class that will get them familiar with motorcycles and help them choose the right kind of bike for them. I just hope, my boys will hold off onto that motorcycle dream well into their adult years…or maybe forever!
What about you, would you allow your kids to get a motorocyle?