This is a Sponsored post written by me on behalf of FrogTape Brand Painter?s Tape. All opinions are 100% mine.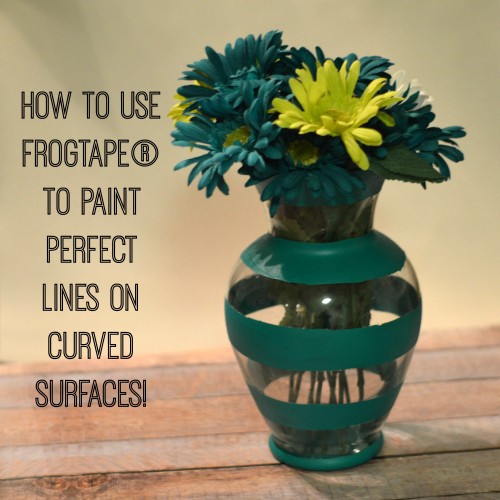 I love painting random things! ?I have painted anything from flower pots, to repurposed drawers, to furniture! ?Maybe it really comes down to the fact that I'm always changing things up in my apartment so I have to paint to get the right feel to my space! ?The only issue with painting is when you paint stripes it is sometimes hard to get it right. ?I always use painters tape but sometimes it bleeds and then I have to work hard to make it look ok. ?Then I found?FrogTape? Textured Surface?! ?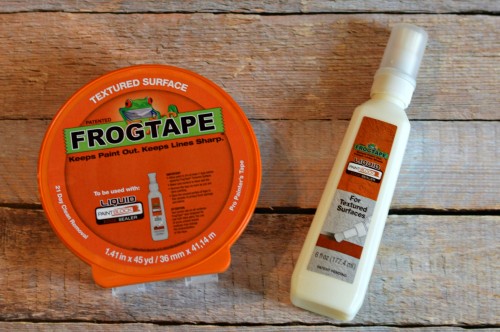 It is very easy to use and it also comes with a Liquid PaintBlock? Edge Sealer! ?FrogTape? is the only painter's tape treated with PaintBlock? Technology. PaintBlock? is a super-absorbent polymer which reacts with latex paint and instantly gels to form a micro-barrier that seals the edges of the tape, preventing paint bleed. ?This is amazing to me because now my lines are perfect!
?I decided to try it out on a vase that I have had for a while. ?I've wanted to do something different with it for a while. ?I got some flowers in it a while back but have never done anything different with the vase. ?I think this is an issue a lot of girls have if they are like me. ?Once the flowers are gone you have a ton of vases just sitting around! ?So why not dress some of them up and re-use them!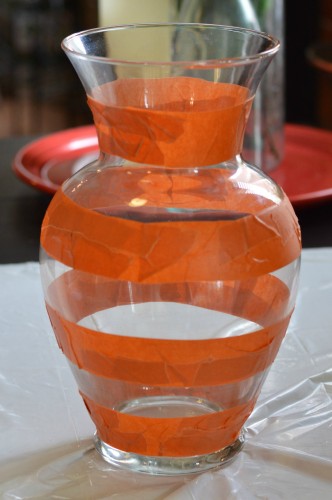 The first step ?was to tape off my stripes. ?There were a couples places that I had to put two layers of tape because of the curved surface and how the tape laid down! ?But overall the stripes were very easy to put on!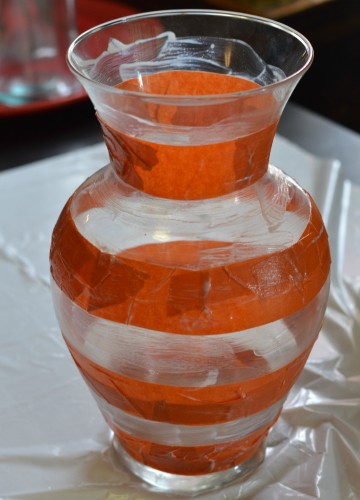 Next I added the??Liquid PaintBlock? Edge Sealer!? To add this you take off the cap and put the brush top on. ?The Edge Sealer comes out easy like paint and you just brush it on the edges. ?You want to make sure you wash the brush tip after you use it so the sealer doesn't get stuck on it! ?I then let it dry for about 20 minutes. ?The package said 15 but I wasn't paying attention to the time.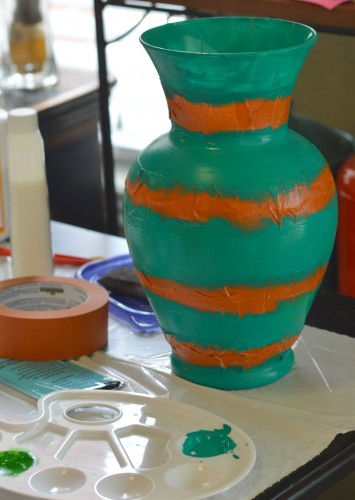 I painted everything else with some turquoise paint! ?I love this color and I was excited to use it! ?It was hot and dry when I was working on this so after I put on a couple of layers and let them dry I set it outside for about an hour and just really let it dry to make sure the paint was dry before I took off the tape!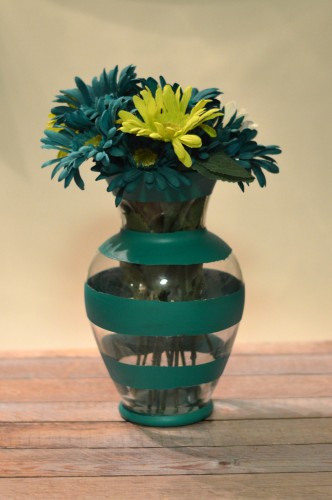 Once I took off the tape it looked perfect! ?I was so excited that it turned out the way that I did! ?I think this is a fun and funky way to mix up your apartment decor with something you already have just laying around! ?I"m glad that?FrogTape? came out this this amazing line of painter tapes that has made it so easy to paint on Curved Surfaces!
If you are looking for some fun and inspirational projects?make sure to follow?FrogTape? on Twitter! ?Also, let us know FrogTape how-to project you'd like to work on.? We'd love to hear your ideas!