Finding out that your dog is in pain is an awful feeling, and nobody wants their furry friend to suffer, so finding the right pain relief is crucial to restoring your dog's wellbeing. However, it's not always easy to identify when your dog is in pain, or to know what to do once you discover this, so in this blog we'll be providing advice on how to treat pain in your dog.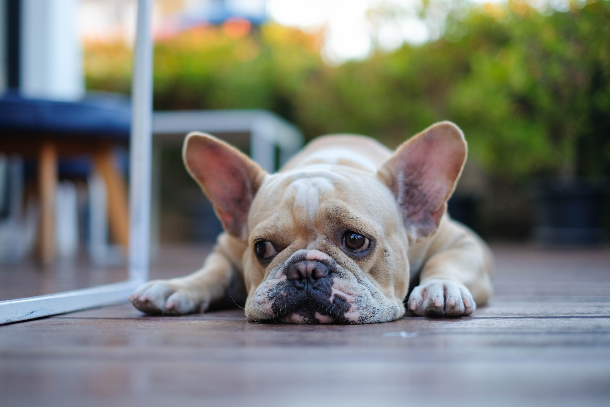 Identifying Pain

in

Dogs
One of the hardest things to do for our dogs is to identify if and when they are actually in pain. While a leg injury might cause limping and be more obvious to spot, some pain, like digestive issues, might be harder to see. It's important to look out for the tell-tale signs that your dog is in pain, which can include:
•
Changes to their eating or drinking habits: If your dog is eating less than normal, or drinking excessively, this may be a sign of digestive problems causing discomfort.
•
Aggressive behavior: If your usually friendly dog is showing signs of aggression, especially when being petted in a certain area, then this may be a sign that they have underlying pain.
•
Mobility problems: Stiffness or difficulty moving is a sure sign that your dog may be
in
pain, and slowing down
is
a
common
sign of arthritis
in older dogs.
Looking out for these signs and acting on them as quickly as possible if you notice them is pivotal to maintaining yourdog's health and pain management.
Diagnosing Pain

in

Dogs
If you suspect that your dog might be in pain, the first thing to do is get this diagnosed by a professional. Your local family vet would be able to check your dog over to help with this, but there are also plenty of options for holistic veterinarians who offer a refreshing alternative to traditional veterinary practices.
Holistic vets are becoming more and more popular thanks to their focus on treating the actual condition of an animal, rather than its symptoms. Although a visit will still involve the expected examination by way of checking your dog for any lumps and bumps as well as issues with their teeth, eyes and ears, a holistic vet will practice more compassionate practice in other areas, such as seeing your dog from a comfortable, fluffy bed rather than the typical stainless-steel tables that are so regularly found in traditional veterinary practices.
Often, holistic vets will go through more details surrounding your dog's emotional wellbeing as a central part of their treatment, so action plans may frequently include a new exercise regime or diet changes to include homeopathic remedies.
Find Pain Relief That Works

for

Your Dog  
Once you've identified and diagnosed your dog's pain, the next step is to find pain relief that works for your dog as an individual. Pain relief in dogs is not a one size fits all process, and there are some options for natural pain relief for dogsavailable from Native Pet that might work better for your pooch. Native Pet offer products that your vet can recommend depending on your dog's treatment plan, so it's worth raising the issue with your vet that you'd like to consider some more holistic therapies and natural pain relief for dogs. Different types of this treatment can include:
•
Hot and Cold therapy:
T
his is one of the most effective holistic therapies that can provide pain relief for your dog.
It
involves using a heat pack to relieve arthritis or joint
stiffness or
using a cold compress to reduce shorter-term injuries like swelling or lumps.
•
Acupuncture:
O
riginating from traditional Chinese medicine, acupuncture involves inserting needles into the skin for a set
period of time
, which stimulates the nervous system in a pain-free way to increase blood flow and promote healing. There are specific canine acupuncturists that can provide more information on this technique.
•
Devil's Claw:
T
his herbal remedy
has been used throughout the centuries to ease pain, so many holistic vets have turned to this treatment for dogs as well as horses. It's worth trying this with your pooch to see if you notice the benefits.
•
Other herbs:
T
here are alternative herbal medicines like Ginger and Turmeric that have also had proven benefits for dogs suffering with pains from various ailments, so these can be given as part of your dog's pain management plan.
Seeing your dog in pain is a difficult experience for anyone, but if this pain worsens or carries on over a prolonged period this can increase feelings of guilt or helplessness – it is easy to become demoralized if traditional veterinary practices aren't working like you'd hoped. Fortunately, the growing popularity of holistic vet practices around the country means that effective, compassionate treatment for your dog is becoming more widely available, and it won't be long before your best friend is back to their happy, healthy self.