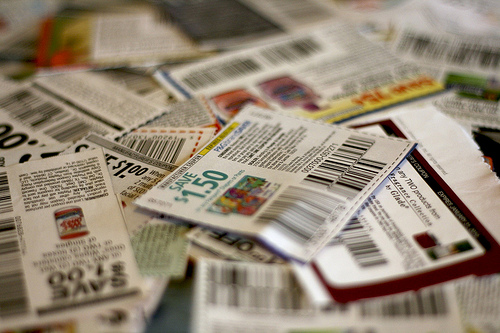 With the economy's stubborn refusal to rebound causing more and more people to find ways to tighten the belt, you may have noticed that even people who scoffed at coupon-cutting a just few years ago have now joined the army of consumers handing over these clippings in order to save money at the register. And while most of us will peruse the Sunday paper for coupons that can save us on the items we buy regularly, and some will even go so far as to look online for these valuable printouts, there is a small segment of the population that has taken couponing from a pleasurable pastime (who doesn't like to watch the money come off their bill when they hand over those coupons) to an intense occupation and are turning to sites like Raise  for even more savings. If you've been looking into the world of extreme couponing and you're keen to try your hand at a sport that could result in shopping trips where you pay next to nothing, here are a few ways to get in on the craze.
First you need to understand what extreme couponing entails, because you might not be so interested once you realize that it is almost certainly like having a full-time job (probably in addition to actually having a full-time job).? Many of those who call themselves extreme couponers have had to rearrange their lives in order to secure the massive savings that make them part of this select group.? Of course, some claim to have saved upwards of $25,000 a year, which is like an additional income.? But the fact that most of them devote at least 5-6 hours each day to scouring websites, sifting through ads, printing, clipping, and organizing coupons (not to mention shopping) in order to obtain these savings may deter the average person from entering into extreme couponing.
However, if you're determined to try your hand at the extreme savings offered by this activity, there are a few good ways to get started.? One great way to immerse yourself in the culture is by joining a coupon club (either online or in your community).? These clubs allow coupon-clippers to share information about websites, circulars, and in-store deals that will give them the best savings on their grocery orders and other purchases.? As a novice, you can take advantage of the expertise of members that have been doing it for a while, learning where to look and how to stack deals for the biggest savings? In some cases you may even be able to earn money back (which the store will give you as credit that can be used on items that are rarely on sale, like meats)? And down the road you can contribute to the group with your own finds.
You will also need to be prepared for the level of organization required by the activity? Most extreme couponers not only have filing cabinets full of coupons (organized by date, product, or both); they have also built-in storage to house the overflow of products they naturally accumulate.? When items are on sale, you need to buy bulk (especially if they're virtually free).? This means you could end up with enough shampoo, toilet paper, or other non-perishable item to last you for the next couple of years, and you're going to need somewhere to store it. Extreme couponing certainly earns its moniker, but if you want to get the major savings offered by this activity, you have to be willing to work hard and make some concessions. The result is that you'll spend little to nothing on your shopping.