Whether it is a backyard BBQ party, a get-together or other outdoor fun events, grilling with wine is a great way to whet people's appetite and enjoy the grilled food to the fullest. For some grilled food enthusiasts, thinking of the right wine to go with grilled food comes in a breeze – probably because they've mastered the art over time.
For others, combining grilling with wine comes with a challenge and lots of confusion about the wine type that would suit a particular grilled food perfectly. If you are in this category, then there's good news for you! This entire article has been dedicated to tips and tricks on grilling with wine.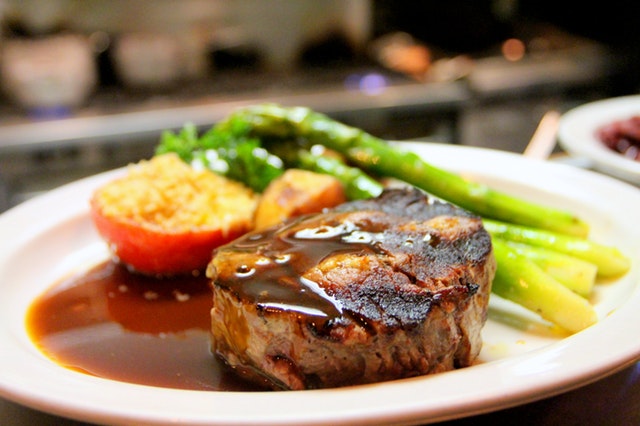 Start by Learning How Pairing Works
If you want to become a pro in pairing the right grilled foods with wines, learning the basics is a great way to start. In essence, you should familiarize yourself with three major terminologies associated with the taste of wine; sweetness, acidity and tannic. When you do so, knowing what the description on a wine's label means becomes easy;
Sweetness – A sweet wine contains a high amount of sugar and will make the tip of the tongue tingle. For sweet wines, the labels would sometimes read "dryness". Often, a good number of Cabernet Sauvignons and cheap wines fall in this category of "dry" wines.

Acidity – this is also known as "zestiness" or "tartness". When a wine is acidic, your mouth will feel wet. Besides, these wines feel light in the mouth.

Tannic – this also means bitter, as though you are sipping black tea. A wine labeled tannic will cause a feeling of dryness in the mouth. However, this does not feel the same as the dryness that comes with sipping a sweet wine.
So, now that you are familiar with the terminologies associated with the taste of wines, here are some proven tips and tricks on how to combine grilled foods with wines.
Tip #1: Match a Wine with the Main Features of a Grilled Dish
And, when it comes to the key features or elements that will determine how the main dish will taste, the cooking method and seasoning, as well as sauce are in the top list. So, going by this principle, if the red wine you choose has similar suppleness, spiciness or earthiness as your main dish, then the combination will be certainly perfect.
For instance, grilled steak dipped in a teriyaki sauce will pair perfectly with red Bordeaux, Cabernet, Zinfandel, merlot, or Sauvignon. Similarly, foods grilled with mustard sauce would combine nicely with Chianti wine or Syrah wine.
Tip #2: Merlot is a Great Option for Versatile Choice
For a versatile choice, merlot will be an ideal option. Usually, Merlot wines are soft, and drinking these wines comes with ease. A good number of Merlots feature herbal, plum and cherry flavors. So, compared with other choices, Merlots will not be as bitter. Therefore, for any grilled menu, you can be sure that Merlots are a good combo.
Tip #3: Pair Rib Eye with Reds
The bold, rich flavor of the rib eye combines deliciously and perfectly with full-bodied red wines. For instance, a bold vintage such as the northern Rhone red is a perfect pair with the smoked rib eye. This combo is something you would want to try out over and again. If the rib eye is grilled or smoked with a neutral flavor, you are better off matching it with subtler vintages – e.g. Syrah or a California Cabernet.
Tip #4: Use a Cabernet to Create a Classic Combo
Thinking of striking a classic combo of grilled foods and wines? A Cabernet will be a good choice of wine in this case. If you want to pair wines with grilled steaks in the safest possible manner, Cabernet will be in the list of wines to go for. This is because its robust feature has a way of cutting through the fat. The outcome is usually a smoother wine taste and richly flavored meat.
However, a Cabernet wine may be somewhat overpowering when combined with a mild-flavored steak. Instead, you should go for a milder wine such as Merlot or a Pinot – this combination will work better. A cabernet blend will be suitable for someone who wants to venture into the extra-ordinary in combining wine with grilled steaks.
Tip #5: Try Grilled Steak with Dry Wines
One of the common combinations of wines and grilled foods you can experiment with is grilled steak and dry wines. Foods with relatively high-fat content can overwhelm the palette.
A typical example is steak and cheese. It becomes difficult to taste more subtle flavors when such foods are involved. So, to enjoy your grilled steak fully, combine the grilled steak with dry acidic wines. It will help cleanse your palette.
In this case, you should experiment with Chianti, Sangiovese, Cabernet or other classic dry reds – they combine well with high protein foods. Also, you can pair high-protein foods with Merlots, Pinot Noirs, red blends and other sweet wines.
Tip #6: White Wines Combine Well with Grilled Fish or Chicken
You can barely go wrong matching grilled fish, chicken or pork with white wines – they go hand in hand. This includes fish or chicken grilled or smoked with a dry rub or other spices. A typical example of such white wines is Sauvignon Blanc (it comes with high acidity). Another example is the Sancerre.
For fattier Tuna, rockfish, trout or other fatty fishes, Burgundy or similar Chardonnay will be an ideal pair. You will also enjoy the combo effect of Chardonnay and veggie burgers.
Finally, grilling with wine can also be according to the 'doneness' of the meat or how well-cooked the meat is. For instance, if a piece of steak is perfectly grilled, you can pair it with the not-so-costly Pinot Noir, Gamay-Beaujolais or other juicy reds. These choices of wine will help accentuate the flavor of a well-cooked piece of steak. On the other hand, medium-rare or medium cooked steaks combine perfectly with earthy flavors in wines such as the Old World wine.