I?m a planner and like to keep things as organized as possible. Christmas shopping? Done before Thanksgiving. Halloween costumes? Ready to go a month before. So when it comes to getting my kids ready for one of the biggest decisions of their life?where to go to college?I knew I had to start planning early. Luckily my kids inherited my planning gene, which has made it easier to get on the road to college success.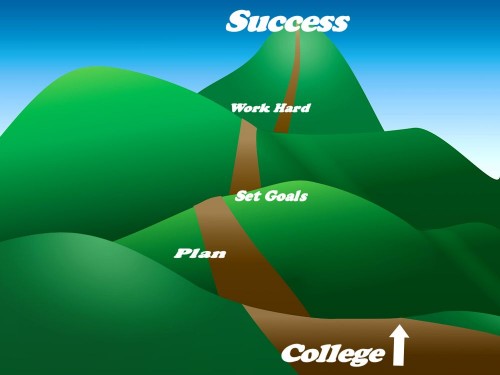 Going to college has never been a question for our kids. Both my husband and I are college graduates. We?ve talked about college all their lives and have made it a goal in our home that everyone will graduate from college. From the time my son was a toddler, he has always had a great interest in animals. It started with learning the animal sounds and grew into learning about exotic and rare breads of animals. To my husband and I it was pretty clear he would pursue a career related to animals, so we weren?t surprised when he said he wanted to be a veterinarian. Now that he is starting high school, we?ve gotten more realistic about his long-term goals. He?s still a few years from college, but he?s definitely on track to be where he wants to be.
Here are a few of our family?s tips to getting on the road to college success:

1. Start early. Your kids obviously don?t have to make their final college decisions right away, but help them set goals and start talking about college from an early age. Once they get into high school, meet with an academic counselor to create a plan.
2. Involve the family. We involve our son in every aspect of college planning. After all, it?s his future and he should decide what happens. We also involve the younger children in some aspects of planning so they can see what it takes to get to college. It has definitely helped my son stay on track, made him happier about the decisions, and brought us closer as a family.
3. Create a College To Do List. ?Preparing for college might seem a million miles away, but it's never too early to start even if your child is working on middle school, being prepared and organized can help you figure out a road map and everything to get ready for college, from how you should be preparing to test prep and financial aid.
Getting the kids to college takes a lot of work, but with the right plan you can make all your child?s dreams come true.
What are you doing to prepare your kids for college?
(Disclosure: This is a sponsored post for SheSpeaks on behalf of Kaplan Test Prep. I received compensation to write this post, and any opinions expressed are my own, and reflect my actual experience. #JourneytoCollege)