Breakfast is hands down one of our favorite meals of the day.? I like the idea of getting my family off to a great start?by preparing a wholesome breakfast, and pancakes are one of our favorites. We can have these just about every day without any complaints.? Mmmm, talk about good!? The one issue I did have is that until recently, I?ve never owned a griddle before and for a family of four it takes quite a while to prepare pancakes in a single pan.
Luckily for me, I no longer have that problem?because I was recently given the opportunity to review the new George Foreman's Hot Zone Griddle and you can imagine my excitement. No more cooking one pancake at a time thanks to my new super cool Griddle.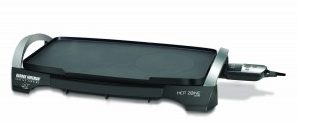 The Hot Zone Griddle offers unique technology that actually allows you to "sear"?meat?while simultaneously cooking other foods!??I love this feature because I was able to cook several pancakes on one side and breakfast sausage on the other.? This really eliminates the number of pans used and cuts down on the time spent in the kitchen.
What makes this griddle unique is of course it searing feature but our first use was used for breakfast but there are absolutely an array of other things you can prepare.? To date, I have grilled steaks, burgers, and even chicken breasts which all came out perfectly.
Using the searing feature is simple. All you do is press the sear button on the digital control probe and the temperature on the circular section of the griddle immediately rises to 500 degrees for 2 minutes.? You will find that while the ?hot zone? section gets up to 500 degrees for optimal searing, the temperature of the rest of the grill remains unchanged.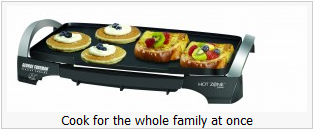 Other KEY FEATURES include:
? Variable temperature control probe with ?SEAR? function to sear foods like steak.
? Embedded Heating Element for even cooking and better browning.
? Large 11?? 19? cooking surface large enough to prepare a meal for a family of four.
? A dishwasher-safe Removable Drip Tray that is both great for collecting grease drippings
and cleans up easily.
? George Tough? ceramic nonstick coating for oil-free cooking.
? Cool-Touch Handles for easy handling.
? 3-year limited warranty.
There are several things I love about the Hot Zone Griddle. One being the nonstick ceramic coating that allows you to cook some of your favorite foods oil-free.? Is was a bit skeptical about this at first but it held true to its word and better yet, the nonstick surface made clean up??Eazy Breezy!
I luv luv luv this griddle.? Everything we?ve cooked thus far has been amazing.? It cooks evenly and I love that you can control the temperature and it heats up quick too!? Now after using the Hot Zone?Griddle, I?asked myself, how did I ever get along without one?? This is truly an amazing appliance and I cannot see myself without having one EVER!!!
The Hot Zone? Griddle is currently available at select retailers nationwide and?will become widely available sometime soon.? You can purchase the Hot Zone Griddle on Amazon for $42.60!
Win It!
One lucky winner will receive a George Foreman Hot Zone Griddle!
Mandatory Entry!
Visit George Foreman and let me know another product you'd love to try!
Subscribe to?Cocktails With Mom via email or RSS feed
Follow me on Google Friend Connect (on the right sidebar)
Like Cocktails With Mom on Facebook
?Like??George Foreman Cooking on Facebook
Blog about this?giveaway then leave me the link!?(?5 entries)
Add our text link or button to your blogroll (5 entries)
Enter one of my other giveaways and leave a comment telling me which one you entered! (1 entry each)
Follow Cocktails With Mom and @GeorgeForemanCo on Twitter?and Tweet about this giveaway! ( once Daily)
Win a George Foreman Hot Zone Griddle from @GeorgeForemanCo @momcocktails? http://bit.ly/cQNEo9 open to US/Canada!
STOP!
You MUST leave your email address in one of the comments or have it in your profile so I can get in touch with you.
Contest ends,September 16, 2010 at?11:59pm CST. Winner will be chosen via Random.org. Winner has 48 hours to respond to my notification email, or a new winner will be chosen. Open to US/CANADA

George Foreman Cooking provided me with a free sample of this product to review and I was under no obligation to review it if I so chose. Nor was I under any obligation to write a positive review or sponsor a product giveaway in return for the free product. These views are my own.