Guacamole is one of the easiest to make and most satisfying tailgate dips available. When you invite friends over, they won't just be cheering for their favorite teams when you serve up this game day Mango Guacamole recipe from IMUSA which combines avocadoes with cilantro and radishes.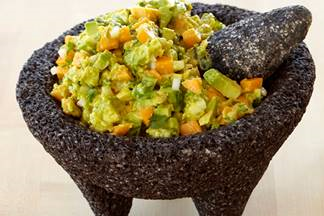 Snack on this Mango Guacamole while tailgating or watching the big game at home.
Ingredients:
3 ripened avocados
1 ripened mango
¼ cup lime juice
½ cup cilantro
½ cup white onion
3 teaspoons salt
Preparation:
1. In your IMUSA Molcajete, add half of the diced mangos and mash with the pestle into a pulp.
2. Then add one avocado and mash into a pulp with the mango.
3. In a separate bowl mix remaining ingredients, including mango, and add more lime juice if needed.
4. Fold mixture with pulp inside Molcajete and serve with tortilla chips.