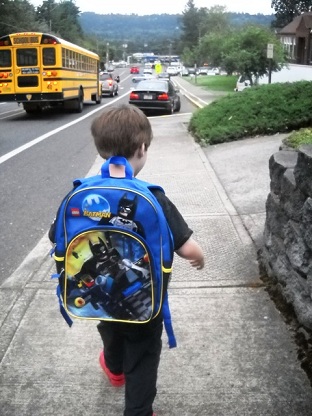 If your family is like mine, each member is anticipating the beginning of a new school year. These suggestions can help you all make the most of celebrating that all-important first day of school together!
Counting Down the Days
It can be difficult for kids to keep track of time during fun summer days, and this idea can help them concretely figure out how many days they have before the first day of school. Choose a simple container with a lid and decorate it with your kids. With your children's help, count out how many summer days are left on the calendar.
Together, choose a special candy (ours would be M&Ms), and fill the special container you made with the same number of candies as there are days left in summer. The rule? Make sure your kids know that only one piece of candy can be eaten per day – you may need to make one container per child in your family. Once the candy is gone, it will be the first day of school!
First Day Fashion Show
Trying on clothes with kids can be a pain, but you need to know what still fits before heading out shopping for new school clothes. Set aside time to hold a First Day of School Fashion Show with your kids, where they try on different outfits that they may want to wear on that all-important first day. Collect clothes that no longer fit, and have contests for "Craziest Outfit" or "Most Mismatched."
Pack Up Supplies!
It can be quite chaotic to wait until the first day of school to pack up the backpacks with school supplies. The night before school starts, enlist the help of your children in this tradition and gather all school supplies to put safely into backpacks. Set each backpack by the front door so everything's ready to go when it's time to leave the next morning!
First Day Photos
Choose a spot around your home that provides a good background for a photo of each child on the first day of school – for us, it's in front of the red garage door. Once your kids are dressed and ready, take a variety of pictures in front of your special background. You can make special giant numbers for each kid to hold up that show what grade in school they're in, or they can hold up the number of fingers instead (this will also help you put the picture in context if, like me, it takes you awhile to get these photos developed).
A Special Breakfast
As a family, we love our donuts and hardly ever get to have them except on the special first day of school. After providing a protein source like scrambled eggs, we head to our favorite donut shop on the first day of school for this sweet tradition that helps us celebrate our children growing up a year at a time!
Do you have any First Day of School Traditions?
Kelly Wilson is a busy mom of two boys who will soon be heading back to school to start a new year. To help keep your child's smile healthy and bright all year long, visit Dr. Melissa Beadnell, a <a href="http://www.beadnellfamilydentistry.com/our-practice/">dentist in Hillsdale, Portland</a> at Beadnell Family Dentistry.