*I do not have experience purchasing from Zarop.com. This is a sponsored blog post*
Do you have good fashion sense? If we were to look in your closet, what is it that find? Fashion is the perfect way to show your unique traits to the world. People with good style pay attention the color, cut and fabric of their clothes, choosing items that look modern and in vogue. The options are endless!
Me personally, I like having a style that is unique from the people around me which is my I often turn to online websites to find new and different clothing items to add to my wardrobe.
I just learned of site Zarop.com and although I haven?t yet purchased from there, they have a lot of clothing to choose from. Some of the items are really unique and I have seen a few pieces I really like.
The on-trend boutique offers trendy celebrity clothing, dresses, shoes, and handbags all on a few clicks away, you will be ready to ?follow up the up-to-date fashion trend.
Zarop offers FREE SHIPPING & FREE RETURNS! You can also use this code?zarop to save 15% on your order.
Check out this great Zarop.com contest you could win a Stretch Back Hollow Black Lace Dress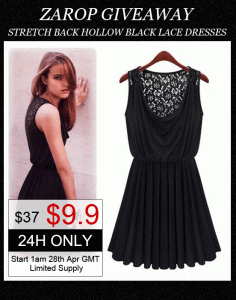 The Prize: STRETCH BACK HOLLOW BLACK LACE DRESSES.?
To enter this giveaway simply make a comment at this product page: http://www.zarop.com/stretch-back-hollow-black-lace-dresses-p-375.html
Buy it:
You can purchase this fun black dress on the Zarop website, for $34.00. Zarop is having a great promotion this cute black dress will be $9.50 with Free Shipping on 4/28th ONLY, Starting at?1am GMT Limited Supply! Free shipping worldwide!
Be sure to stay social with Zarop
Like Zarop Facebook page
Follow Zarop on Twitter
Follow Zarop on Pinterest?