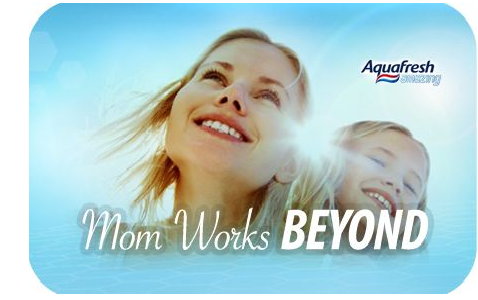 Being a mom can sometimes be challenging but in lots of ways very rewarding as well.?? We sometimes have to wear many hats and have to go beyond the call of duty in order to get things done.? As with many things in life, we have our challenges yet we always seem to overcome them.? Why? Because ?We?re Moms? and that?s what we do.
Aquafresh recognizes the job we do as ? Moms? and has just introduced an exciting new campaign to ?celebrate and honor moms that Go Beyond the call of duty. ?Aquafresh?is committed to lending moms a hand by supplying them with products, such as the amazing iso-active Whitening toothpaste, that achieves 33% better whitening compared to a non-whitening toothpaste.
Now it?s your turn to share what makes you work beyond as Aquafresh wants to hear about these moments and celebrate you as mom through their Mom Goes Beyond campaign.
Participating is easy.? Just leave a comment below about an inspiring or memorable moment you?ve endured by being a mom and by sharing your story, you have the chance to win some great prizes from Aquafresh!?? Two of my lucky readers will have a chance to win.?
One lucky commenter, will win coupons for Aquafresh Iso-Active Whitening Toothpaste and Aquafresh Whitening Trays plus be nominated by me and entered into the grand prize drawing held by Aquafresh?where you have a chance to win one year?s worth of free Aquafresh product, a $500 Walmart shopping spree, and have your story featured on the Aquafresh Facebook fan page!???The Aquafresh creative team will choose the grand prize winner by July 7th.
A second commenter will win 2 coupons for Aquafresh iso-active Whitening toothpaste and 2 coupons for Aquafresh White Trays.
Enter to win!
To enter leave a comment about an inspiring or memorable ?Mom? moment where you have endured and gone beyond the call of duty.
I will choose at random the most compelling story to be entered in the Grand Prize Drawing so share with us your best story.
Contest will end on June 8th ant 11:59 pm.
MORE CHANCES TO WIN:
Feel free to stop by some of my blogging friends?who are running similar contests?for?even more chances of?winning.? Good luck!
?Disclosure: ?I was contacted by M80 on ?behalf of Aquafresh. ?I will be receiving Aquafresh products and a $50 Walmart giftcard for my readers prizes and myself as an Aquafresh Ambassador. All opinions expressed are my own.