Ladies, how often do you and your husband get to have a date night? Is it once a week, once a month or almost non- existent???? For us, we try to get at least one night a week for some good quality alone time.?? But let's face it, with so much going on, trying to carve out some alone time can sometimes be hard to come by.
Some of you already know that we are really big on family movie night around here.? We do this on the weekends and are known to have our stints of movie marathons.? Sometimes however, my husband and I like to catch a movie just for the two of us.? We have designated this alone time during the week, when the kids have settled down, to catch up and connect whether it is just chatting over over a glass of something other than apple juice? :) , listening to music, or watching our favorite programs.
It's always nice to spend this time with the hubby without always having to leave the house.? I am already planning for our next Necessary Night-In this coming Wednesday. ? Ever since I've heard about the series Necessary Roughness on USA,? I have been looking forward to tuning in.? I don't know how I somehow missed the show's first season last year but from what I've heard and seen, I am looking forward to enjoying the entire second season this year.? It looks like a really good one!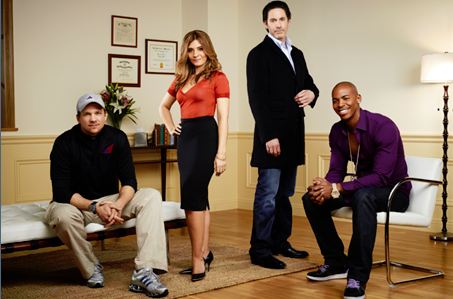 Wednesday nights are getting better and better? and would be a great opportunity for everyone to take a? ?Necessary Night-In? to watch Necessary Roughness with their husbands, girlfriends, or whomever.
If you haven?t seen Necessary Roughness yet, there are many elements to the show that compliment both men and women?s interest, from the sports angle to the relationships and even the parenting struggles.
ABOUT NECESSARY ROUGHNESS
Dr. Dani Santino (Callie Thorne) , a Long Island psychotherapist? thought she had it all figured out.? That is until she discovers that her husband has been cheating and then her life unravels.? Trying to keep things together, Dani becomes deeply invested in her work and finds herself with the chance to demonstrate her special brand of "tough love" therapy by taking on the team's unpredictable star wide receiver, Terrence (Mehcad Brooks) as a patient. ? Soon after, she finds herself as the most sought-after therapist for pro athletes and other high-profile clients in the area.? Now with a new football season approaching, Dr. Dani has a whole new batch of issues to tackle, both personally and professionally.?? With a fully recharged career, a new love interest, and trying to keep her kids on track, the pressure is definitely on to hold it all together by keeping the balance between her two worlds.
Sounds exciting, right!
I am so looking forward to next weeks Necessary Night-In.? The hubs and I are planning to enjoy our? movie night in our PJ's, having a great time, cooking, and watching Necessary Roughness.? It should be fun and a good excuse to snuggle up on the couch.
I'm always looking for other ideas? for date night…..so share with us? about your Necessary Night-In ideas?? During the episodes, fans can share their pics, and updates of their Necessary Night-Ins by tweeting @necroughness for a chance to be featured on the shows Twitter handle.? So tweet away and I'll be following along for some inspiration. I'm @momcocktails and you can follow the hashtag #NRNightIn
GIVEAWAY!
One Cocktails with Mom reader? will win a Necessary Night-In Prize Pack ? $267 Value!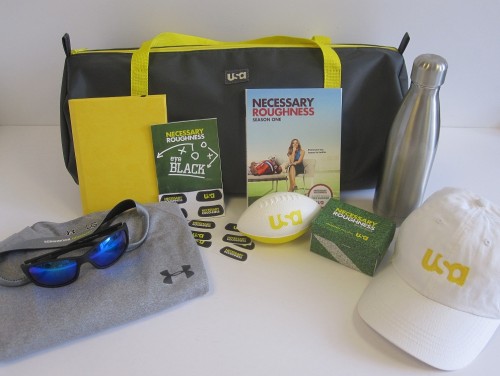 The Necessary Night-In Prize Pack includes:
Necessary Roughness Season One DVD
USA Roll Gym Bag
Under Armor Shirt
White ?88? Jersey
Sunglasses with Croakie and Case
USA/Necessary Roughness Hat
Swell Water Bottle
Eye Blacks
Game Plan Notebook
Necessary Roughness Shoelaces
Mini Football
To enter use the Rafflecopter form below.
Disclosure: I was compensated for my participation in the ?Necessary Night In?, opinions expressed are my own.