It's only a few days into the new year and already a good portion of you may have already booked your first flight! So with travel already on your mind, find out right here what top travel trends you can look forward to in 2016 and beyond.
Take a look at some of the emerging trends for the New Year that will help keep travelers healthy as well as happy.
The New Year is a time when people announce resolutions and work to create new habits. However, out of the 45 percent of the population that is estimated to make them, only around 8 percent actually achieve them. Even within the business travel world, there are plenty of resolutions and trends that people will set, as they make their way around the country and world in the name of business.
?Anytime we can maintain healthy habits while traveling, we are doing great,? explains Jayne McAllister, of Jayne McAllister Travel Wellness. ?Traveling can be demanding for anyone who is even remotely health conscious, but times are changing as indicated by exciting new trends that facilitate keeping a healthy mind and body on the road.?
Here are 5 healthy travel trends for the New Year: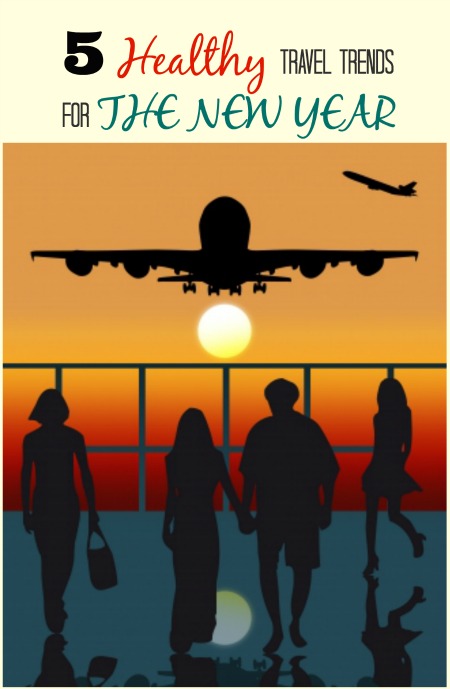 1.?? ?Health Oriented Hotels. It used to be that you stayed in a hotel that boasted a mediocre workout room down the end of a dark corridor and a restaurant with one menu item highlighted as heart healthy. Business travelers now have true wellness options in the shape of hotels whose brand is geared toward the health-conscious traveler. IHG?s EVEN Hotels has been going strong in the mid-price range for a couple of years now. At the luxury end of the market, famed gym brand Equinox is entering the hospitality business and developing its first hotel in Manhattan which is due to open in 2018. The property will include a 60,000 square foot fitness center. The trend has filtered to mainstream properties, which have amped up their facilities for healthy travel. Westin has long led the way with its WestinWORKOUT rooms, followed by other hospitality groups such as the Trump Hotel Collection?s Trump Wellness signature program. Since 2012, the MGM Grand in Las Vegas has offered dedicated Stay Well rooms, designed by Delos, which include ? among other features ? an air purification system, aromatherapy, long wave night lighting, and vitamin C-infused showers.
2.?? ?Work out at the airport.? Passengers are taking advantage of airport down time to get moving to counter the effects of being sedentary and stationary. Many airports now boast walking paths and yoga rooms. In 2016, gyms are joining shops, restaurants and bars as airport concessions thanks to a startup company called AirFit. Facilities will include a state of the art workout room, showers, clothing purchase/rental, and luggage storage. First up is New York John F. Kennedy International Airport, followed by San Francisco International Airport and Seattle-Tacoma International Airport.
3.?? ?Meditation is going mainstream. From Deepak Chopra?s website to the Harvard Business Review, meditation for corporate executives is becoming more common. Many companies are bringing in meditation specialists to teach their executives how to focus, think more clearly and make better, more profitable decisions. Meditation works especially well for business travelers, who are subject to more stress than non-traveling, as it can be practiced anywhere, including on airplanes and in hotel rooms. Apps are available to guide neophytes through the process of meditating (see www.anamya.co). With flight delays or other curveballs that are often thrown at the frequent traveler, the passenger can retreat into a meditation rather than an airport bar or their laptop. Per the Harvard report, the results of a sustained meditation practice are increased resilience, emotional intelligence, creativity, focus and improved relationships.
4.?? ?Adding Personal Time to Trips. ?Bleisure? is a fast growing trend of combining leisure time with business trips. Nearly half (46 percent) of business travelers add personal days to all or most of their business trips. The major reasons for this trend, as cited in the Bleisure Report 2014, include wanting to explore new cities, to gain cultural experience and knowledge, and to contribute to work/life balance. Three in five business travelers are more likely to take a bleisure trip than they were five years ago. For most companies, the practice of adding leisure time to a business trip is a win-win. Employees are less likely to burn out and are therefore more productive.
5.?? ?Doing Less to Produce More. Doing more doesn?t make you more productive. Presenteeism is becoming the new absenteeism, especially for mobile workforces. For example, a traveling executive might be tired but feels compelled to work on a plane to make good use of time in the air. Or they might travel home on a Sunday and present themselves at the office on Monday, ready for business as usual. In both scenarios, they might have been exhausted but they have gone through the motions of working yet not performing to optimum capacity. Without the right amount of rest, the work completed on the plane may have to be redone, or the employee returning to the office may not be fully present and effective. The best companies are recognizing that traveling employees need time to recover from travel and allow time off or time working from home to do this.
?Business travel is always going to be a part of our world, but these trends are making it healthier and less stressful,? adds McAllister. ?As employees become healthier and happier on the road, they are usually also more productive.?
McAllister has a new book titled ? Mile High & Healthy: The Frequent Traveler?s Roadmap to Eating, Energy, Exercise and a Balanced Life,? where she shares tips and tricks for staying healthy while traveling. The book offers information on eating healthily, exercising on the road, sustaining energy levels, eliminating jet lag, sleeping well, reducing stress, and more.
McAllister provides corporate wellness programs to those companies with business travelers who spend 30 percent of their time, or more, on the road. She specializes in such training issues as weight loss for travelers, healthy eating while traveling, ergonomics for the traveler, functional exercise, jet lag recovery and avoidance, sleep quality, and stress management. She has also created Dine Out Lose Weight, a 21-day guide for dropping weight without setting foot in the kitchen. McAllister?s book Mile High and Healthy: The Frequent Traveler?s Roadmap to Eating, Energy, Exercise and a Balanced Life? is available for purchase online. For more information on her services or to order the book, visit the site at:?www.jaynemcallister.com.
About Jayne McAllister Travel Wellness
Based in Vero Beach, Fla., Jayne McAllister Travel Wellness is a company that provides corporate wellness training to businesses with mobile workforces. A Cambridge University graduate, Jayne is a certified integrative nutrition health coach, Pilates instructor, and transformational method coach. For more information visit the site at:?www.jaynemcallister.com.