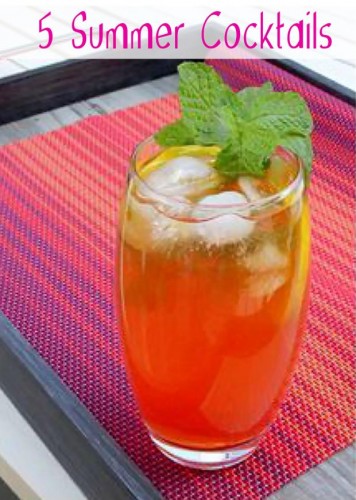 Summer will officially kick off this Saturday, so why not celebrate the first day of summer with some low-calorie cocktails? Easy to make – with minimal ingredients required – these first day of summer cocktails are great for toasting to warm weather, poolside parties and fun summer adventures ahead.

Summer Lovin'
Ingredients:
4 ounces of VOGA Italia Premium Sparkling
1 ounce of vanilla flavored vodka
A splash of pomegranate juice
Lime for garnish
Directions:
Add vodka and pomegranate juice to a cocktail shaker with ice and shake gently. Strain into a chilled martini glass and top off with VOGA Italia Premium Sparkling. Garnish with a lime. ?
Mango Sunrise
Ingredients:
3 oz.? Mango Lemonade Sparkling ICE
1.5 oz. Tequila
Splash of Grenadine syrup
Lemon slices and mint for garnish (optional)
Directions:
Using a tall Collins glass, pour tequila, then Mango Lemonade Sparkling ICE over ice.? Stir gently to mix.
Top with a splash of Grenadine syrup.
Garnish with lime slices and mint sprigs.??
Teeny Bikini Coffee Martini
Ingredients:
3 oz. RealBeanz Diet Cappuccino
1 oz. vanilla vodka
? oz sugar syrup
Coffee beans to garnish
Directions:
Combine all ingredients together with cubed ice in a Boston and shake. Pour into a martini glass and garnish with coffee beans.
Beach Breeze
Ingredients:
3 oz. VOGA Italia Sparkling
.75 oz. Strawberry Liqueur
2 oz. Strawberry Puree
0.5 oz Lemon Juice
1.5 Tsp. Sugar
Mint leaves for garnish
Directions:
Combine VOGA Italia Sparkling, strawberry liqueur, strawberry puree, lemon juice and sugar in a glass. Stir and garnish with mint.?
Pool Party
Ingredients:
3 oz. Lemonade Sparkling ICE
1 oz. white rum
Mint leaves
Lime
Directions:
Muddle mint leaves with rum.
Strain and pour over ice.
Top with Lemonade Sparkling ICE.
Garnish with a fresh lime and mint leaves.??
Do you have a favorite cocktail for summer?