Autumn is such a beautiful time of year with the changing colors. It's a time for the weather to cool down, a time to prepare for the coming winter, and a time for being thankful. There are so many fun things you can do as a family during this time of year. Try some of these Family Fall Activities with your family.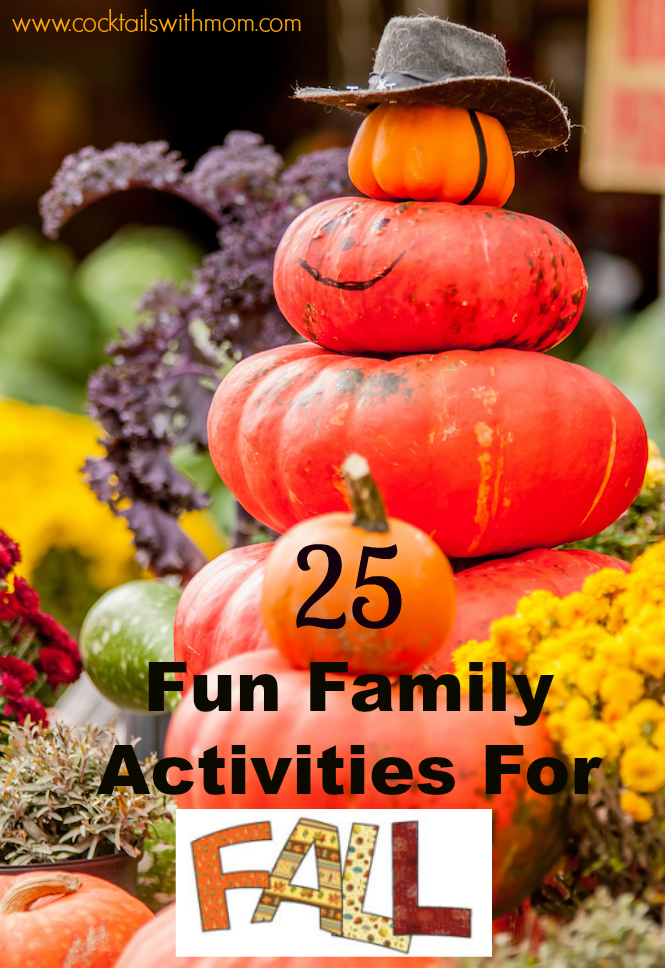 Go to pumpkin patch and pick pumpkins rather than buying them at the store.

Have a contest to see who can pick the biggest, the smallest, the strangest shaped, and the longest stem of the pumpkins.

Go on a hay ride.

Grab the family, jump in the car, head to an apple orchard to pick apples.

Make caramel apples.

Make homemade applesauce in a crock pot and enjoy the smell. You can find a super, easy recipe

here

.

Rake up the leaves, jump in them, and have a leaf fight (friendly of course).

Have a costume day that's not on Halloween.

Go on a scavenger hunt around town in your new car from new car from Kayser Chrysler Center of Watertown looking for Autumn-themed items. You can find all kinds of scavenger hunts on Pinterest.
?

Make and decorate the house with Autumn-themed items like leaves, corn cobs, corn stalks, pumpkins, hay bales and such. Many pumpkin farms sell these along with their pumpkins.

Have a camp out in the backyard and make s'mores either with a fire pit (if you can) or in the house, and then enjoy them outside while telling ?campfire? stories.

Make a

Gratitude Tree

.

Make

Scarecrow Snack Mix

and share with neighbors.

Try a new recipe like

Stuffed Pumpkin Bake

.

Take a fun family photo with a professional. You can use these pictures for your Christmas cards if you'd like.

If you live where leaves don't change colors, pick some and paint them yourself. Make a collage.

Take pictures with this list:

Photo Checklist

.

Make

Pumpkin Pie Twists

.

Load up the car and go

to a high school, college, or professional football game. Be sure to pack weather-appropriate clothing.

Play Pumpkin Bowling in the yard. Use a medium-sized pumpkin to roll toward the pins.

On your way to the apple orchard from #4, collect leaves to create a beautiful

piece of art

.

Make these

Krispies pumpkin treats

together.

Plan and put together a neighborhood fall festival in your backyard. Invite the neighbors.

Volunteer as a family at a homeless shelter or someplace else that could use your help.

Take pictures of all the activities you do as a family and create a memory book.
Take time with your family to enjoy doing some fun things together this fall.
What's your favorite fun family fall activity?
Save
Save
Save
Save
Save
Save
Save
Save
Save
Save
Save
Save
Save
Save