When my husband and I started planning for our summer vacation this year, we thought it would be fun to do a family road trip and a lot cheaper than airfare.  The only reservation we had was putting our current vehicle on the road. We didn't think it would be wise considering some of the repairs that are needed.  I just remember saying to myself that we've got to make this trip happen.  Lucky for us, it did and we were provided with a vehicle for our trip.  We were now all set and ready to hit the road on a 10+ hour road trip in a shiny and immaculate Ford Explorer.
We had already been talking about getting a new vehicle so this was a perfect opportunity to get the feel of the Explorer and use it as if it were our own over the course of the next 12 days.  I was looking forward to it!
Going into the review I had no real expectations and never did I imagine what was in store in for us.   My husband is a tech kind of  guy so he loves all sorts of gadgets and cars equipped with all the bells and whistles.  For me, I'm more into how a car rides or how I feel behind the wheel.
Here are some  things we loved about the Ford Explorer
Comfortable ride
The moment I step foot into the car, I just knew I was going to enjoy the ride.  For me, comfortability means a lot so I was very pleased in how comfortable it was-especially for a larger vehicle.  The drive was extremely smooth and felt great on the highway.    I mentioned to my husband that I could actually feel the difference  in how the Explorer rides compared to our own vehicle.  Before testing out the Explorer, I thought our vehicle provided a pretty decent ride but  in all honesty- the Explorer was a better drive.  It was like smooth sailing!
MyFord Touch Console
The 2012 Ford Explorer came equipped with an amazing touch control console.  It included everything you could imagine.  AM/FM Sirius Radio, Media Input, Disc, GPS Navigation, Map, Phone and Climate Controls for heating and air conditioning (including heated/cooled seats).  It also has a backup camera in color!  It had more than enough gadgets to keep my husband occupied without even leaving the driveway.  And, everything was programmable by using either the buttons on the dashboard, or by touching the screen.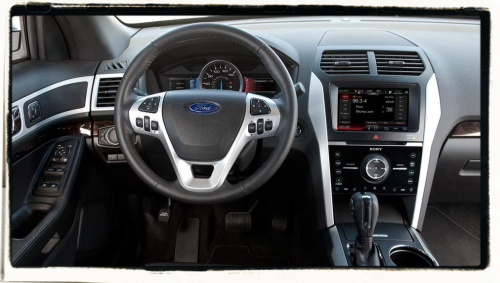 Adaptive Cruise Control
This was probably my husband's and my favorite feature.   The adaptive cruise control allows you to set a distance space between you and a vehicle ahead of you.  Just set the speed you'd like to maintain, tell the car how many car lengths you'd like to keep between you and the person in front of you and it does the rest. If a vehicle ahead of you slows down, the radar will detect it and slow your speed down, keeping a safe distance between you both. Very, very helpful!
Rear Camera
All cars should be equipped with this. I have always been extra careful when backing out of spaces so this in my opinion is a must have feature.   Having access to the camera made me feel a lot more comfortable backing up in such a large vehicle.  Once I put the car into reverse, the media center screen display would change to show the back of the vehicle via the rear camera.   This is a perfect feature for those little objects you cannot see, and if you get  to close to any object the system would alert you by giving you a beep.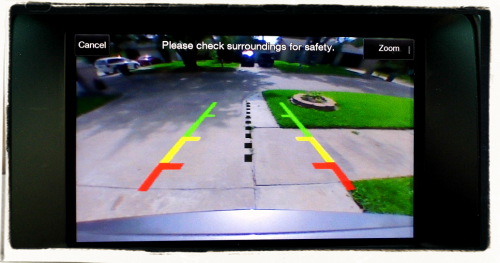 Blind Spot Indicator
I LOVED this feature.  I have always been overly paranoid when it comes to blind spots so having the blind spot indicator on the mirrors were very reassuring.   I felt a lot more comfortable switching from lane to lane and it made it so much more easier.  I will probably always be in the habit of checking my for my own blind spots but having the indicators there gives added assurance.
Lots of Space
You will be please to know that the 2012 Ford Explorer offers incredible space.  My husband requires extra legroom since he is on the taller side and he found the front cockpit area to be very spacious and comfortable.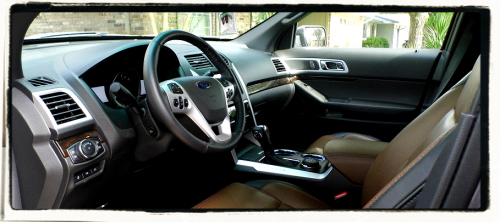 It seats 7 people comfortably and there are 3 rows of seating with the ability to change out the 2nd and 3rd rows to your needs. The 2nd row has ample legroom for three or more passengers with a center armrest and is equipped with cupholders and airvents to keep them comfy too.  The third row seating might be a bit tight for the average adult, but if you are riding around teens and younger kids I think the amount of space is very suitable.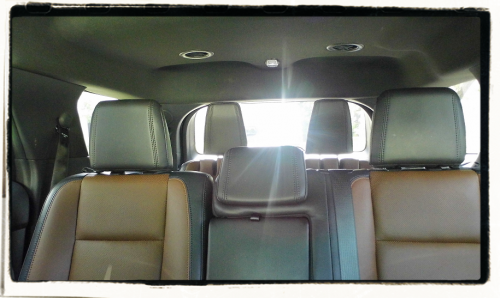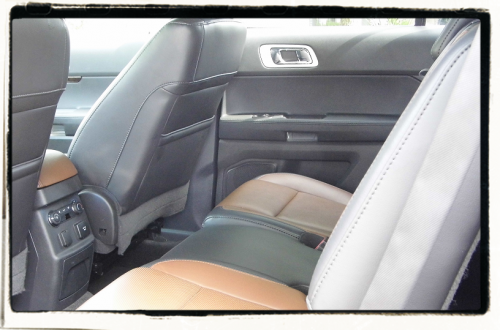 The cargo area provided well enough space for all of our luggage with the third row seating down. Even with third row seats up and in use, there is enough space for a few suitcases, grocery bags, or maybe as a baby stroller.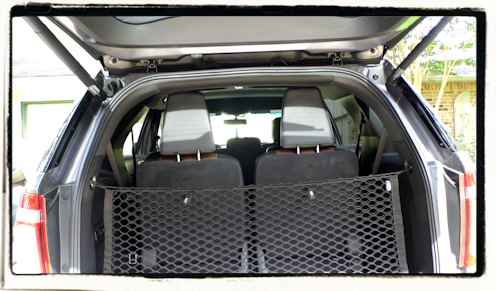 Great Gas Mileage
When we decided upon taking a road trip, one of our motivations were to save money on gas vs. airfare.  With that said, I was still a little worried about how much we would be spending on gas in a vehicle this size.   We planned a budget of $500 for gas which we figured would give us a bit extra for driving around town once we got there.  To my surprise, we came in way under budget and were amazed at how well it did and how little it cost us. We were extremely impressed by the mileage we got and driving proved to be a lot cheaper that flying with a family of four.
In Conclusion
We had a great family road trip in the 2o12 Ford Explorer!  My husband cannot stop talking about this vehicle.  He loved everything about it – so did me and the boys.   It was comfortable, provided a smooth ride,  very family-friendly and great on gas.  It has everything you'd want in a vehicle and more.    Better yet, everyone I came into contact with at Ford were amazing.  They were great with answering all of my questions and concerns and made sure that everything went as smooth as possible.  It is always great knowing that behind a product  there will be exceptional customer service.  For families looking to upgrade their vehicle to something bigger, the Ford Explorer is a win win. Definitely head to your local Ford dealership and take one for a spin!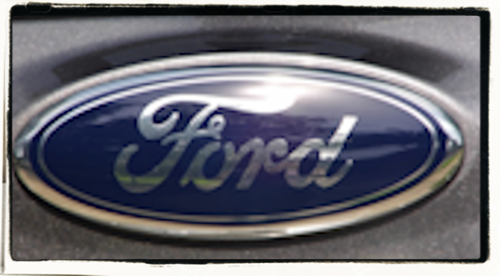 Disclosure: I test drove the Ford Explorer for one week and some days in order to post this feature. The opinions expressed in this post are mine only and are in no way influenced by any outside factors.