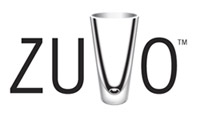 Our family just recently moved to a small town that refuses to do anything about changing the piping that the entire city's water is piped through.? This has caused the water to be some of the worst that I have ever seen.? The water is so bad that in about 2 weeks, a new toilet does not look new anymore and begins to be quickly ruined.
We have tried one filtration system after another because of how harmful the water would be to drink.? Every water filtration system we have used has been completely ruined in one month because of the buildup of junk from the water.
I recently had the chance to review the Zuvo Water Filtration System and was really curious to see if this would be the cure for our water.? We have tried countertop filters and water pitchers before but none that directly connected to the sink so we were very curious to see if it would work.
It took my husband less than 2 minutes to get the filter connected to our sink – it was amazingly easy and I told him hands down the easiest to set up.? The others have taken at least 30 minutes – one taking an entire hour due to soaking the filter and a bunch of other stuff.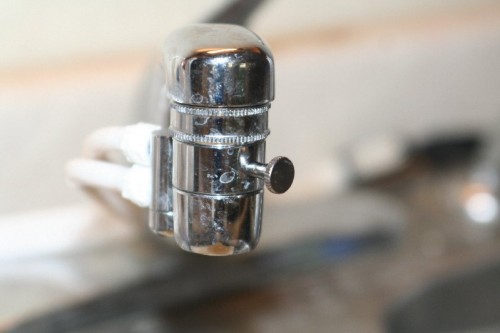 I love how it directly connects to our sink.? (The faucet is clean but the water that we have spots everything – we have to use special chemicals to remove the spots from anything we own.)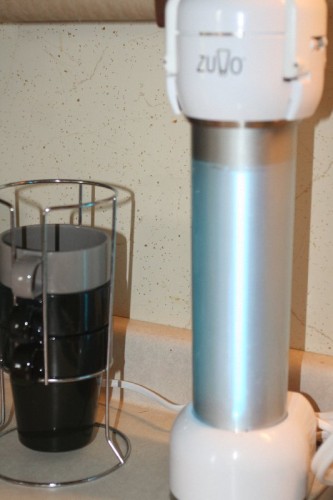 I wasn't sure if I would love how the filter sits on my counter but it really does not take much space and it reminds us to pull out the filter.
My favorite part of the filter is the light that comes on when you turn on the water and pull out the button to filter the water: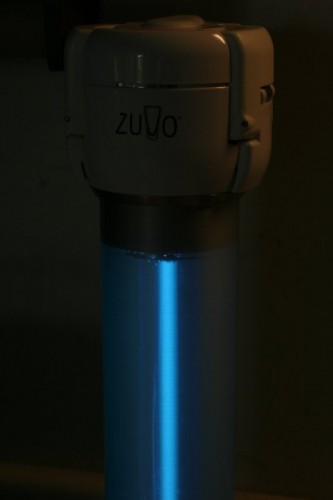 (I turned off my flash so you could see the light that the filter emits.)
My kids love the watching me fill their cups with water because of the cool light.? For the first few days, the whole family just stared at the filter to watch it work.? What's cool about the light is that it is part of the purification process of the water.
Here are the 5 steps that the Zuvo Water filtation system uses to produce great tasting water:
Step 1: Ozonation
In nature, ozone is generated by lightning and cleans the air where rainwater forms. The Zuvo Water Purator mixes ozone with incoming tap water to treat taste and odor contaminants and improve taste. Like chlorine, ozone is a powerful oxidizer. Unlike chlorine, ozone leaves no chemical residue.
Step 2: Ultraviolet Light
The ozone saturated water is flooded with high-intensity UV light – the same as the solar energy that cleans water in the upper atmosphere.
Step 3: Photo-oxidation
The Zuvo Water Purator combines UV and ozone in a patented process known as photo-oxidation which releases powerful oxidizers to further treat the water.
Step 4: filtration with lead removal
Pure spring water is created by passing through fine particles in the earth. Zuvo uses the same principle by passing water through a Class 1 Particulate Reduction Filter, reducing chlorine taste and odor, lead, and tiny particulates.
Step 5: post-filtration UV
The filtered water is again exposed to high-intensity UV light as it leaves the Zuvo Water Purator, ensuring that you get clean, healthy, great tasting water…just the way nature intended!
Now our opinion on how the water tastes – phenomenal!? It did take a little getting used to but we love it!
The Zuvo Water Filtration system costs $299 but the peace of mind that you have knowing that you are handing your children healthy water is definitely worth that price.? Also when you consider the cost savings when you don't have to buy bottle water – the filtration system will pay for itself.
You can get Above-Counter or Under-Sink filtration systems.
WIN IT!!! (MANDATORY ENTRY)
-?Tell me how you feel you and your family would benefit from the use of The Zuvo Water Filtration system
Extra Entries!
Subscribe to?Cocktails With Mom?via email or RSS feed
Follow me on Google Friend Connect (on the right sidebar)
Like Cocktails With Mom on Facebook
Like Moon Dough on Twitter
Blog about this?giveaway then leave me the link!?(?5 entries)
Add our text link or button to your blogroll (5 entries)
Add my Holiday Gift Guide?Button to your sidebar?(5 entries)
Follow Cocktails With Mom?and?Moon Dough on Twitter?and Tweet about this giveaway! ( once Daily)
Win a ZuVo Water Filtration System from Cocktails with Mom ARV?$299.99??ends 11/1?@momcocktails http://bit.ly/9fn7pB
STOP!
You MUST leave your email address in one of the comments or have it in your profile so I can get in touch with you.
Contest ends, November 1 at?11:59pm CST. Winner will be chosen via Random.org. Winner has 48 hours to respond to my notification email, or a new winner will be chosen. Open to US.
I did not?receive?any compensation for hosting this giveaway: however?ZuVo Water Filtration System was provided for me to fullfill this review.