This is a Sponsored post written by me on behalf of Wonder bread for SocialSpark. All opinions are 100% mine.
Most kids, even those who are picky eaters, like bread. And my kids are no exception, although they do have a preference on the type of bread they prefer. I have provided them with many options including white bread, wheat bread and honey wheat bread-and the determining factor of what they will eat has always come down to how it tastes.
Wonder bread has a Smartwhite for Kids Bread that has become a quick  family favorite because it doesn't contain high fructose corn syrup, and it contains the fiber of whole wheat at only 50 calories per slice. More importantly the boys are loving it!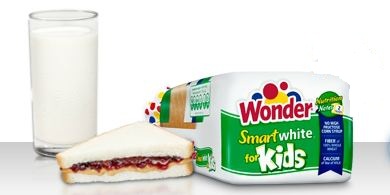 Since I am always looking for new ways to make lunch more exciting and healthier for the boys,  I decided to put the Smartwhite for Kids to the test by preparing the boys' favorite grilled pbj sandwiches.  Now, there's nothing extremely fancy about these , but it's the way my mom used to make them  and the only way my kids like it. In the end, I guess what makes them taste so great is all of the tlc that is put into them!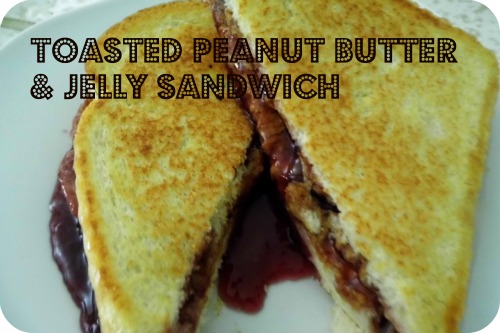 Toasted Peanut Butter and Jelly Sandwich
Preparing the grilled pb&j sandwiches is simple.  For the bread, I used the new Smart White for Kids bread from Wonder Bread.  You will need either a skillet or griddle for these.
Spread some peanut butter on each side of bread, then add the jelly.  You can also mix both the pb&j together for easier application.  Either way works well.
Combine both slices of bread to hold it all together.
Once combined, spread a light layer of butter ( optional) on both sides bread.
Once skillet is heated, be sure to brown both sides until golden brown.
Once browned to your liking, remove, slice, and enjoy!
We love this sandwich best warmed, so if you prepare it for the kids as an afternoon snack as they are arriving home, it would be an awesome treat!  The boys also love a cold glass of milk to go along with it,  but for the kids who don't like milk, the great news is that this bread also has the calcium of a glass of milk and is a good source of 9 vitamins and minerals.
I really enjoyed the soft texture and mild flavor of this bread. It's perfect for a good ol' PB&J, grilled cheese or any other sandwich favorite.
What is your favorite easy lunchbox sandwich to make for your kids?
For more inspiration, you can try out the The Sandwich Wonder-izer for some really exciting kid lunch ideas.  You can also head to the Wonder Bread Facebook page and click 'like' to stay up to date with recipes and more!
I'm giving the new Wonder Smart White For Kids a thumbs up!