One thing about owning a car is having to re-register each and every year (depending on your state).  A big part of that is taking your car in for a  vehicle state inspection. Although it is not required in every state, it is actually important. Its purpose isn't just another hoop to jump through. It's intended to be a way for the DMV to ensure that your car is safe to be on the road.
If you're interested in saving some money, do a quick safety inspection of your vehicle yourself and make any necessary repairs before you take it into your local mechanic for the official car inspection.
This post is sponsored by our brand partner in Humble, Texas.  If you're in the area, consider Texan Dodge for your state inspection needs.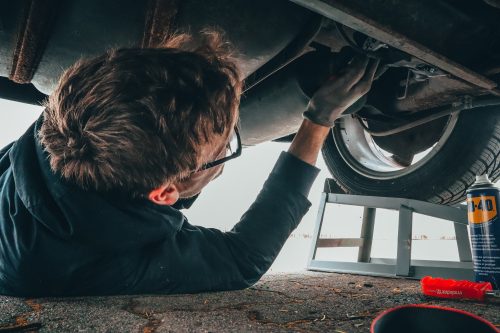 Here's What Mechanics are Required to Look At – and Verify There Aren't Problems With – During a vehicle state inspection:
Windshield

Look for cracks, chips, and loose seals.
Condition of Your Tires

Old, worn down tires won't help you pass a safety inspection. Check the wear indicator bar on your tires. If the tread is worn down to that point or further, get new tires before the inspection.
Light Functionality

A safety inspection checks to make sure that all of your car's lights are in good working order. This includes high beams, hazard or warning lights, turn signals (front and back), sidelights, brake lights, and backup lights.
Brake Performance

It's no secret that breaks are an important safety feature on your car. If the mechanic finds that your breaks are worn down or not working properly, your car won't pass inspection.
Seat Belt Functionality

In order to pass a vehicle inspection your car's seat belts have to be easily accessible, in good shape, and in working order. This goes for the back seat as well as the front.
What things have you seen a mechanic check for during a state inspection?