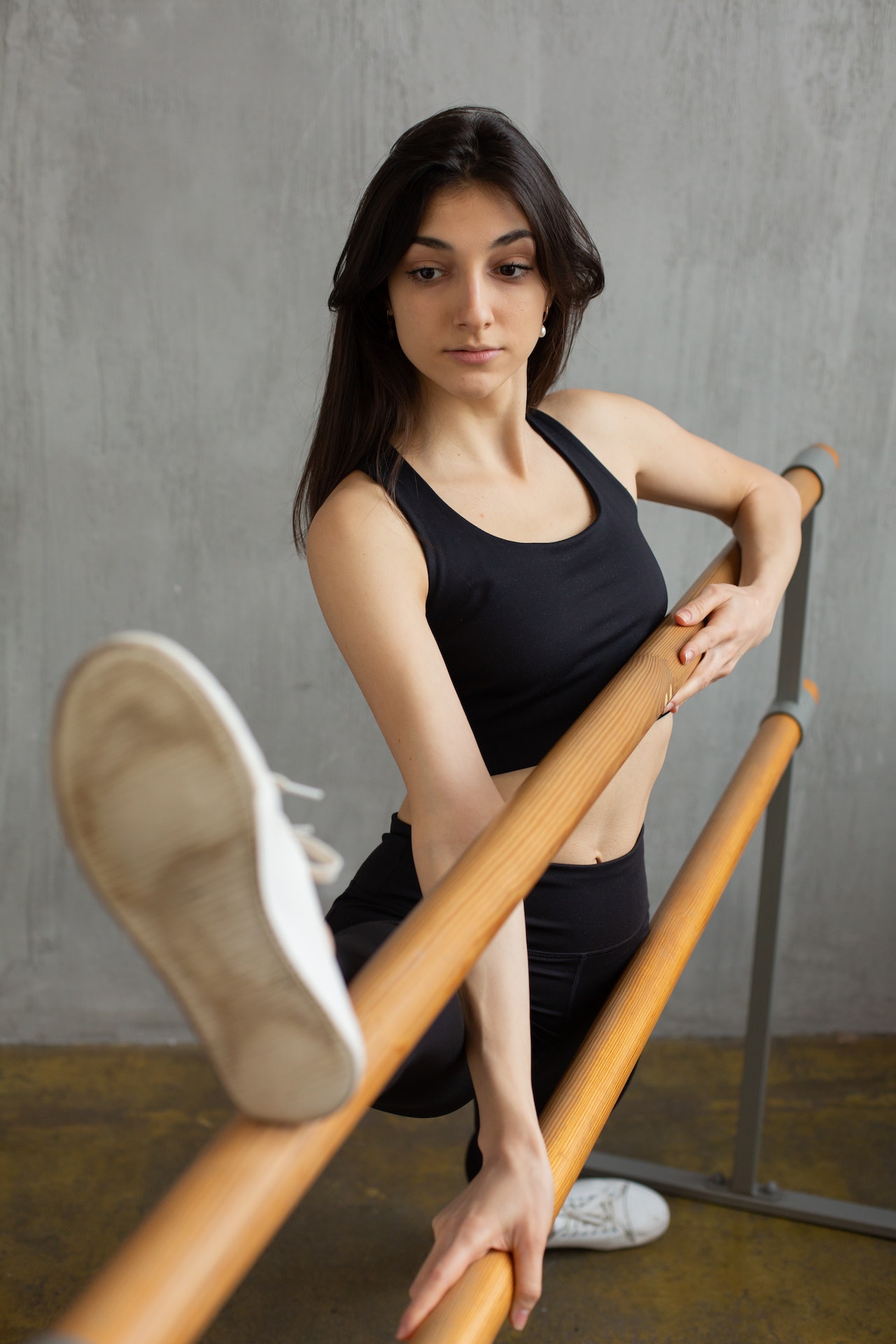 You may have seen 'barre classes' advertised and wondered exactly what this form of exercise is. This mode of workout has become extremely popular in recent years. This post delves more into exactly what a barre workout is – and how it could benefit you.
What is barre?
Barre is a form of exercise that incorporates movements and positions from ballet dancing. These are often combined with exercises commonly found in yoga and pilates. 
Exercise classes typically use a 'ballet barre' – which is a specialist handrail used in ballet training. Participants usually wear yoga-style activewear such as leggings and gym tops to allow full flexibility and breathability.
What are the benefits of barre exercise?
Barre workouts can have many benefits. Some of the major benefits are listed below:
Improve your posture
Barre exercises are great for improving form. They force you to look up, put your shoulders back and extend your whole body. This in turn can help to adopt a healthier everyday posture. 
Strengthen your core muscles
There is a lot of balancing involved in barre. Such exercises are great for strengthening your core muscles in your stomach, hips and back. Exercising such muscles is the key to a slimmer waist. It can also help you to improve your balance and overall strength. 
Increase your flexibility
Many barre exercises incorporate static stretches that aim to constantly improve one's range of motion. By constantly stretching muscles further, you can become flexible. This flexibility is key to reducing sports injuries.
Attain the figure of a dancer
Barre targets all the muscles used by dancers. The main muscles targeted are the hips, glutes, abs and shoulders. It's a well-rounded muscle workout that aims to tone the whole body including the inner muscles that many other workouts don't focus on. 
Have fun exercising
By incorporating elements of ballet, barre provides a fun and unique form of workout. Exercises are often done to music and practised in a group setting. A heavy focus on static exercises makes it relatively suitable for all ages. 
Types of barre exercises
There are so many different barre exercises that you can incorporate into a workout. A few unique examples to try include:
Ballet 'plie' squats
These are squats in which the feet are positioned slightly wider than shoulder width and turned 45 degrees facing out. These exercises help to tone up the glutes, hamstrings and quads more effectively than a regular squat
Releves
Releves involve moving from a squat position up onto the balls of the feet or tips of the toes. It's a key ballet move that can also be make for a great standalone exercise. Releves exercise all the muscles in the legs while also helping to improve balance.
High plank with leg raise
This variation of the plank involves balancing on your palms and the balls of your feet and then raising one leg up before alternating. You can do short leg raises or extend a leg out for 30 seconds. This is a great core workout while also targeting the glutes and leg muscles. 
Clamshell with leg extension
This exercise involves lying on one's side and bending both knees facing away from you. The upper leg then rotates so that the knee is facing upwards and the leg then extends. This workout targets the legs and the thighs.
Deep lunges
Lunges are a common exercise that target all the muscles in the leg from the calves to the glutes. Deep lunges aim to stretch out the legs as far as possible to improve flexibility and exercise muscles deeper. 
Standing leg lifts
Several variations of standing leg lifts are practised in barre including side leg lifts and back leg lifts. These are great for improving flexibility and exercising the core and leg muscles. You can practise these exercises while holding a handrail or without one. Legs can even be lifted onto handrails to stretch them out.
Where can you do a barre workout?
Barre workouts are often practised in a ballet studio with a ballet barre. Participants usually take part in a class while taking exercise instructions from a barre instructor. 
However, it's also possible to practise barre exercises at home. There are a number of instructors that offer virtual classes for those that want to try barre home workouts. It does not matter if you do not have a ballet barre at home – many barre exercises do not require a handrail. For those that do, you can use all kinds of objects as substitutes including chairs, desks, countertops, balcony railings and bannisters. 
Conclusion
Barre is a great form of exercise for improving balance and flexibility. It will also help you to tone up muscles around your body for a perfect sleek and shapely figure. You can join a class or try it at home.