?
?Once a month-my husband and I get together with some of our closet friends and have an adult play date. You may ask – what do you do at an adult play date? Basically we gather together, have martinis, wine, cocktails, and enjoy a a night full of games and great conversation. It's really fun!
This month I'm really looking forward to it because I have a new game to introduce to called Loaded Questions Adult. You may be familiar with the original version but this one is for adults only. I thought it would be a great time to introduce it to them since Valentine's Day is only a few days away. I'm sure it will provide us hours of fun and laughter!?? If you and your honey like board games, this would make a great Valentine's Day Gift!
The Adult Version Loaded Questions Board Game tests?? players on how well they know each other with more than 300 suggestively-silly questions designed to make your cheeks as red as the box.? It will reveal more about your fellow players than you say you want to know, but everyone knows you're lying. Players advance around the board by rolling the dice, then choosing a question card based on the category they land on. The other players then write down answers to the question, which the previous dice roller reads aloud. The person who's turn it is must then guess who submitted which answer. See how well you really know people! Learn and share tantalizing trivia under a veneer of legitimacy! For 4 to 6 players. Ages 18+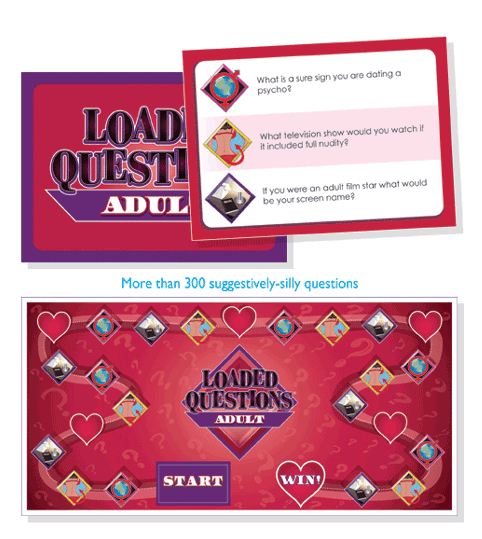 5 Things You Should Know about Adult Loaded Questions:
1. You might be shamed for life if you play this game with your parents or your kids!
2. There are no right or wrong answers to any of these suggestively sexy and silly questions.
3. Answering the questions is fun and therapeutic. The worst that can happen is everyone thinks you are weird and abnormal!
4. Playing this game will bring you closer to your sweetheart, your friends, and even people you never knew before!
5. When you're done playing this game, your cheeks will be as red as the game box!
You can buy Adult Loaded Questions for $24.99 plus shipping at LoadedQuestions.com!
Win It!
How to Enter: ( Mandatory)
Leave a comment saying you'd like to win.
EXTRA ENTRIES!
1. Subscribe to our blog via email/rss
2. Like Cocktails with Mom on Facebook
4. Follow @MomCocktails ? on Twitter and tweet this giveaway or create your own. Leave your Tweet Link. (2 tweets per DAY is allowed)
Win your copy of Loaded Questions Adult from @MomCocktails #giveaway ends 2/26
5.ADD the Cocktails with Mom text link or button to your blogroll/sidebar (5 entries)
6.LEAVE a comment on a non-giveaway post (Come back and let me know that you did!)(can be done up to 5 times)

Rules:
Open to US
Include email address with first entry
Winner will be chosen by random
Giveaway ends 2/26/11 at 11:59 CST
Winner will be emailed and must respond within 48 hours or another winner will be selected.
Disclosure:? Loaded Questions sent me the game for review purposes, opinions are my own.