There are infinite cocktail recipes out there for the adventurous drinker to try out, and some of the unusual trends you?ll hear about will sound gross, but taste amazing.? Certain ingredients can taste incredible together, even if they don?t sound like they?d go together. Crafting a cocktail is an art, so think of it this way: It can either be fine art or amateur art. When you expertly mix a unique cocktail, your mixology skills reach another level, as you?re using culinary skills to create notable and memorable drinks that get people talking.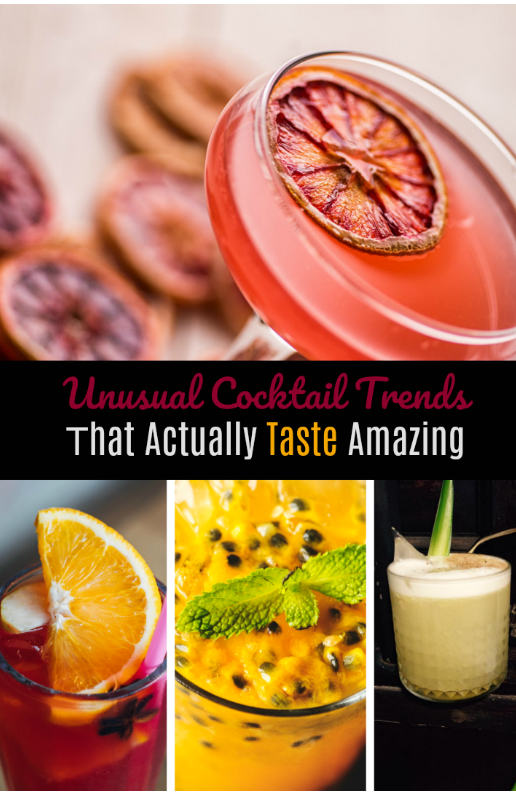 We all know that certain common ingredients blend well together and taste good in a cocktail, but that gets boring quite fast. The Cosmopolitan is over, and the screwdriver is so plain that it feels like you?re back in high school when you drink one. For your next cocktail party, why not surprise people with a trendy and unusual cocktail recipe? If you?re getting bored with the classics, here are 4 unusual cocktail trends that actually taste amazing:
Matcha Cocktails
Matcha is the delicious green tea powder that is simply everywhere these days. There are Matcha-flavored chocolates, cookies, doughnuts and milkshakes. It?s a flavor that is highly sought-after and loved by many. So, it?s not surprising that Matcha-flavored cocktails have become a thing.
For a delicious and comforting latte-style cocktail, try mixing Matcha powder with milk and rum. ?It?s especially delicious when made with almond milk. This type of spiked Matcha latte is wonderful when served with Matcha chocolate delectibles.
Since Matcha has some caffeine, these cocktails can be considered a pick-me-up and can give you the boost of energy you need during an evening out. Plus, the beautiful green coloring of Matcha makes for an interesting-looking cocktail that will get people talking. Check out these other Matcha cocktails, and get on this trend!
Agave Cocktails
Agave-based cocktails are hot in the bar scene these days, and they taste amazing. Agave nectar is a natural sweetener made from the Agave plant. This is a more natural, healthier way to sweeten your cocktails. Aguamiel (?honey water?) is the sweet sap that comes from the top of the Agave plant when you cut the top off. It tastes like honey, and it?s delicious when used to sweeten drinks.
It?s very common to use tequila in Agave cocktails, because the flavor of tequila pairs nicely with Agave. Check out these awesome Agave cocktail ideas?and you?ll notice how much better it feels to drink a naturally sweetened drink.
Cold-Pressed Juice Cocktails
Organic, cold-pressed juices are all the rage, due to the fact that one cup of cold-pressed juice carries loads of vitamins, minerals and health benefits with it. To put it in perspective, one cup of cold-pressed juice can have up to 4 pounds of fruits and vegetables in it. These juices often contain a mix of ingredients such as apples, carrots, ginger, kale, beets, and many other healthy ingredients.
So, why not spike the super-juice and make a cold-pressed juice cocktail out of it? Why not up the ante on the classic Gin and Juice cocktail? Plus, it?s a great option for those who want to make organic cocktails.
These cold-pressed juice cocktails are nutrient-rich, which means your hangover won?t be as bad. It?s practically guilt-free drinking! They too can be considered a pick-me-up since the pounds of vegetables and fruit you?re consuming will give you a boost of energy ? and a mood boost as well. Check out these ideas for cold-pressed juice cocktails, many of which are refreshing and nutritious.
Miso Cocktails
As we noticed with the Matcha cocktail trend, Asian-inspired ingredients and techniques are hot right now. Since the savory or salty cocktail is another trend that is going strong, it goes without saying that miso is being used in cocktails. Sometimes, the cocktail is even served in a miso soup bowl!We?ve seen miso being used in both cold and hot cocktails, and both are equally delicious.
The savory cocktail has always been a hint (think about how popular the Bloody Mary is, with tomato juice component being extremely satisfying on a savory level). Salt can give a cocktail an amazing synergy. A miso cocktail is on a similar level, and miso is often being incorporated into re-vamped popular choices. For example, the Miso Old-Fashioned has been well received, as has the Miso Bloody Mary. Who wouldn?t love a little miso flavor added to the classed Bloody Mary? This trend is genius, and you?ll love it if you try it.
?