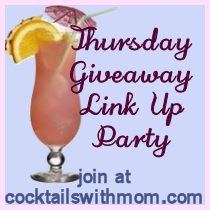 Welcome to Cocktails with Mom?s ?.Thursday Giveaway Link Up Party!
Do you have a Giveaway going on? Feel free to join in on the party!
Share with us your Fabulous Giveaways and enter a few while you?re at it. Be sure to come back next Thursday, same time same place.
Please RT so that others would be able to join in on the Party!