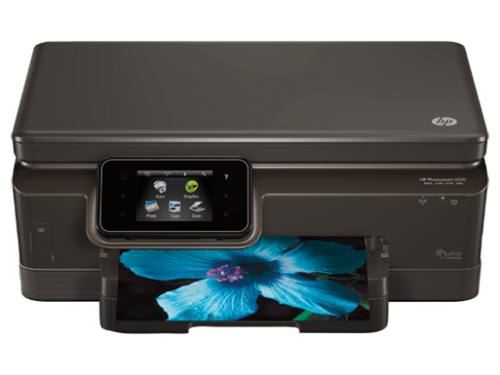 I have had lots of printers in my time. They run out of ink and lots of time it is cheaper to just replace the printer then it is the ink and I have never had a printer that made me want to spend a high dollar amount to just replace the ink…until now.
I recently received the HP Photosmart 6510 e-All-in-One printer. My first thoughts when I opened the box were AWESOME. You see the printer came packaged in a reusable shopping bag so you just grabbed the handles, pulled and out it came. I wish more companies would package products like this.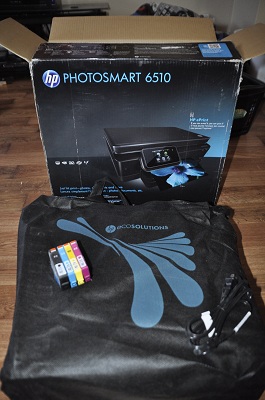 Setup was a breeze, I knew that I wanted this to be wireless so that I could print from my couch without having to haul my computer around because I only have laptops in my house and no desktop space to keep the printer (it sits on my TV stand currently). We plugged the printer into the wall, I put the disk into my computer, followed a few on screen directions and then had Blake, my 11 yr old, follow the directions on the screen of the printer and in about 5 minutes we were up and running with a new printer wirelessly installed on the network and it was working on doing it's test page. We did have a slight issue with that but it quickly worked itself out.
So far I have used this printer to print all of my documents I need for items that I have sent to my shipping company, letters to include in packages I have sent off to my own blog readers and just yesterday I used it to print envelopes.  The one problem I am having right now is that for whatever reason when I print envelopes they do end up with some ink marking on them but I am sure that I just need to give the print heads a clean and that will resolve the issue, if not I will contact support and update this post.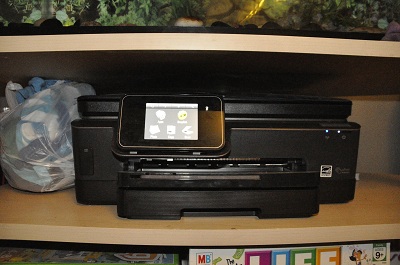 Beyond being able to print this is the mother of all machines as I mentioned it is an all in one.  We have used it of course for printing but we have also photo copied an image, enlarged it and then printed it out bigger.  It can also scan which is great because as a blogger I am signing contracts a lot so being able to sign them, scan them and send them back to the company right away is a big bonus for me.
Last but not least I think that my #1 favorite feature of this printer is the HP Eprint which allows me with the use of a simple app to print from my smart phones or iPad  so no more emailing a document to myself, getting on the computer then printing it I can not print it while mobile which again is great because I am about to have baby #5 so if I don't print something immediately I tend to forget all about it until it is too late unfortunately.
"This printer makes a great addition to the home, especially for printing and sharing photos. Easy to use premium features include a large touchscreen, memory card slots and automatic photo tray. Our Photosmart 6510 e-All-in-One is efficient for everyday printing and lets you wireless print and share, plus you can print from your smart phone with HP ePrint."
The HP Photosmart 6510retails for $149.99, but right you can take advantage of a great deal.  HP is currently offering a $30 instant rebate and free shipping for $119.99!   Be sure to check out the other special deals, offers & upgrades while you're there.
WIN IT!
Disclosure:  Jessica received a HP Photosmart 6510 for the purpose of this review. No other compensation was received.  All opinions are her own.