This post brought to you by STOLI® Vodka. All opinions are 100% mine.
In the summer, the drinks get colder and the nights get longer. There really is nothing better than relaxing outside after a long day, enjoying a warm summer breeze and a cold drink. One of my favorite drinks is a lemonade cocktail, made with Stoli Vodka. Stoli is not only the best premium vodka, but they have delicious flavors made with fresh, local ingredients. A Stoli lemonade cocktail really is the drink of the summer.
Stoli's Lemon-ade trucks will be traveling across the country this summer to share the joy of warm nights and cold drinks. The trucks, nicknamed "limo-nades", will be sharing samples of Stoli lemonade cocktails, serving lemonade ice pops, and daring visitors to try fun challenges to win Stoli prizes as they visit twelve cities across the country. visit the Stoli Facebook page to learn more and find out when the limo-nades are coming to your neighborhood! It's a fun way to celebrate summer and the perfect way to try the drink of summer—a Stoli lemonade cocktail!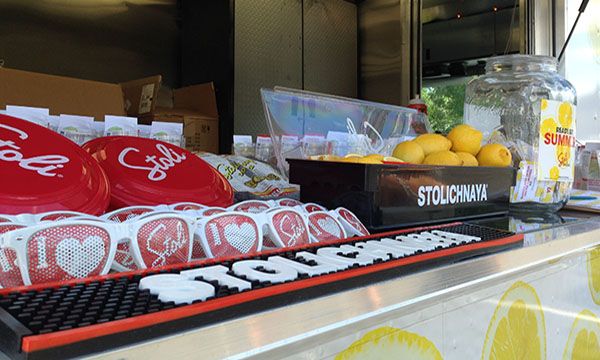 The beauty of a lemonade cocktail is that it is refreshing and so easy to make. Here is my favorite way to make it, affectionately called the "Hero Recipe":
2 parts Stolichnaya® Vodka

4 parts lemonade

Build in an ice-filled Mason jar or highball glass and stir. Garnish with lemon wheels.
It couldn't be simpler to enjoy a fantastic summer drink. The smoothness of Stoli is a great compliment to the tartness of lemonade. To spice it up a little, I love to make a lemonade cocktail with flavored Stoli vodka, like citrus, raspberry, and blueberry. See more Stoli recipes and ideas on Instagram.
Relax this summer and enjoy the long days and even longer nights. Enjoy some fun in the sun with a glass of Stoli lemonade cocktail in your hand, and you're ready for the best and most relaxing summer yet!
Follow Stoli on Twitter for the latest #StoliLemonade updates!
What is your favorite summer drink?