After a long 4th of July weekend, I'm finally back home and am excited to share with you a recap of my Essence 2014 experience.? Essence may be over but the memories will forever be there. Being from New Orleans, I already had plans on being in town visiting family but no real plans to attend Essence. The plan was to spend time with family, enjoy some good food, and enjoy my city. Little did I know at the time I would be going as a My Black is Beautiful Social Media Correspondent (in collaboration with The Niche Parent Network)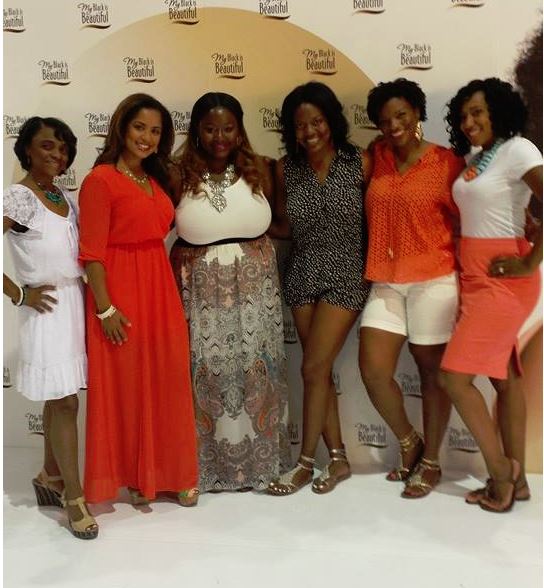 So not only would I be heading home but I would be experiencing Essence with My Black is Beautiful and all of a sudden l life seemed pretty exciting. We arrived on that Friday and could not wait to hit the streets because not only do I have a love for people, I love my city, good times and good food so I wanted to get out and enjoy this everyone moment.
During the day we visited some of our favorite spots around the city, hung out at the My Black is Beautiful booth in the Convention Center, ate some amazing food and danced the night away at The Essence Festival concert.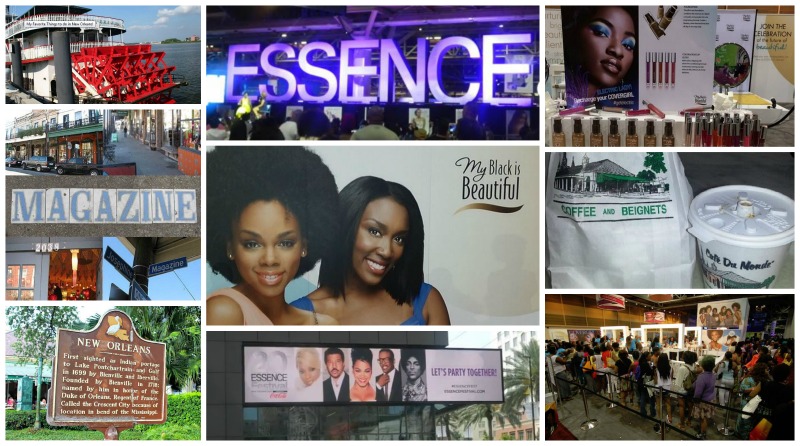 The Ernest N. Morial Convention Center was the site of celebrity appearances as well as empowerment seminars that focus on business, culture and personal relationships. This where it got really Real. I got to meet some really great people, get my makeup done and to learn more in depth about the My Black is Beautiful initiative. MBIB, which began in 2006, created the 30-day ?Beauty in Action? challenges to not only celebrate, support and embrace African-American women and girls, but to also re-define what ?Black beauty? is.
?One of my highlights was the opportunity to meet Lisa Nichols.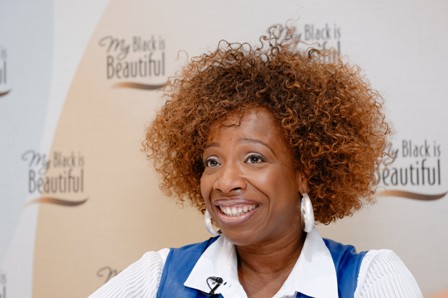 Motivational speaker and My Black is Beautiful celebrity ambassador Lisa Nichols in the social media newsroom at Essence Festival.
In our talk Lisa Nichols shared her excitement about being a part of My Black is Beautiful and the Proctor &Gamble team because she believes in the whole initiative which is for Black women to love and honor ourselves for who we are, as we are. She shared how the road to loving herself was a difficult one and how she now accepts herself for who she is both inside and out and what a privilege it is to be able to encourage other black women to do the same.
I also asked her how important does she thinks roles models are to young girls. LISA NICHOLS: I believe Role Models are a living, breathing, walking, talking example of what's possible in your life. When you move it from the space of what's your in your head to OH that's what it looks like. That's who I can be. All of a sudden it becomes tangible. It becomes real. In school I was an example kind of learner. I couldn't just hear the theory, I needed the example. A mentor, a role model is an example. And I think an example says oh hey I can do it. If I can see it in you then I can see it in me. So I think role models are necessary.? There was also another part of the interview that left me with chills and I will never forget that moment. It was a general question but in the end it was words I needed to hear. I will forever be inspired by her words! She was genuine, and I took more away from that brief conversation than I ever could imagine.? Thanks Ms. Nichols' for being such an inspiration!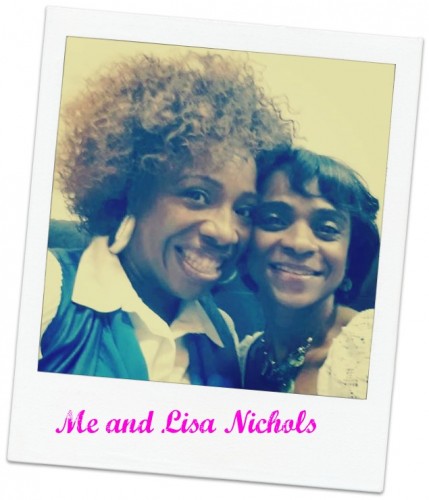 Later on that day, I was also able to get my make up done at the MBIB? booth by makeup artist Ebony Star.? Ebony is local to New Orleans and she she was great and I loved the special attention as you can see.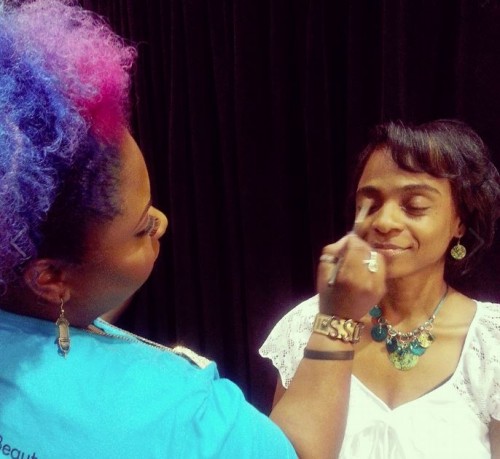 BEAUTY IN ACTION:
I also got the opportunity to interview two of the new My Black is Beautiful Brand Ambassadors Ebony Combs and Angelina Darrisaw.? My Black is Beautiful is about empowering Black women and girls to put their beauty in action. The mission of the campaign is to encourage females to embrace their natural beauty and to become their best selves.?? These ladies are great representations of the cause and not only are they beautiful,? educated,? and inspiring, they are also giving of themselves and helping out in their community in a big way.
EBONY COMBS?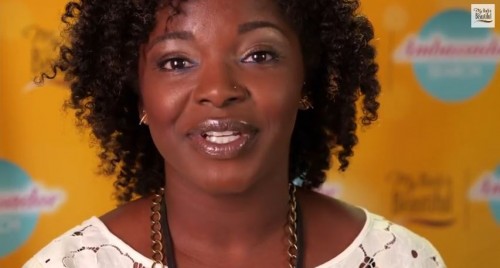 Ebony is a native Oklahoman who now resides in Mansfield, TX. She is a My Black Is Beautiful Ambassador, writer, blogger, empowerment coach, and motivational speaker. Her life experiences led her to pursue and embrace her passion of inspiring women. A graduate of Oklahoma State University, Ebony holds a Master?s degree in Educational Leadership Studies and Higher Education and a Bachelor?s of Science in Business Administration and Human Resources. She is a proud member of Delta Sigma Theta Sorority, Inc.
PROJECTS:? Ebony is currently working on her 1st book for single moms titled, 'BUTT NAKED: A SINGLE MOM?S GUIDE TO LIVING HAPPILY EVER AFTER,' an affirmations journal for girls, and being a mommy (her fav job)
ON BEING AN AMBASSADOR:
Being an MBIB Ambassador means that I have a nationwide platform to inspire the women and girls of my community to be their authentic selves and live unapologetically. I'm able to chronicle my journey of being a single mom; working in corporate America under an alias and struggling to be true to myself, all in the name of acceptance; and my struggles with being a sister of a darker hue. I am able to be a permanent fixture in my community and be that living example we need by actively participating in the issues facing us, inspire women to love on themselves, forgive and be forgiven; all while following their dreams. My focus in my projects are to encourage single mother's to dream and look forward. This platform has just expedited the desires of my heart and I intend to make myself available to take full advantage of such an amazing opportunity. I will be what I want my daughter to see when she turns on the television looking for inspiration. I want to get to a point where Black mothers aren't afraid to turn on the television with their daughters; afraid they may see a derogatory depiction of who they think we are, but to see what I see in my Mother, my Sister, my Aunts, My Grandmothers, Ruby Dee, Maya Angelou, Oprah, etc. I will be present in my community in whatever capacity that I need to be in order to see positive change.
?ANGELINA DARRISAW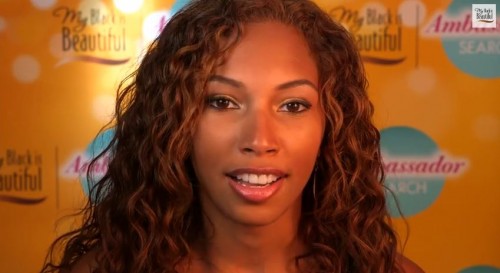 Angelina?Darrisaw?is a Senior Manager of Digital Business Development. In her role, she identifies strategic and profitable new business opportunities for Digital Media properties. The New York native earned her B.A. in Political Science at Davidson College and her M.A. in Management at Wake Forest University.
PROJECTS: Angelina?is also a career consultant and is passionate about sharing professional development skills. She founded a website ?www.CSuiteSwag.com? to educate young professionals on that topic and frequently speaks to students on these issues. She is a current Council of Urban Professionals Fellow, a member of Alvin Ailey?s Young Patrons, and serves on the MA Wake Forest Development Council. ?Additionally, she is a half-marathoner, an international traveler, a two-time Top 20 finalist at Miss New York USA, and a proud member of Alpha Kappa Alpha Sorority, Incorporated.
?ON BEING AN AMBASSADOR
Being an ambassador, to me, means having an unique opportunity to actively engage in a community built on empowering Black women. It means being a role model and continuing to set a tone of encouragement and sisterhood in all I do. I personally am passionate about diversifying the C-Suite in corporate America and I want to find ways to encourage Black girls and women to push themselves in their careers, despite ?any limits they have in their mind or past circumstances they have faced. I am also happy and excited to support the causes my 5 ambassador sisters are passionate about!
It was a pleasure meeting these ladies and I applaud what they are doing!? They are great examples of Beauty in Action!
Here are a few other familiar faces who stopped by the My Black is Beautiful Booth.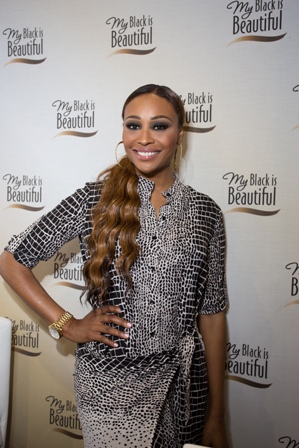 Real Housewives of Atlanta star Cynthia Bailey swings by P&G's My Black is Beautiful (MBIB) Booth at Essence Festival
?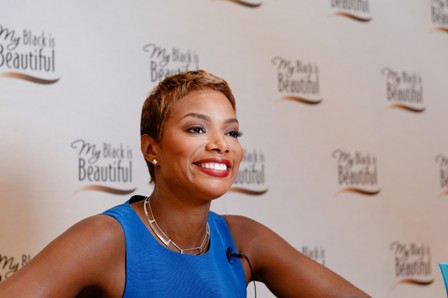 Tai Beauchamp featured in the Imagine a Future documentary, answers questions in the My Black is Beautiful social media newsroom at Essence Festival.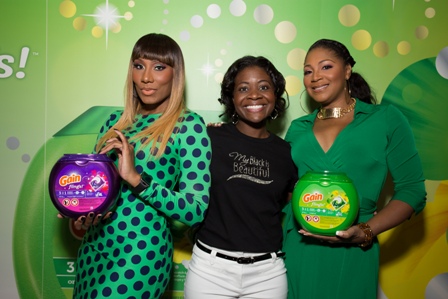 Towanda Braxton, Grace Janes, P&G's Brand Manager for My Black is Beautiful, and Trina Braxton at the Gain flings! booth at Essence Festival.
Stayed tuned for my next post, I'll be sharing highlights with you on the Gain Flings Media Party I attended and interview with the Braxtons!
Did you attend Essence Fest, what were some of your highlights?