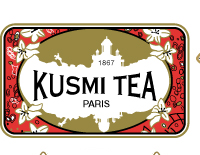 For me, there is?no better way to wind down after a long day than with a hot refreshing cup of tea.? When I was asked to review Kusmi Tea, I welcomed the idea since I am such a tea drinker.??The thing is,?I?ve never heard of Kusmi Tea until that day!??With that said, I had to of course read up on it a bit.? When I went to the website,?I soon found out?that?I would?not be sampling just any ole?ordinary tea but high quality tea-where the?tea??leaves?come straight out of China, India, and Ceylon.? I was impressed.
I received a can of what they call Be Cool.? Be Cool is a sweet calming & relaxing caffeine free blend plants, verbena, liquorice and peppermint.? When I first opened the container, the aroma blew me away.? It was simply divine.? The scent alone was pleasing and I could not wait to try it.
To make a nice cup of??this tea, you would need to?brew about a teaspoonful of tea leaves in water till it boils. (?I let mine go for about?3-4 minutes).?Remove from the?stove, strain the leaves?(preferrably with a?strainer, I learned that the hard way).??Pour the strained tea into a cup,?Sip and ENJOY!
Tip:? Less goes a long way with this tea.? I'll admit, my first cup didnt go all that great.? It was?waaayyy to sweet?as I added more than what was needed.? I would say about a teaspoon will give you a perfect cup of tea.
Okay, after trial and error,?I was sold once I got it just right.? The blend was perfect and had just the right amount of sweetness.? I don?t know if it was just a mind game or if this stuff does exactly what it says.? After a cup of the Be Cool, I felt?very Cool, Calmed, and Collected and?this was in the middle of the day when I?m usually wired up.?? Like most of you, my schedule doesn?t always allow me to have that?Me-time we all need and deserve.? But when I do get the chance,?a cup of Kusmi Tea will do me just fine.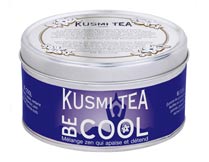 What I love about tea is that it can be enjoyed any time of day whether it?s for your own sipping pleasure or on the occasion when you are entertaining guest.? Kusmi Tea offers a line of various tea blends which includes GREEN TEA, BLACK TEA, DECAF & RED, HERBAL and WELLNESS TEA which the Be Cool Blend falls under.
If you are interested in learning more or trying?Kusmi Tea on your own, you can purchase a tin online at KusmiTea.com