I have always been one who loves to snack.  The problem is, I haven't always reached for the healthiest of snacks.  My overall eating habits are pretty good but snacking is another issue.  Now that I'm older, I am on the lookout for healthier options, so instead of reaching for unhealthy options like ice cream or cookies, I am challenging myself to reach for healthier options by participating in the Healthy Snacking Challenge!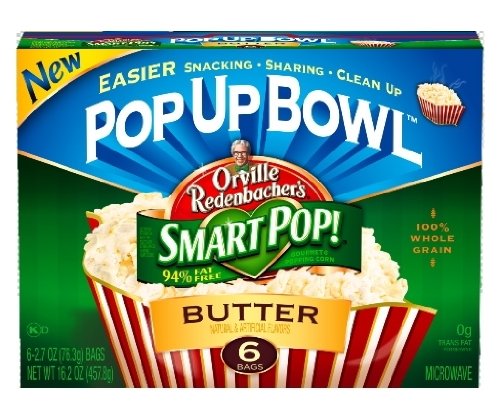 Orville Redenbacher's Healthy Snacking Challenge
Popcorn is already one of my favorite foods for snacking,but now, I am making a smarter choice by substituting  my former favorite brand with  Orville Redenbacher's SmartPop!.  I can now snack without all the guilt I normally fill after indulging in a less healthier snack.  The great thing about popcorn is that it is a perfect anytime snack.  I tend to eat it as an mid-afternoon snack or while watching a movie with the family. Not only is it good for me, it is also good for my husband and boys, making it the perfect snack for the whole family.
We usually have a family movie night at least once a week, so tonight was a great time to have the boys and my husband to give it a try.  Popcorn is hands down our favorite movie snack, so I was sure they would be up for the test!  What was surprising, is that they didn't  even notice that Orville Redenbacher's SmartPop! gourmet popping corn is 94% fat free.  Well..not everyone, my husband did notice something was different since he is used to the extra buttery taste.  He didn't complain, just noted that he knew it wasn't the usual.  I was extremely pleased about that because I have really been trying for him to make better choices as well.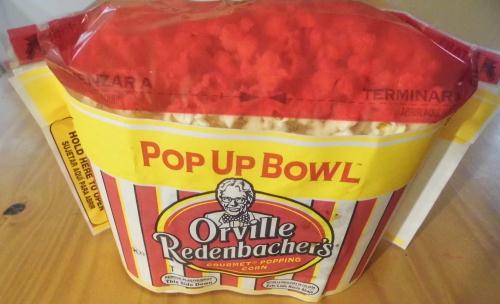 Here's why Orville Redenbacher SmartPop is a good choice!:
snacking on 100-calories of low-fat healthy popcorn leads to less hunger and more satisfaction versus other snacks like almonds or pretzels
popcorn is a good source of fiber, which fills you up and makes you feel less hungry
Orville Redenbacher SmartPop! is low in fat and has zero grams of trans fats
it's also low in calories – just 100 calories for six cups
one SmartPop! Bowl has 240 calories from 15 cups of popcorn.
popcorn is a whole grain snack – just three cups of Orville Redenbacher's SmartPop! provides an entire serving of whole grain
Convenience
Orville Redenbacher's SmartPop! comes in fun, convenient Pop Up bowls.  Just pop your popcorn into the microwave and enjoy it from the same bag so you can get back to watching your movie faster!   Best of of all, you don't have to worry about the dishes.  The pop up bowls, saves time, clean up, and is overall more convenient.

Orville Redenbacher's Smart Pop is a hit with our family.  We can still snack and have flavor too! It is nice to know that we don't have to give up on good taste to enjoy healthier and smarter snacking options.
You can buy Orville Redenbacher's SmartPop! gourmet popping corn nationwide and on Amazon.com.  They are available in:
Ultimate Butter flavor
With loads of flavor and real butter, it's no wonder why we call it the ultimate. And now it's ultimate for sharing.
Movie Theater Butter
Sit back and enjoy the rich, buttery flavor—just like at the movies.
Butter
The Pop Up Bowl takes a new twist on a classic—a perfect balance of butter flavor and salt.
Learn more about SmartPop! by visiting Orville Redenbacher on Facebook. They also have a fun Pop Cam game that you can play, as well as a $1 off coupon for Orville Redenbacher.
Win it here:
"I wrote this review while participating in a blog tour by Mom Central Consulting on behalf of Orville Redenbacher's. I received an Orville Redenbacher's SmartPop! product as well as a promotional item as a thanks for my participation."