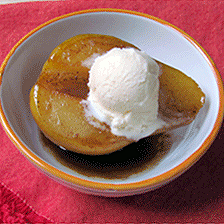 Looking for a quick yet delectable treat to satisfy your taste buds?  Try this Marsala Poached Pears recipe served warm with a scoop of ice cream or whipped cream.  Whether for a special occasion or a weeknight dessert, this easier than pie recipe with definitely satisfy leave you satisfied!
Marsala-Poached Pears
WHAT YOU NEED:
4 Bartlett pears, about 8 oz. each
1/2 cup Holland House Marsala Cooking Wine
2 Tbsp. packed brown sugar
1 tsp. vanilla extract
1/4 tsp. cinnamon
1/8 tsp. nutmeg
2 Tbsp. butter
Vanilla ice cream
Toasted pecans (optional)
 DIRECTIONS:
Start off by cutting pears in half lengthwise and remove cores.  In a small bowl, measure marsala, add brown sugar, vanilla, cinnamon and nutmeg. Stir to dissolve sugar.
Melt butter in a large 12-inch skillet.  Next stir in Marsala mixture. Over medium heat, cook until bubbly. Place pears in pan, cut side down. Cover and cook 20 minutes over medium-low heat . Remove from heat and let stand until cool enough to serve.
Place each pear half in a small bowl. Stir remaining sauce in pan; drizzle each serving with 1-2 teaspoons warm sauce. Top with a small scoop of ice cream, and if desired, toasted pecans. Serve immediately.
TIPS: 
• To easily remove cores from pear halves, you might want to try using  an apple corer.
• If pears are really firm and green, consider cooking 3-5 minutes longer.